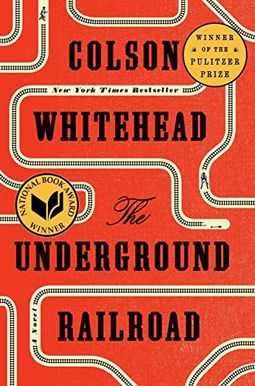  
Book Overview
Winner of the Pulitzer Prize and the National Book Award, the #1 New York Times bestseller from Colson Whitehead, a magnificent tour de force chronicling a young slave's adventures as she makes a desperate bid for freedom in the antebellum South. Now an original Amazon Prime Video series directed by Barry Jenkins.
Cora is a slave on a cotton plantation in Georgia. Life is hell for all the slaves, but especially bad for Cora; an outcast even among her fellow Africans, she is coming into womanhood--where even greater pain awaits. When Caesar, a recent arrival from Virginia, tells her about the Underground Railroad, they decide to take a terrifying risk and escape. Matters do not go as planned--Cora kills a young white boy who tries to capture her. Though they manage to find a station and head north, they are being hunted. In Whitehead's ingenious conception, the Underground Railroad is no mere metaphor--engineers and conductors operate a secret network of tracks and tunnels beneath the Southern soil. Cora and Caesar's first stop is South Carolina, in a city that initially seems like a haven. But the city's placid surface masks an insidious scheme designed for its black denizens. And even worse: Ridgeway, the relentless slave catcher, is close on their heels. Forced to flee again, Cora embarks on a harrowing flight, state by state, seeking true freedom.
Read More chevron_right
Frequently bought together
Frequently Asked Questions About The Underground Railroad
Books like The Underground Railroad
Book Reviews
(17)
Did you read The Underground Railroad? Please provide your feedback and rating to help other readers.
Thé Underground Railroad

Derived From Web

, Aug 19, 2021

Throughout my life, I thought that this railroad was a systemized way a group of folks had of helping escaped slaves to freedom. It bowled me over to find out it was truly UNDERGROUND RAILROADS. May God reward all men and women of what color they were doing this amazing work, May God reward all men and women of whatever color. Both the workers and the escapees had strong spirits, otherwise their hearts would have failed them. What courage! What courage! Do not pass this book up or you will be missing the read of a lifetime. My first book by Colson Whitehead, but certainly not my last.
Compelling

Derived From Web

, Jul 20, 2021

Once I started to read this, I was caught up. I suspected Cora's mother was wrong, but kept hoping that I was right. I did not read this as a story of historical accuracy as far as the timeline goes, but as an amalgamation of experiences by enslaved persons meant to pull the reader into the story and feel what the characters may have been feeling at any given time, and also witness the casual brutality of those who profited from their pain and suffering. I did not read this as a story of historical accuracy, but rather as an amalgamation of experiences Check out the Underground Railroad on Prime Video based on this book.
So Suspenseful and Gripping!

Derived From Web

, Apr 7, 2021

Two academic degrees in American history did not prepare me for my emotional response to this book. I had to take it down several times because the story was so brutal. I can 't stop for a moment thinking about the characters and their plights. If I finished reading the underground railroad, however, it does give this reader hope.
Stiff writing with little emotion or flavor

Derived From Web

, Apr 3, 2021

I bought this after watching his 60-minute interview with CBS. After winning two Pulitzer Prizes, I expected a great reading from Whitehead. What a disappointment! The writing is stilted and has no flavor of the times in which events take place. My guess is that this book received the Pulitzer Prize for its subject more than the quality of writing. A random collection of stories connected only by the theme. If you are interested in this genre, there are much better writers out there.
A Powerful, Haunting Book

Derived From Web

, Jul 25, 2020

I am not much for historical novels, but this was excellent. I just finished reading American Nightmare : The History of Jim Crow, by Jerrold Packard, and was impressed by Whitehead's subtle inclusion of so many black history moments in this book. He also explains about the best definition of Manifest Destiny, I have found when an overseer gives the concept to one of his goals.
Stunning Mix of History, A Different Kind of Novel.

Derived From Web

, Jul 14, 2020

This novel continues to give the reader blasts of shocking information, blandly stated as everyday life for the slaves within the story and black people everywhere in the USA. The story blends grand details with magical realism -- so that the details on what the plantation feeds the slave are wholly accurate to the times, but authentic ideas such as entire towns and the underground railroad itself are constructed by folly to give the author room to inject ideas and history from other places into the narrative. The shocks to the system are consistent and have to do with what people do to each other in the name of owning humans as tools of farming, as objects, and all that comes with treating an entire population of people as things to own, lost, stolen and recovered. Read in a book club, in a book club. It is amazing and shocking and needs to be discussed. Highly recommended highly recommended recommended.
A Treatise on Barbarism and Survival

Derived From Web

, Apr 24, 2020

This was a hard read for a long time. The specificity with which the author describes the terror and barbarism of slavery can be overwhelming. Like Toni Morrison, he weaves stories of imagination based on solid facts, and The Underground Railroad is a must read. I was distracted by the Covid crisis and read the book only a few pages at a time. However, the gift for me was that it reminded me of just what we endured here in our early decades, and how much we knew in our early decades. How we bear the unbearable, we know how we bore the impossible. If we can survive this, we can also survive Corona if we can survive it. Whitehead, God bless you, keep writing.
If it hadn't been selected by our book club, I wouldn't have finished it

Derived From Web

, Sep 10, 2019

Historical fiction is my favorite genre. But this is not historical fiction. Yes, the term underground railroad is real ; slavery was real and the difficulties of black-white relations is real. But nothing else about this book is real. But nothing else about this book is real. It is, rather, a fantasy to illustrate the racial relations of the time and our current time. Had I known that I had enjoyed the book if I had known more about it. Some of the language is lyrical and, given what I now understand about the book, it does shines a light on race relations. But I still dislike the fact that Whitehead used a historical term, the Underground Railroad, as the title for his book, but was not talking about the real underground railroad. I also found the jumping in time and place confusing. For me it detracted from the impact of the story. Perhaps reading the book with all this in mind would make it an acceptable read. But, as I read it, it was not for me.
Badly written

Derived From Web

, Jan 23, 2019

It is obvious that this book won the Pulitzer because of politics, not the quality of the writing. It was so disjointed that it was so. I also object to his alteration of history, such as presenting the Underground Railroad as an actual railroad, and I also object to his alteration of history, such as presenting the Underground Railroad as an actual railroad. The story of slavery is poignant enough. I know it is a novel, but there are some facts with which you should never take liberties!
Very poorly written

Derived From Web

, Aug 30, 2018

About halfway through this book I stopped reading as someone interested in the story and began reading as an editor should have. Cora made a canvass of the village, making incomplete sentences abound. Paragraphs introduced by pronouns contain paragraphs. The sounds that came from his body made the labor fly. WHAT? Sounds made the labor fly? Sounds made the labor fly? I have several pages of examples of Whitehead's poor writing. Cora looked at him with interest. Burr-headed and red-eyed. Who was burr-headed and red-eyed? In those days, he patrolled with a white umbrella, but eventually surrendered and his black blouses were stark against his tanned flesh. I am astonished that this Pulitzer won. It is an insult to the writers who strive to create a well-written piece of work. Two thumbs and all fingers on this one are down on this one.