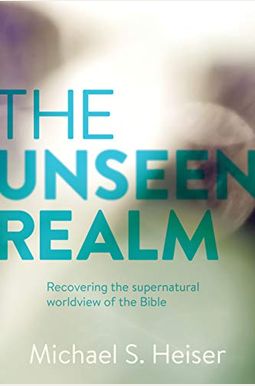 
 
The Unseen Realm: Recovering The Supernatural Worldview Of The Bible
Book Overview
In The Unseen Realm, Dr. Michael Heiser examines the ancient context of Scripture, explaining how its supernatural worldview can help us grow in our understanding of God. He illuminates intriguing and amazing passages of the Bible that have been hiding in plain sight. You'll find yourself engaged in an enthusiastic pursuit of the truth, resulting in a new appreciation for God's Word.

Why wasn't Eve surprised when the serpent spoke to her?
How did descendants of the Nephilim survive the flood?
Why did Jacob fuse Yahweh and his Angel together in his prayer?
Who are the assembly of divine beings that God presides over?
In what way do those beings participate in God's decisions?
Why do Peter and Jude promote belief in imprisoned spirits?
Why does Paul describe evil spirits in terms of geographical rulership?
Who are the glorious ones that even angels dare not rebuke?
After reading this book, you may never read your Bible the same way again. There is a world referred to in the Scripture that is quite unseen, but also quite present and active. Michael Heiser's The Unseen Realm seeks to unmask this world. Heiser shows how important it is to understand this world and appreciate how its contribution helps to make sense of Scripture. The book is clear and well done, treating many ideas and themes
Read More chevron_right
Frequently Asked Questions About The Unseen Realm: Recovering The Supernatural Worldview Of The Bible
Books like The Unseen Realm: Recovering The Supernatural Worldview Of The Bible
Book Reviews
(9)
Did you read The Unseen Realm: Recovering The Supernatural Worldview Of The Bible? Please provide your feedback and rating to help other readers.
How Can Something So Ancient Be So Fresh?

Derived From Web

, Oct 18, 2020

A contemporary view of the Scripture does not require a high "just the facts, ma'm " preference, but it benefits from reading the Bible straight, as it was understood by writers and readers WHEN IT WAS WRITTEN. As a subtext, the author holds on to his life-long believer '' bona-fides, while reviving the world view of the Bible's writers of a rich and far-from-simple spiritual realm active with our physical realm. Die-hard anti-supernaturalists be warned that y 'all won 't like this at all.
Addresses what many religious leaders avoid

Derived From Web

, Jul 20, 2020

Do not let the footnotes scare you away from reading Michael S. Heiser's The Unseen Realm ''. The book is understandable to both the scholar and the non-scholar. Michael addresses areas many religious leaders avoid. Many religious traditions shed light on biblical truths that veil many religious traditions. Michael speaks and walks you through the Bible as a person living in Bible days. Eye-opening! Very eye-opening! And in turn, the Bible comes alive like never before! Michael S. Heiser books are absolutely recommended all books by Michael S. Heiser!
An eye-opener!

Derived From Web

, Sep 29, 2019

This book made a huge difference in my understanding of the Bible, as it relates to the non-seeking spiritual realm. For the second time, I am working my way through it all again, pondering all the amazing insights that Dr. Heiser reveals in each chapter. But it is not a book to be afraid of! It is written so that any lay person can understand the concepts he presents. I am personally very grateful to Dr. Heiser for filling up the answers to so many questions I had over the years. I have recommended this book highly!
.

Derived From Web

, Feb 10, 2019

The author takes everything literally, never taking the possibility of them being metaphors, and with these flawed understanding reaches a conclusion that seems almost heretical-his conclusion is a strange amalgamation of monotheism and polytheism prevalent in lots of new philosophies. The worst parts of the fundamentalist and liberal theology were gathered together to make this mess of a book.
Eye-opening

Derived From Web

, Dec 15, 2018

This book opens your eyes to the rich cultural context that most of us, who are not scholars, have not been exposed in the Church. The author leads you through the overlooked ideas about the spiritual realm of the Bible. What most of our traditions try to interpret away when we see things like Nephilim, Sons of God, Demonic forces and even the Canaanite Genocide. It revealed a major story arc in the Bible that I never saw before. One that begins in Genesis runs through the whole story of Israel and the New Testament.
Paradigm Breaker

Derived From Web

, Nov 22, 2018

A great book, especially in that it thinks outside the box and treats the biblical text objectively, without all the preconceived notions that most Western Christians bring to or read in it. The fact is that the Bible is a shock full of bizarre, if not downright supernatural. But most Christians have been trained to dismiss it all as symbolic. This is ironic while virtually every Christian is willing to accept that Christ died and rose from the grave -- which is as supernatural as things get -- they reject every other supernatural event in the Bible -- and even persons, including Satan -- as silly or superstitious. Heiser shows that the Bible means what it says -- and when you accept it, you will find that the Bible offers a radically different story than most Christians accept.
awesome book

Derived From Web

, Oct 4, 2018

i can not say enough about this book. I will tell everyone about it. I want to find a bible study or book club to discuss it with like minded people chapter by chapter. Its music is so rich in information, and biblically it is sound. Its so very interesting and i love that the author took the time to delve into the scriptures that we simply bypass because we don 't understand them. I'm still reading, about half way through, i'd say and i love it. I know I do have to get to a quiet place sometimes because there is a lot of information and I don 't want to miss a thing because of distractions.
Biblical paradigm shift

Derived From Web

, Mar 23, 2017

It is rare for a single book to force a complete paradigm shift in the way you read the Bible, but this book does. When confronted with such overarching claims, I am an extremely sceptical reader, and the Nephilim scheme is full of crackpots and scam artists. But here is the true academic work. The book promises everything it delivers. After receiving this new information, you would better start a new read-through of the Bible, because there will be a lot of new things in it that you will see.
We are in a spiritual battle and this book helps draw the lines.

Derived From Web

, Jan 30, 2017

I am through this book for the second time. I am on my second time through this book. In fact, the pages are loosening from the bindings. So, I guess that would be my only complaint. '' The binding should be better. . So as I read this book and look at our world and what is happening it all becomes clearer. I have come to realize that we are in a total spiritual war ''. Everything from the problems in the Middle East -- Seria and Israel to the battle in the West over common decency. Sodomite marriages include things like abortion and sodomite marriages. I believe that God will fix the world and it would be neat if it were during my time here.