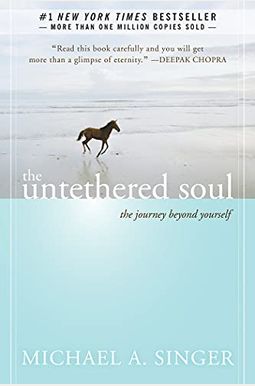 
 
The Untethered Soul: The Journey Beyond Yourself
Book Overview
What would it be like to free yourself from limitations and soar beyond your boundaries? What can you do each day to discover inner peace and serenity? The Untethered Soul--now a #1New York Times bestseller--offers simple yet profound answers to these questions.
Whether this is your first exploration of inner space, or you've devoted your life to the inward journey, this book will transform your relationship with yourself and the world around you. You'll discover what you can do to put an end to the habitual thoughts and emotions that limit your consciousness. By tapping into traditions of meditation and mindfulness, author and spiritual teacher Michael A. Singer shows how the development of consciousness can enable us all to dwell in the present moment and let go of painful thoughts and memories that keep us from achieving happiness and self-realization.
Copublished with the Institute of Noetic Sciences (IONS) TheUntethered Soul begins by walking you through your relationship with your thoughts and emotions, helping you uncover the source and fluctuations of your inner energy. It then delves into what you can do to free yourself from the habitual thoughts, emotions, and energy patterns that limit your consciousness. Finally, with perfect clarity, this book opens the door to a life lived in the freedom of your Read More chevron_right
Frequently bought together
Frequently Asked Questions About The Untethered Soul: The Journey Beyond Yourself
Books like The Untethered Soul: The Journey Beyond Yourself
Book Reviews
(10)
Did you read The Untethered Soul: The Journey Beyond Yourself? Please provide your feedback and rating to help other readers.
Beyond good.

Anna-marie R

, Jan 10, 2023

This book changed my life for the better.
Book of Blessing

Derived From Web

, Jan 28, 2022

I want to find other writings from this author. It was impressive. Touching. It's true. It is deep. It was brilliant. I'm hoping for more. This book will be missed by me. I'll read it again. Thank you! The man is called KokosDad.
Breath of Fresh Air

Derived From Web

, Sep 10, 2021

The book helped me to think about how I experience life. The action of clinging and resisting that we engage in when we experience life is the biggest lesson that I take from this book. Allowing life experiences to pass through me is what I value now. I will return to this book after reading it again.
Ultimate guide for spiritual growth

Derived From Web

, Jul 5, 2020

Within two days, I finished the book. My world was falling apart as I was in a dire state. This book has provided a deep and easy understanding of spiritual growth. Michael Singer gives a promise through his teaching in this book. You will have to commit to embark on a journey if you want to get started with this book.
Goofy cover but don't be quick to judge

Derived From Web

, Dec 10, 2019

I didn't know what to expect when I entered. I'm a contractor by trade so I only hear the language of criticism and complaints, so I can give you an idea of where I come from. Every 5 pages there was a piece of information that was jaw-dropping. I finished it in 2 days and read it over again. Try it. You will like it.
One of the top 5 books in my library!

Derived From Web

, Feb 20, 2019

This is in my top 5 books in my library and my top 3 spiritual books. Easy to follow, engaging to read, and helped me untangle decades of negative emotions as well as to let go of negative feelings that arise in the present moment. Singer distills the essence of Vedanta into the fundamental concept of mastering your mind in order to master your life experience. I have given it as a gift on several occasions. You might not get it back if you lend it out.
Repetitive, Repetitive, Repetitive

Derived From Web

, Dec 19, 2018

This book is repetitive and I agree with many of the other 1 star reviews. The author's solution is to just let it go. He presents another issue, repeating the same concepts, and then offers the same solution. Don't waste your time or money on a book that isn't very good. Anthony DeMello Awareness and Barry Magid Ending the Pursuit of Happiness are my favorites.
An eye and soul opening book

Derived From Web

, Aug 21, 2018

I heard an interview with the author on Oprah's Super Soul Sunday. It syncs with what I was experiencing in the world as I read it. Practical but also profound, the guidance in this book is universal. As a Christian, I like to gauge spiritual books by how well they fit with the teachings of Jesus. A number of teachings from various cultures and spiritual practices were connected by the author. I was inspired and impressed.
So full of precious insights and truths!

Derived From Web

, Jul 27, 2018

The book is a masterpiece and written from a beautiful, Divine perspective. It is one of a kind and will be read and reread many times. The reader can gain many new perspectives on who they are, how they walk, and what is possible. Thanks to Michael Singer, this is a gift that can change one's inner struggles from pain to ecstasy, from despair to hope, and from turmoil to ecstasy. Our world is thirsty for this. What a blessing!
Long on Promises; Short on Strategies; and Full of Contradictions.

Derived From Web

, Apr 9, 2018

The way for the soul to become unteathered is for us to realize you are not your thoughts, sensations, or pain. You can look at events from the seat of awareness. Your model of the world and expectations of people keep your soul in a house. If you stay in the witness position, you will not feel the fear and insecurity when you approach your walls. At times remain conscious in the face of pain. You should not allow events to leave a mark on you. God doesn't want to be around people who are miserable so you have to decide if you want to be happy all the time. In the last chapter, he corrects an egregious mistake, saying that God sees only beauty in us. I think God loves us even though we are not perfect.