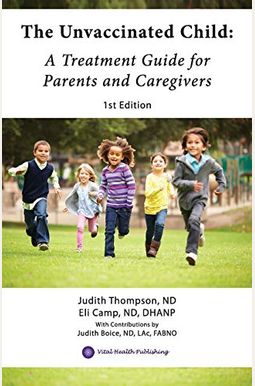 
 
The Unvaccinated Child: A Treatment Guide for Parents and Caregivers
Book Overview
The Unvaccinated Child is an unparalleled naturopathic treatment guide for common childhood illnesses. Its style is reader friendly for parents without a medical background or for practitioners looking for treatment options to offer their patients. As children can contract many of the childhood illnesses regardless of vaccination status, this is a practical must-have book for any parent whether their child has or has not been vaccinated.
The Unvaccinated Child reviews the history of germs and how a child's terrain is a better indicator of health or disease. The naturopathic foundations of health familiarize parents with the necessary steps to create long term health. The authors go through each childhood illness children are commonly vaccinated for and offer naturopathic treatments such as herbs, supplements, essential oils, homeopathy, hydrotherapy, nutrition, and physical medicine as tools to work through each illness. The book includes a compendium of naturopathic protocols with a complete how-to section, resources and references to arm readers with the means to effectively nurture children back to health.
Contact: [email protected]
Frequently Asked Questions About The Unvaccinated Child: A Treatment Guide for Parents and Caregivers
Books like The Unvaccinated Child: A Treatment Guide for Parents and Caregivers
Book Reviews
(11)
Did you read The Unvaccinated Child: A Treatment Guide for Parents and Caregivers? Please provide your feedback and rating to help other readers.
It's a handbook for anti-vaccers

Derived From Web

, Aug 11, 2019

This kind of writing is irresponsible with all outbreaks of measles and other diseases due to those uninformed knuckle-heads.
A great guide!

Derived From Web

, Feb 22, 2019

I am a nurse and have tried some holistic remedies for myself and my children. I think its an awesome resource whether you vaccinate or not ''. Conventional medicine is lacking for a lot of these illnesses. I love that this helps me to give homeopathic advice and straightforward remedies that are easy to understand and follow. Throughout the book, it recommends working alongside a physician so that I don 't get the negative reviews.
Way to expensive! But...

Derived From Web

, Feb 7, 2019

I read this book borrowing if it was from a friend. My children are unvaccinated so that this really helps, the only issue is that I need a copy of my own and this is mind blowing expensive! I gave 5 stars because the price does not take away from the actual book, which I absolutely love. Don 't let these brainwashed people convince you to vaccinate your kid and tell you that this book is dangerous. What is more dangerous than taking your kid to the doctor for vaccinations and not knowing if they are going to wake up Autistic or not wake up at all.
IGNORE THE ONES WHO COME HERE UNEDUCATED JUST TO GIVE A ONE STAR RATING!

Derived From Web

, Jan 29, 2019

Useful information : It is interesting to see how many people come here educated to make themselves look silly. DRANGEROUS is living in denial. Poisoning by your children is DANGEROUS. What is not dangerous is the choice to treat your children with the things God provided for them to survive.
The information I needed to make the decision not to vaccinate.

Derived From Web

, Jul 3, 2018

I loved this book really ''. My daughter is 5 months old and we haven vaccinated her. At first, we were planning to move on an alternative schedule, but recent research has made us second guess that. I feel not only comfortable with our decision not to vaccinate, but also confident that we are making the right choice.
Perfect for everyone

Derived From Web

, May 28, 2018

Luckily, I haven 't had to use it, but was excited to see the results.
and how best to support their systems

Derived From Web

, May 19, 2018

It has transformed the health of our family completely! I tried the remedies and protocols and they WORK! Learn to support the body of your children and how to heal their systems the best! The negative reviews here are CLEARLY trolls.
... informative about diseases that might afflict any child and great resource about natural remedies including different teas and healing ...

Derived From Web

, May 14, 2018

Very informative about diseases that could afflict any child and a great resource about natural remedies, including different teas and the healing properties of some plantsherbsfruit.
Great guide for parents who don't want to vaccinate their ...

Derived From Web

, Jan 8, 2018

Great guide for parents who don 't want to vaccinate their children, but I wish there were more images of children with each disease. There is great information about how to nurse a sick child through many childhood diseases, however. By the way, breastfed babies can bypass many of these childhood diseases, especially if you breastfeed them for two years old. My baby has not been sick or caught a cold and is 10 months old. He has a strong immune system without vaccines and I make sure that he eats everything according to his blood type. I must say that he is probably much healthier than I was ever as a vaccinated child. So, get this book to help you with your journey through your "unvaccinated Child " because it is worth the money to increase your awareness.
Easy to read and understand with so much helpful information

Derived From Web

, Jan 7, 2018

It is very easy to read and understand with so much helpful information. I highly recommend '' to you get this book!