Buy 3 Get 1 Free
Our Best Sale Yet! Add 4 Books Priced Under $5 To Your Cart     Learn more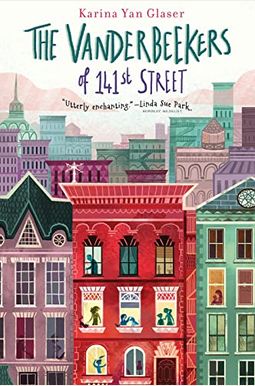 
 
The Vanderbeekers Of 141st Street
Book Overview
One of The New York Times' Notable Children's Books of 2017: In this delightful and heartwarming throwback to the big-family novels of yesteryear, a large biracial family might lose their beloved brownstone home, but win it back with an all-out charm offensive.

The Vanderbeekers have always lived in the brownstone on 141st Street. It's practically another member of the family. So when their reclusive, curmudgeonly landlord decides not to renew their lease, the five siblings have eleven days to do whatever it takes to stay in their beloved home and convince the dreaded Beiderman just how wonderful they are. And all is fair in love and war when it comes to keeping their home.
Frequently bought together
Frequently Asked Questions About The Vanderbeekers Of 141st Street
Books like The Vanderbeekers Of 141st Street
Book Reviews
(10)
Did you read The Vanderbeekers Of 141st Street? Please provide your feedback and rating to help other readers.
Great read aloud

Jennifer F

, May 14, 2022

My kids ages 3-10 have enjoyed this book as a read aloud. The characters are relatable and the book has some funny moments.
Whole lot of nothing...

Derived From Web

, Apr 18, 2020

An artificial forced attempt to recreate the endearing atmosphere of family determination in challenging times. Poor character development, loose plot, and some outright disturbing references are dropped on the page and not addressed. A little of everything comes down to a whole lot of nothing, Mr. Rule told the judge. Glad I read it before gifting it, Mr. Daschle said.
A far cry from The Moffats

Derived From Web

, Sep 28, 2019

I picked this as our next read, after finishing the fourth and final book in the series, The Moffats. We've also read All of a Kind Family, The Saturdays, and wanted something in that vein. The Vanderbeekers came highly recommended so we were doubly disappointed to find the language, trite and overdone, Morgenthau said. The author tried too hard, forcing traits and unusual names upon the characters, but the children think their parents have called a family meeting to announce the news of their impending separation. I'm sorry I purchased this and am on the lookout for a new read aloud.
A Delightful Read

Derived From Web

, Jun 7, 2018

We're delighted the book was so well received by our family. We grew to love the Vanderbeekers and couldn't wait to discover if they would be able to stay in their beloved brownstone.
I expected this to be an excellent story, a new

Derived From Web

, Apr 11, 2018

I expected this to be an excellent story, a new, charming favorite, Raymond said. It's just that I was disappointed to discover that it was wordy and uninteresting. We read this as a read aloud, stopped at chapter 6, and returned to our seats. None of us cared what happened there and as a large family ourselves, it was rather boring reading the moment by moment nonsensical conversations of siblings. We wanted to love this, we were sad to have paid money for it, Mr. Dhaliwal said.
My early childhood neighborhood

Derived From Web

, Feb 9, 2018

From the age of 5 to 10, I lived on Amsterdam Ave. between 141 and 142 Streets. It brought back many memories of my early childhood. He said: "City College, The Convent Avenue Baptist Church and P.S.192 were part of my life. I was not fortunate enough to live in those beautiful brownstones but, still, I remember trying to imagine what life could be like if I lived behind those doors. I wanted to share this experience with my grandson and appreciate the map included with the package. Thanks to Yannick Glaser and the rest of the gang for making this possible.
This book is darn-near perfect

Derived From Web

, Jan 9, 2018

I'm a huge fan of the Beatles, but this is one of my new all-time favorites. Helaine's widow, Janet, said she hopes readers will enjoy the stories of the "Patties and All-of-a-Kind Family."
Heartwarming story of Family and Neighbors

Derived From Web

, Dec 5, 2017

This is the kind of heartwarming story that you want to jump inside and become a part of the community, Tunick said. Ms. Glaser has made me believe that the Vanderbeekers are real. When Vanderbeekers get notice that they have to move out of their beloved New York apartment right after Christmas, they take action. Realizing this, they decide to befriend the mysterious and curmudgeonly landlord, Mr. Beiderman, in hopes of inspiring him with a change of heart. What I loved most about this story was the sense of community that was tangible, even in the most dire situations, McCarthy said. They want to live in a neighborhood like this one. Even more, it is the reminder that streets like 141st Street don't just happen. The Harrisons take action. It takes time to sift through the wreckage. It takes loving people who might seem unlovable. Our world could use a few more stories like this, Mr. O'Neill said.
The vanderbeekers of 141st street

Derived From Web

, Nov 15, 2017

I have read every book except this one. It would be amazing, they said. I think that they should make a movie out of it.
Charming Tween Novel

Derived From Web

, Oct 9, 2017

Charming is the word that comes to mind when I think of this tween novel. The Vanderbeekers' lease is not being renewed on the brownstone they have lived in for years. The children are upset about this news and are determined to change their landlord's mind, they said. For years, they have lived there, he has grown in their imagination a larger than life person. Although the plot is a bit predictable, this book is so fun and would make a great read aloud. I would enjoy checking in with the Vanderbeekers in the future.