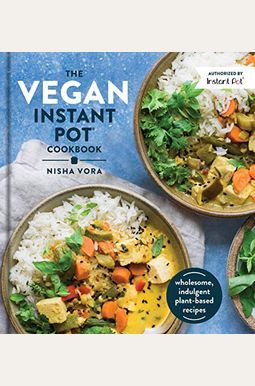 
 
The Vegan Instant Pot Cookbook: Wholesome, Indulgent Plant-Based Recipes
Book Overview
A new and vibrant vegan Instant Pot cookbook, from the creator of the Rainbow Plant Life blog.
With food and photos as colorful, joyous, and wholesome as the title of her blog--Rainbow Plant Life--suggests, Nisha Vora shares recipes with 250,000 Instagram followers daily. Now, in her debut cookbook, she offers up more than 90 nourishing recipes for the nutritious (and colorful ) food she's known for with the magic of an Instant Pot pressure cooker. In a book that includes a comprehensive guide to the Instant Pot and all its functions, you, too, can taste the rainbow with a full repertoire of vegan dishes, including Nisha's Vegetable Lasagna with Basil Ricotta, Red Curry Rice Noodle Soup, Cookies 'n Cream Cheesecake, and many more.
Frequently Asked Questions About The Vegan Instant Pot Cookbook: Wholesome, Indulgent Plant-Based Recipes
Book Reviews
(16)
Did you read The Vegan Instant Pot Cookbook: Wholesome, Indulgent Plant-Based Recipes? Please provide your feedback and rating to help other readers.
Just ok…

Derived From Web

, Dec 21, 2021

The book is great or bad, not either OK or bad. I feel like she has way better recipes on her blog and Instagram that are free. I got this because I figured that Instapot recipes would be faster and easier, but these aren 't necessarily that. I prefer her blog and YouTube.
Amazing Vegan Cookbook

Jennifer Johnson

, Oct 7, 2021

These recipes are amazing! I love the carrots with maple miso dressing. They don't contain a lot of "unusual ingredients," are easy to make and not very time consuming. You'll need a 6 quart instapot or you can half the recipes if you have the 3 quart.
Book for the rich

Derived From Web

, Nov 24, 2020

This book is for the rich. Not for normal people. Very sophisticated and extremely expensive ingredients. She uses ingredients that are also hard to find. For me it is garbage, it is garbage.
Life-changing

Derived From Web

, Aug 25, 2020

I recently purchased an instant pot to broaden my food options for my partner and me. I typically dislike cooking, but this book has been incredible. I only had this book for about a month and have already made 16 recipes from it. This is from a person who barely cooks. My favorite recipes so far include the vegan queso, red lentil almond curry, West African peanut stew, Hummus and Chinese takeout tofu. In my journey towards more plant-based eating, this book has become a great asset to me and makes the transition to more mindful eating much more comfortable than I thought it would be. Lately, I haven 't had a conversation with anyone without mentioning this book. If you're sick of relying on meat to check all of your nutritional boxes, buy this book. Seriously.
Deeply Satisfying Recipes for Everyone

Derived From Web

, Apr 19, 2020

I am not a vegan, but this is a must-have book for anyone who owns an instant pot. When I bought mine first years ago, there were not many vegetarian cookbooks for pressure cookers on the market, and now there are many. This cookbook has a nice variety of recipes with some nice complexity and layers of flavor. A friend lent it to me to borrow and I never gave it back. I ordered her a new one and had it delivered.
Enrich your life in a healthy and tasteful way

Derived From Web

, Apr 5, 2020

We've tried about a dozen recipes so far and they are all delicious and simple to make. I have bought other books that end up stacked on the shelf because they seem to require a thousand ingredients and hours to produce, but not this book. We are not strictly vegan, more like vegan-friendly and all recipes are so delicious and rich. I highly recommend you to give it a try and enrich your life in a healthy and tasteful way.
I'm not vegan, is an intro on how to cook without animal products; one of my goals.

Derived From Web

, Dec 26, 2019

This is a great cookbook for cooking. I gave it four stars because some of the ingredients are a bit exotic. But this is an excellent tool for understanding how to cook with more and different non-animal products. After trying more recipes and increasing my comfort level, I may add a review after increasing my comfort level. My learning curve may be what the four stars are all about! I bought this not bc I am vegan, but to add more vegetables to my diet.
The best cookbook I've found

Derived From Web

, Dec 17, 2019

I am a vegan and purchased an instant pot about 6 months ago. I couldn 't think of recipes that fit my body, so I returned it just like I did. Then I heard more about the vegan instant pot cooking and this book was recommended. Now I made another instant pot and this book I have already bought at least 10 recipes from this book. All perfection depends on the seasonings and timings. My family loves and so do I, this cookbook.
My favorite cookbook!

Derived From Web

, Dec 4, 2019

Nisha's recipes are AMAZING! I already tried several from this cookbook, her website and your YouTube channel, and I've tried several from this cookbook. Every single one is just freakin awesome. She really makes it simple, nutritious and delicious. My favorite right now is the Israeli CousCous and Lentils. I make it at least twice a month, and I test it twice a month. So glad I got this and an instant pot so glad I got it. I really am a game changer and I feel a lot better overall health wise. Get this book! Get this book! '' I used to have this story that I couldn 't cook and so I never did. But Nisha makes it incredibly simple and what I used to produce anxiety before, is now fun and exciting. I love making meals that taste amazing! I love making meals that are delicious! I don 't think I could before, before Didn 't think I could. Nisha ( Thanks Nisha. '' )
What is it with coconut milk/cream

Derived From Web

, Sep 8, 2019

In everything, there is coconut milkcream. Saturated Fat! : Her recipes are delicious and extremely beautiful. They're easy to put together and I can easily change out recipe items if I need to for my husband's health requirements and still have a delicious meal for the rest of the family. I would like it though, as she continues this cookbook adventure, she relies slightly on saturated fat items or at the very least offers alternatives for these items.