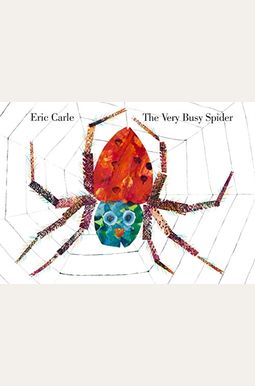 
 
Book Overview
From bestselling author and illustrator Eric Carle, the creator of The Very Hungry Caterpillar, comes another classic tale about one very busy spider. A perfect gift to share with the child or grandchild in your life.
Early one morning a little spider spins her web on a fence post. One by one, the animals of the nearby farm try to distract her, yet the busy little spider keeps diligently at her work. When she is done, she is able to show everyone that not only is her creation quite beautiful, it is also quite useful This multi-sensory board book allows children to feel the pictures as well as see them, and is the perfect size for little hands. With its rhythmic text,
The Very Busy Spider
becomes an experience to touch, to see, and to hear. A beautifully executed work for the very young that satisfies the needs of both visually handicapped and sighted children without losing its artistic integrity.
--
The Horn Book
, starred review Both sighted and blind children will follow the action with ease . . . Visually and verbally, this is a winner.
--
Booklist
, starred review.
Frequently bought together
Frequently Asked Questions About The Very Busy Spider
Book Reviews
(14)
Did you read The Very Busy Spider? Please provide your feedback and rating to help other readers.
I am really disappointed in this book

Derived From Web

, Apr 20, 2022

I am really disappointed in this book ''. I am really disappointed in this book. I guess I didn 't read closely enough to see that there is no texture to the spider web, which is half the joy of this wonderful book. As a child, I loved running my fingers over the spider web as she slowly constructed it. My son can 't do that with this book. Incredibly disappointed.
nice book

Derived From Web

, Apr 20, 2022

Bought this book by Eric Carle for my grandson, among others. I thought I liked the soft cover and the original hard pages better. The format is a little small in this board book for the full experience. Still nice, but I might buy the hardcover bigger version later.
review for HARDCOVER version

Derived From Web

, Apr 20, 2022

The hardcover version of the book is small, very small. This is not very clear in the description, was expecting a regular size hardcover book. The book is 3 high x 3 12 wide. A cute book, very tiny story. Nothing against the story. I love that I am. And I plan on buying this in a different format : And I plan on buying it. Luckily Amazon. com rocks and a refund was immediately given without shipping this back. And not the board book or paperback, Recommend the HarDCOVER the size of a spider version. 1 star to the hardcover - tiny book, 5 starts to Amazon and 5 stars to the story itself.
My niece loves it!

Derived From Web

, Dec 22, 2020

My baby niece loves books and she loves spiders right now. I gave her this book and a puppet spider to go with it. This and the other books of this author and illustrator are classics. I like how it is a block book so good, but still very durable on illustrations. I also like that the web has some texture for her to run her fingers over. Although I wish they had put some sensory textures on the animals for more sensory learning. Overall, I am very happy with my purchase and so is my niece!
Small board book and you CAN feel web

Derived From Web

, Oct 24, 2020

People are dramatic : dramatic. In the smaller version, you can feel the spiders'web. I personally like a toddler book for a toddler. Makes life easier. The story is cute, but it is no hungry caterpillar. Web - spinning spider can 't talk to animals because it is too busy spinning web. It's a fun read and every kid loves animals!
Get the hardcover—it's exactly what you are expecting!

Derived From Web

, Sep 9, 2020

Perfect! After reading some reviews, I was afraid that this would not be what I was hoping for, but is exactly like the original I bought for my children when they were young. It is beautifully bound, comes with a cover, book is about 8 12 x 11, and the spiderweb, spider and fly are all embossed on each page. My 4 year old grandson will love it!
Classic story!

Derived From Web

, Jul 1, 2020

My 11 month old adores this book and I always feel nostalgic when reading it because I had it as a child. She loves that it goes through what each animal says as that is something with which she is currently obsessed. I love that the spider, her stringweb and the fly are subtly embossed making the pages fun to feel as well.
Great complement to the caterpillar.

Derived From Web

, Jun 20, 2020

Very nice. , very nice. '' The size is just right for little hands. I see several reviews mentioning that the web isn 't pronounced. It appears that such a feature is part of the board - book version. I can only assume that the hardcover comes with standard paper pages, which would not allow for the touchy-feely webbing feature. Chameleon! Now to find that Chameleon! Update now that I read the book 2000 times in the first 8 hours of ownership, I notice that the board book version I have exhibited the cat twice. Indeed, interesting indeed. I wonder what animal is missing.
One of my favorite children's books.

Derived From Web

, Jan 17, 2020

This book is for love. I bought it for my grandson because it was a favorite of my own son when he was little. I especially like the large book size, as I am not a fan of the smaller books.
Perfect in every way!

Derived From Web

, Dec 13, 2019

I read many reviews before buying this board book, and many of them had complaints, but the reviews with complaints were a few years old, so I gave it a shot to see if the seller had fixed the issues. I was pleasantly surprised when I received the book in the mail and was PERFECT! A great size for toddlers and young children to hold and carry, the webs are raised from the pages so that you can feel them with fingertips, and none of the pages were stuck together. I highly recommend ''.