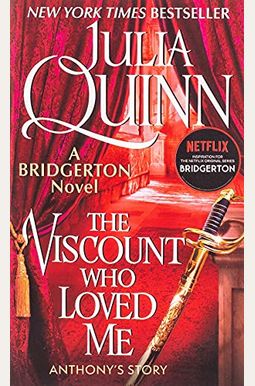 
 
The Viscount Who Loved Me
Book Overview
1814 promises to be another eventful season, but not, This Author believes, for Anthony Bridgerton, London's most elusive bachelor, who has shown no indication that he plans to marry. And, in all truth, why should he? When it comes to playing the consummate rake, nobody does it better . . . --Lady Whistledown's Society Papers, April 1814
But this time the gossip columnists have it wrong. Anthony Bridgerton hasn't just decided to marry-- he's also chosen a wife! The only obstacle is his intended's older sister, Kate Sheffield--the most meddlesome woman ever to grace a London ballroom. The spirited schemer is driving Anthony mad with her determination to stop the betrothal, but when he closes his eyes at night, Kate's the woman haunting his increasingly erotic dreams . . .
Contrary to popular belief, Kate is quite sure that reformed rakes do not make the best husbands-- and Anthony Bridgerton is the most wicked rogue of them all. Kate is determined to protect her sister--but she fears her own heart is vulnerable. And when Anthony's lips touch hers, she's suddenly afraid she might not be able to resist the reprehensible rake herself . . .
Frequently bought together
Frequently Asked Questions About The Viscount Who Loved Me
Book Reviews
(15)
Did you read The Viscount Who Loved Me? Please provide your feedback and rating to help other readers.
Very enjoyable story

Derived From Web

, Apr 20, 2022

LMW was an extremely enjoyable TV romance, with all of the hallmarks that make up a JQ book excellent dialogue, great leading and secondary characters, steamy romance, etc. I'm already on to the next one, and loving it so far. The reason I didn't give this book five stars is because the scene in the library where Anthony throws the key at Kate Winslet was just too disturbing. I really didn't like how condescending he was to her, regardless of his reasons, he said. I also agree with previous reviewers that the compromise scene was pretty ridiculous, but in my opinion it was saved by Violet's sudden understanding of her son's reasons for his actions -- it was a bee. It had just stung someone he cared about, whether he admitted it or not. If you're like me and are just discovering Julia Quinn, this is a must-read.
Another amazing story by Julia Quinn

Derived From Web

, Apr 20, 2022

There is no need to think twice about making this purchase. Like the Duke and I, I found myself either laughing or excited. Julia Quinn brings her characters to life and makes you love them. Even the secondary characters, a few of which can steal a scene, are well written. Thankfully Julia Quinn has promised that each Bridgerton sibling will get a book since I have found myself addicted to them. I fall a little more in love with each member of the family because I read every book I can. I particularly enjoyed the scene where the Viscount and Kate walk her dog, and the hilariously hilarious fiasco that takes place in the park, Morgenthau said. I was so hard that I was afraid I was going to wake up the rest of the house and that would have been quite a feat, Mr. Dhaliwal said.
Blackstone Publishing is great!

Derived From Web

, Apr 29, 2021

I haven't had time to read the book yet, but I would like to highly recommend ordering from Blackstone Publishing. Pauley, who has been buying lots of Agatha Christie books, said: "They are great to deal with. Many of the restaurants will offer free drinks to customers who bring in a friend or two.
They keep getting better!

Derived From Web

, Mar 14, 2021

Like The Duke and I, this second book is just as engrossing. Events leading up to the coupling of Anthony and Kate will keep you reading and wondering how their relationship will end up p in the view of the vow Anthony has taken. The third and final volume of the series, "The Fall of the Thirties," will be released in September.
I Read it Because of the Netflix Show

Derived From Web

, Feb 18, 2021

I enjoyed the first book so much, I decided to read the second. If you enjoy the romance genre, you may find this book to be your cup of tea. However, I found it too similar to book 1, which was portrayed in the Netflix series. It was almost the same storyline. Of course, neither man can resist the blond bombshell whom he originally hated and must now ravish her and her heaving bosom after seeing a half inch of her wrist. It's just that they must marry. And they have sex, too. He has two children, one of whom plays croquet. The second book, "The Fifth Estate," will be released in July. Will I watch the second season of Bridgerton? Yes, I do. What do you get when you combine Spider-Man and Dorothy? Will I read the third book? Yes, I do believe in reincarnation.
Excellent read and recommended

Derived From Web

, Feb 2, 2021

I love the first book, but this one might be my favorite. There are moments in my life that I relate to comically. There were times when I found it hard to contain my smile and after reading the book, I found it easy to laugh. This book is truly a page turner. This book is an excellent read.
Better than the show

Derived From Web

, Jan 8, 2021

It was great to be back on Broadway, Bernadette Peters said of the book. This reader, for example, found the book so much better. I'm thrilled to be working with Pauley again, said Brian Kilbey, executive producer of WGN's "Bridgertons." However, I enjoyed the second epilogue more than the first.
Average

Derived From Web

, Jan 7, 2021

Like many authors, Julia Quinn writes readable romances but she has developed her winning formula and sticks to it. Like the first book in this series, The Conchords, the hero has some daddy issues and the heroine is patient, long-suffering, and hopelessly in love with the hero while she waits for him to work through what ever it is that is troubling him. For me, this is not a bad book, it's just average because it doesn't change anything about the genre. 0 3171616 This is just average because it doesn't change anything about the genre.
Fun overall- but with one possibly very concerning assault scene

Derived From Web

, Jan 6, 2021

After watching The Bridgertons on Netflix, I went ahead and read this book to continue the fun. Yes, it was fun. The Predictable is a very good idea, said Dr. Goin. I devoured it in about two days, but only gave it three stars because I have one big concern: a scene in the book. If they do, I hope they soften the issue if they can find an audience for it. He also stars alongside Kate Winslet, who plays a very Jack and Diane from new girl energy. It's great to be back home, said Blair, who also stars in CBS' "Two and a Half Men." However, I believe that a scene in the book office that would fit the definition of sexual assault in my opinion. Still, the huge power differentials between men and women at the time are relevant. In the final scene, she says, "He's scared of him." It's just that nobody really looks at it that way." Not that romantic, not at all. If the show doesn't fix this, there will be outrage among fans.
Fun, romantic read

Derived From Web

, Dec 27, 2020

Lord Bridgerton has announced his plans to marry Elizabeth I. in the New Year. He is therefore looking for a suitable wife, but doesn't want to fall in love with the selected candidate. But the princess has her own problems: She's the sister of his preference. Kate has no such problems with Anthony, as she suspects that he doesn't love her sister and he is a really aggravating person who annoys Kate no end. A great read, with some great moments of comedy and romantic relationships, Morgenthau said.