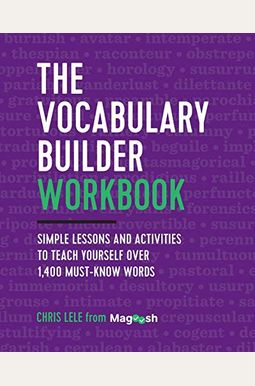 
 
The Vocabulary Builder Workbook: Simple Lessons and Activities to Teach Yourself Over 1,400 Must-Know Words
Book Overview
Improve your vocabulary with simple lessons and activities
Building your vocabulary requires more than flash cards. That's why leading test-prep expert, Chris Lele, developed a new method for introducing words into your vocabulary. With The Vocabulary Builder Workbook, you'll gain and retain a fundamental understanding of more than 1,400 essential words.
Ideal for those taking the SAT, ACT, or GRE―or for those who simply want to boost their writing and speaking skills― this workbook makes the task of expanding your vocabulary an opportunity for real learning and growth.
This vocabulary workbook includes:
Expertly designed lessons-Explore lessons organized by theme to help you identify roots, form associations, and recognize thousands of additional words outside of this workbook.
A progressive approach-Build up your vocabulary with lessons that steadily increase in difficulty for continued advancement.
Retention-focused activities-Discover exercises designed to help you remember every word long after the test is over.
Increase your vocabulary and become a better reader, writer, and test-taker with The Vocabulary Builder Workbook.
Frequently bought together
Frequently Asked Questions About The Vocabulary Builder Workbook: Simple Lessons and Activities to Teach Yourself Over 1,400 Must-Know Words
Books like The Vocabulary Builder Workbook: Simple Lessons and Activities to Teach Yourself Over 1,400 Must-Know Words
Book Reviews
(14)
Did you read The Vocabulary Builder Workbook: Simple Lessons and Activities to Teach Yourself Over 1,400 Must-Know Words? Please provide your feedback and rating to help other readers.
This book definitely increases your vocabulary by a long shot .

Derived From Web

, Jan 9, 2022

This book strengthens your word selection and increases your vocabulary by understanding the meaning of what you are reading.
It's "OK" but thats it

Derived From Web

, Jun 12, 2021

You don't review or see the words in any section of the single page that you learn about. It feels like you're just writing a bunch of information in and not doing much. I think it's just for a specific learning style. I like to work with words that will burn into my brain.
Absolutely Prodigious

Derived From Web

, Sep 3, 2020

We adopted this for our 10 year old granddaughter. There are usually many new words in a lesson. Rather than rushing through the book, we are doing a single lesson each week. She writes a sentence using each new word. She has written some very imaginative and unique sentences. A short activity is included in each lesson. The sample words were taken from the first five lessons.
A wonderful surprise! Very good!

Derived From Web

, May 26, 2020

I was trying to find books that would help me learn French. I don't know why this was in the French section, but I thought I was ordering a French Vocabulary Book. When it arrived, I was very disappointed. I started the process of returning it, but then I looked at it and realized I could benefit from it. It has about 8 new words per lesson. It was less than $10 Even though it was a paperback, it was big and strong. I'm taking about 3 days per lesson to learn all the words. Other people might go quicker, but this was the pace I was at. I enjoy it very much. I'm learning a lot. I am keeping it. I recommend it to teens and adults who need more words for their SATs. This book is for sale. It's worth every single penny.
Non Spanish book

Derived From Web

, Apr 10, 2020

The book was stuck in the middle of learning Spanish and English. This should be moved. I need my costs credited as they are useless to me.
Good !

Derived From Web

, Feb 23, 2020

Is a good book for people who are learning English as a second language and for people who want to improve and extend their vocabulary, the price is so cheap.
Not for advanced readers.

Derived From Web

, Jul 13, 2019

I think it's okay for beginners. The online pages should be looked at before you buy. I did not care for style.
Save your money!!!

Derived From Web

, Jun 20, 2019

I was excited to receive the book. Within minutes, I found glaring errors. Lesson 163 focuses on learning the root 'ec.' 'eccentric' is the first word that comes to mind. The root of 'eccentric' is actually 'cent' which means, rather obviously, 'center'. The word 'ec' means 'out'. One would hope that the lessons relating to roots would be accurate, since the author highly recommended that one approach vocabulary acquisition by learning the roots of words. I hope you don't waste your money like I did.
Hmmm it's ok

Derived From Web

, May 19, 2019

There are new words and sentences in each chapter. I didn't connect with this book and didn't feel like it was engaging.
Not a fan but a good book for the right student

Derived From Web

, Oct 3, 2018

I hate to give this a less than optimal review as it clearly is a book full of valuable vocabulary and I am not a fan of the lay out. I have used picture vocabulary books before and will do so again. There were too many words on each page, not enough examples for each word, and the exercises were very short and don't allow you to really practice the words. It's hard to remember all the words on one page with little practice before you get to the next page. It is not the books fault, I am a visual leaner and learn new words with images. I was not a fan of the pronounciation guide provided, I was looking up online how to pronounce certain words which did not correspond to the purpose.