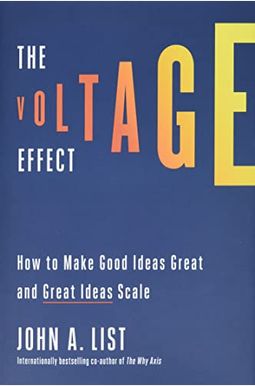 
 
The Voltage Effect: How to Make Good Ideas Great and Great Ideas Scale
Book Overview
Why do some ideas make it big while others fail to take off? One of today's leading behavioral economists says it comes down to a single question: Can the idea scale?
All great ideas have one thing in common: They are not guaranteed to succeed. Be it a medical breakthrough, a policy initiative, a product innovation or a social movement, translating an idea into widespread impact depends on one thing only: whether it can be replicated at scale. Scale has become a favored buzzword in the startup world. But scale isn't just about accumulating more users or capturing more market share. It's about whether an idea that takes hold in a small group can do the same in a much larger one. Scalability is critical to everything from expanding a small business, to narrowing the national achievement gap, to delivering billions of doses of a vaccine, to making a new technology widely affordable - and much more. While all successfully scaled ideas are alike, all unscalable ideas fail in their own way. To succeed, says University of Chicago economist John A. List, an idea must achieve high voltage: a set of characteristics that predict its ability to scale. Drawing on his own original research--as well as fascinating examples from the realms of business, government, education, and public health--List offers proven strategies for avoiding voltage drops, and engineering
Read More chevron_right
Frequently Asked Questions About The Voltage Effect: How to Make Good Ideas Great and Great Ideas Scale
Book Reviews
(4)
Did you read The Voltage Effect: How to Make Good Ideas Great and Great Ideas Scale? Please provide your feedback and rating to help other readers.
Be Prepared for Many Epiphanies!

Derived From Web

, Feb 5, 2022

This book is the culmination of the journey of one of the most prolific economists in the world, who also happens to be one of the best teachers of economics in the world. Not only does the book draw on well-developed academic studies to support its claims, but it also teaches by stories from the real world that are entertaining and addicting to read. Whether you are an entrepreneur looking to implement your startup, a policymaker hoping to scale far and wide, or a student who wants to learn more about what to do to make the world a better place, there is something for you in this book. Former CEO of DiagKNOWstics Learning, Rohen Shah is now retired.
Common sense book, good background on scaling

Derived From Web

, Feb 5, 2022

Many commonsense ideas from the author about how to scale and the pitfalls to avoid when you are trying to scale. About most of what I have heard so far so a little bit of rehash of other ideas. Much of it is built off from Kahneman and Tversky's work. His idea of optimal quitting was new to me and made a lot of sense. I thought his stories were good and added interest in the points he was trying to make and in overall it was a good background book on how to scale up ideas. Probably could have been a bit shorter, but nonetheless a pretty quick read.
A rare combination of great research, great writing and practical advice

Derived From Web

, Feb 2, 2022

John List is one of the top economists in the world. He draws on a deep well of research and expertise to explain how and why ideas scale. This type of insight is precious in today's increasingly digital and networked world. But I wouldn't recommend this book if it was not also so well-written, illustrating each point with well-chosen examples and page-turning style. The Voltage Effect is a must-read book.
A must read for anyone interested in economics and policy

Derived From Web

, Feb 2, 2022

This book is very comprehensive in thinking very carefully about why companies and governments should think about the problems of scaling successful initiatives. List is an extraordinary economist, and his interesting case studies really shine in his writing. For me, the last section really hit home. Organizations need an internal culture of scientifically experimenting and scaling. Every manager and C-suite exec should read this book!!