Buy 3 Get 1 Free
Our Best Sale Yet! Add 4 Books Priced Under $5 To Your Cart     Learn more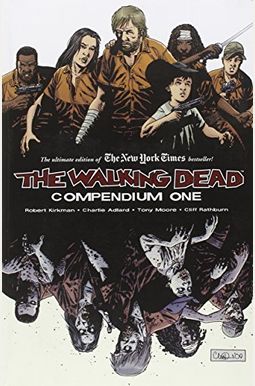 
 
The Walking Dead Compendium Volume 1
Book Overview
Introducing the first eight volumes of the fan-favorite, New York Times Best Seller series collected into one massive paperback collection Collects The Walking Dead #1-48. This is the perfect collection for any fan of the Emmy Award-winning television series on AMC: over one thousand pages chronicling the beginning of Robert Kirkman's Eisner Award-winning continuing story of survival horror- from Rick Grimes' waking up alone in a hospital, to him and his family seeking solace on Hershel's farm, and the controversial introduction of Woodbury despot: The Governor. In a world ruled by the dead, we are finally forced to finally start living.

Frequently bought together
Frequently Asked Questions About The Walking Dead Compendium Volume 1
Book Reviews
(16)
Did you read The Walking Dead Compendium Volume 1? Please provide your feedback and rating to help other readers.
I LOVE THE WALKING DEAD!!!

Derived From Web

, Apr 20, 2022

For years I have been a fan of The Walking Dead. I started watching when there were only three seasons on Netflix. I watched pretty much binge for three seasons straight and then joined the rest of the world with watching every Sunday. Anyway, I didn 't know that the show was derived from comics until I saw an episode of Talking Dead. I bought the compendiums and discovered them I decided to buy them. I have been thoroughly amused with these comics, I have been thoroughly entertained ''. I love reading them and seeing how they are the same and different from the show. I am almost done with Compendium one and hoping for Compendium two for Christmas. This is a good read, just as great, if not better than the show. I am a fan of the show and now the comics for LIFE!!! ! !
Worth every ounce!

Derived From Web

, Apr 20, 2022

Or should I say pounds? Yes, I read this book and is 5 pounds of the best graphic novel you will probably weigh in a great while. Not to mention the bloodiest! Rick and the other survivors quickly learn that it is not the undead that shamble about seeking fresh meat, but the other survival groups that have become the real monsters. Don 't get too attached to some characters, as you will soon learn that no one is spared from being suddenly written out of the script. Be sure to do some pushups and get in shape before tackling this book. Now that I completed my workout Compendium One, it's off to the hefty Compendium Two. Ugh! , Ugh! There's a God, there's a Three?
Must have for any Walking Dead Fan

Derived From Web

, Apr 20, 2022

This is a must for any walking dead or horror comic fanatic. It takes you on a journey through the same Walking Dead universe, with most of the same characters, but in a totaly different story line. This is what started it all. And the collection is very convenient for all being in 2 books. Unless you are a professional comic collector who wants to read 100+ back issues to try and buy the run? The only issue I had is that sometimes the book can be difficult to read due to its overall weight, but is not a bad problem to have.
So good I had to buy another set

Derived From Web

, Apr 20, 2022

I have received these for Christmas from my nephew. When they arrived, I began reading them myself, being a fan of the TV show, and was immediately sucked in. Fortunately, I read quickly or my nephew would not receive them because they are beautifully done and I highly recommend them. My only complaint is that I ordered both Compendium One and Compendium Two and the books themselves are REALLY HEAVY. I mean it weighs at least a couple of pounds each and it will cost the earth to mail them to Arizona and I wish I had them sent to my nephew instead of trying to include them in the Christmas box for the family. When I realized how good the books were, I ordered another set for my son and had them shipped directly. My advice is that if you purchase these as a gift, whoever you get them will love them, but have them sent directly because they weigh a ton.
Great read/anti-zombie weapon

Derived From Web

, Apr 20, 2022

If you are a fan of the tv show, this is a really good read. Since I was a kid, I haven 't read too many comics since I was a kid, but this was pretty cheap on sale, so I decided to pick it up. Was a great value for I think about $20 for the first 50 or so issues of the comics. The tv show follows pretty closely the plot of the comics. As an added bonus, it is heavy enough that you could probably use it as a weapon in the case of an actual zombie attack. It's seriously massive.
Great Compilation of Walking Dead

Derived From Web

, Apr 20, 2022

I wanted to read Walking Dead for years, but did not find it financially feasible until the compendiums came out. I also love that you can read several chapters at a time and not have to wait for the next one. For some, I know that anticipation is part of the fun, but it can be pretty nice to be able to read a large chunk of the storyline in a single sitting. I enjoy the more raw side of this story compared to the show. I really enjoyed the show thus far, but as usual, the book is superior in the storyline. I would recommend this for any survival-story fans out there.
Great read

Better than the show in my opinion.
I can see the appeal...But it's not for me. :T

Derived From Web

, Feb 17, 2022

I still give this 5 stars because it is good written and the art is well. If you like a suspenseful, edge-of-your-seat drama on every other page and zombie-gore, then you can see the appeal with this series. But on a personal level, I do not like it. I bought only one copy to try it out before I watch the show, but... I have never been fond of zombie stories before, and this made me even less fond of them. Way too much of an emotional roller coaster and not enough comedic moments for me. I also feel like the survivors have acted too much like I think we would in this kind of apocalypse. They were more preoccupied with killing other survivors than trying to get to the bottom of the zombie virus. ... And I thought that Game of Thrones was brutal with the killing of likeable characters. I think I'll stay with dark fantasy and nerdy comedy. In my favorite dramas, I need more breathing room for laughter.
Arrived perfectly

Derived From Web

, Sep 13, 2020

Arrived perfectly new, as I had hoped since I bought it as ''NEW with no creases, bends or folds. Not to mention I had to buy new as I have a touch of OCD and can not see using a book that a stranger touched, brought to the bathroom with them, slapped on God knows what surfaces ate with and fell asleep with. Whew! Whew! Lol's Lol. is Lol. It came packed with plastic bubble as it should be to protect it, let the customer decide if they want to put creases in it. Anyway, I have yet to read, I 'll update when I do. Otherwise, I heard very good things about the comics - series, I was a fan of the TV series early on, but drifted away and hoping to rekindle that and I am excited to dive in! ''
Not terribly impressed

Derived From Web

, Jul 13, 2020

I made it about halfway through and unfortunately the bland, predictable writing prevalent in the first 50 or so pages didn 't improve enough to keep me going. Yes, it is a comic book, but one written for adults, so I don 't think it's too big an ask, but it is a shame that I bought it because of T.V. Show and noticed enough differences right away where I would have stuck with this writing if the writing was better. It would have been like immersing myself in an entirely new story, but I just couldn t get past the dialogue. The overwhelming sense I had was that the writer looked at a situation in which the characters were, thought, Well, they should say this then, and that was that. There was little to no imagination involved.