BLACK FRIDAY DEALS CONTINUE - SAVE 20% AT CHECKOUT WITH CODE CYBERBOOK. Learn more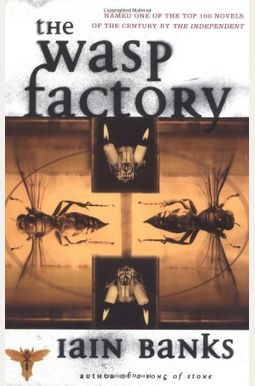 
 
Book Overview
The polarizing literary debut by Scottish author Ian Banks, The Wasp Factory is the bizarre, imaginative, disturbing, and darkly comic look into the mind of a child psychopath.
Meet Frank Cauldhame. Just sixteen, and unconventional to say the least: Two years after I killed Blyth I murdered my young brother Paul, for quite different and more fundamental reasons than I'd disposed of Blyth, and then a year after that I did for my young cousin Esmerelda, more or less on a whim. That's my score to date. Three. I haven't killed anybody for years, and don't intend to ever again. It was just a stage I was going through.
Frequently Asked Questions About The Wasp Factory
Books like The Wasp Factory
Book Reviews
(8)
Did you read The Wasp Factory? Please provide your feedback and rating to help other readers.
Great book!

Derived From Web

, May 20, 2022

It is not an easy read at times. In the end it pays off with thinking about the story, the characters and what it means to be a human being and how it can be defined by others and ourselves by what other people do and say to us.
One eccentric book from the beginning to the strange ending ...

Derived From Web

, May 20, 2022

One peculiar book from the beginning to the eccentric ending. Bank is very different from other books by the Bank, such as the Hydrogen Sonata. On the dark side, highly entertaining.
disturbing and wonderful. Loved this book

Derived From Web

, May 20, 2022

Whew... fantastic and turbulent. This book has been loved. Several great jaw-drop moments. Not for the faint of heart, but worthy of a read!
a classic in it's own right, odd and uncomfortable ...

Derived From Web

, May 20, 2022

A classic in its own right, odd and uncomfortable to read and that is really the charm in this book. Highly recommended!
I wanted to love it...

Derived From Web

, Feb 3, 2021

After hearing so much about this book over the years, I was so excited to finally get it for myself. While really capturing the mindsets and activities of a mentally ill family, it is actually quite mundane. Characters go through their routines, they explain what they are doing in revelatory detail, have a wordy internal monologue that is not just agonizing... I made it about a quarter of the way through before I lost interest completely and I didn't pick it up for months. Finally, I made it and have made it so far almost halfway and am still bored to death by it. I'll finish it because not finishing something drives me crazy, but it is really disappointing with all the hype.
Yuck

Derived From Web

, May 26, 2020

It was so unpleasant that I couldn t finish it. Just me, but I need to feel somewhat like one of the main characters. I do not like the protagonist of this book and didn 't want to continue reading. I like mysteries, including murder mysteries, but I don 't like fictional stories that focus on serial killers or torture. What is the point anyway?
Pretty dang disturbing

Derived From Web

, Feb 2, 2020

I read Reddit and the post was about disturbing books that people have read. This came up first. I had to chew for a few days on my thoughts on this book before starting a new book. Giving details about this book are almost impossible because it would give away the story.
Disturbing but ultimately...enjoyable?

Derived From Web

, Nov 1, 2019

I'm a huge fan of banks and I have read all his sci-fi and several other of his fiction books and continue to work through his entire body of work. But I never read this one, his first novel. I won 't say it is a bad book because it is very well written and there is a plot somewhere. Just because I am a bit squirmy about content, does not mean it is a good book. I'd say that it falls somewhere between fiction and horror. It works best if you try to read it with a dark sense of humor. During my reading, I did laugh out loud and gasp a few times. If you read this book, I would suggest contrasting it with Mr. Banks's final novel, The Quarry. I think they make a nice pair.