Buy 3 Get 1 Free
Our Best Sale Yet! Add 4 Books Priced Under $5 To Your Cart     Learn more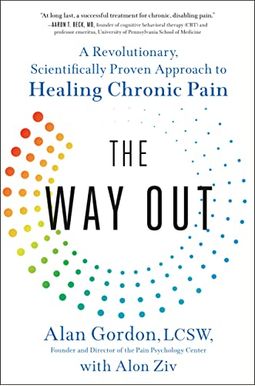 
 
The Way Out: A Revolutionary, Scientifically Proven Approach To Healing Chronic Pain
Book Overview
A groundbreaking mind-body protocol to heal chronic pain, backed by new research.
Chronic pain is an epidemic. Fifty million Americans struggle with back pain, headaches, or some other pain that resists all treatment. Desperate pain sufferers are told again and again that there is no cure for chronic pain. Alan Gordon, a psychotherapist and the founder of the Pain Psychology Center in Los Angeles, was in grad school when he started experiencing chronic pain and it completely derailed his life. He saw multiple doctors and received many diagnoses, but none of the medical treatments helped. Frustrated with conventional pain management, he developed Pain Reprocessing Therapy (PRT), a mind-body protocol that eliminated his own chronic pain and has transformed the lives of thousands of his patients. PRT is rooted in neuroscience, which has shown that while chronic pain feels like it's coming from the body, in most cases it's generated by misfiring pain circuits in the brain. PRT is a system of psychological techniques that rewires the brain to break out of the cycle of chronic pain. The University of Colorado-Boulder recently conducted a large randomized controlled study on PRT, and the results are remarkable. By the end of the study, the majority of patients were pain-free or nearly pain-free. What's more, these dramatic changes held up over time.
The Way Out
brings PRT to readers. It combines accessible science with a concrete, step-by-step plan to teach sufferers how to heal their own chronic pain.
Frequently Asked Questions About The Way Out: A Revolutionary, Scientifically Proven Approach To Healing Chronic Pain
Book Reviews
(18)
Did you read The Way Out: A Revolutionary, Scientifically Proven Approach To Healing Chronic Pain? Please provide your feedback and rating to help other readers.
This book + Their Podcast + Curable app healed my pain

Derived From Web

, Mar 14, 2022

If you've been in pain a long time, it's easy to be skeptical that reading a book could even help you, let alone heal the pain. The book is also being sold to people suffering from chronic pain. But for many, it changes their lives. Also check out my new podcast, The Cure, and the curable app. The free trial period is available for a limited time. But I'm not typically a review person. Hey, you save my quality of life and all my hobbies, yeah, you can have 5 stars, right? Other commenters have compared it to "teaching yourself that you can get better anecdotes and the help solidify those concepts."
Too many anecdotes

Derived From Web

, Feb 22, 2022

If you love a lot of empty anecdotes, this book will make you happy. The real meat of Somatic Tracking could fill a magazine or internet article, but not a book. The book is clearly an ego-driven oeuvre of Mailer. Now you can track your car using Google's powerful Somatic Tracking service. You can find more Alan Gordon videos on YouTube.
A must read!

Derived From Web

, Dec 31, 2021

Lower back pain has been a constant complaint for over three years. My back has completely popped back out four times where I was lying flat in bed for weeks at a time. Six lumbar injections, four rounds of physical therapy, and a physiatrist who only wanted to medicate me. At the end of the rope, I was at the end of my tether. The pain and fear of the pain was crippling every aspect of my life. A friend told me about this book and I was skeptical, but willing to give it a try, it actually worked! For the last three months I have felt 90% better and when the pain try's to creep back in, I exercise what I learned from the book. If you think this is a good investment, I highly recommend giving it a try. I also read the book by Dr. Sarno, which has a similar premise, but this book breaks it down into terms that are far easier to understand and follow.
Cured my Sciatica

Derived From Web

, Dec 27, 2021

In constant pain in my lower back and hip, I could barely walk. I heard about this book through the Curable community subscription and got it through Audible. Lord, I thank you. It's great to be back home, said Blair.
Excellent Book on Chronic Pain

Derived From Web

, Nov 16, 2021

This book is an extremely well-written take on chronic pain. While a lot of others have written convincingly on the psychosomatic cause, I'd really recommend this book as a starting point. The book is full of great stories, too. The plan calls for the elimination of 2,100 jobs and the construction of new buildings by the end of the year. If you want a very thorough look at the psychosomatic pain, read Dr. John Sarno's excellent Divided Mind. If you want to learn what's going on with your body and how to fix it -- and enjoy reading about this, then start here with The Way Out. Congrats to Alan Gordon and Alon Ziv for their work and I hope they enjoy it as much as we do.
Poorly Written

Derived From Web

, Oct 24, 2021

The whole thing was written on and on as if it were going to be dashed off in one night. It kept you waiting for the payoff—how to actualize somatic tracking—but never really explained how.
Read a reputable article instead

Derived From Web

, Oct 4, 2021

Like an infomercial, this book is the equivalent of a hardback bargain. It's full of anecdotal cases of no consequence. However, no real direction or actionable info is given. Approaches the subject in a tangential manner. The book deals with the author's experience of being a child who was "pummelled" by a lion, described as a miraculous journey from agony to bliss. It's just a suggestion to go to the author's website for "real" help, Graham said. As a self-help book, it lets the reader down epically.
WAY too many anecdotes

Derived From Web

, Sep 15, 2021

Sorry, but I have a less favorable opinion of this book. What's more, he said, "it's just little things." No new ideas, just mechanical tweaks. The chapter summaries are also in the book. Overall disappointing day for Warner Bros. Pictures.
Anyone in pain please read this book

Derived From Web

, Sep 9, 2021

Years of scans, pills, injections and surgery -- all just needed the techniques in this book. I think anybody reading this could glean some useful information from it, he said. It's an easy, fast read that I will definitely revisit and recommend to others.
OK but not great

Derived From Web

, Sep 3, 2021

It's mostly just CBT and mindfulness at a high level, whereas most of the chronic pain world starting with John Sarno and including other writings by the author emphasize the vital role emotional conflicts play in perpetuating pain. The book has virtually nothing to do with Dr. Goin's claim. Yes, there are some good thoughts here for sure, but this is not a revolutionary breakthrough book by any means.