Buy 3 Get 1 Free
Our Best Sale Yet! Add 4 Books Priced Under $5 To Your Cart Learn more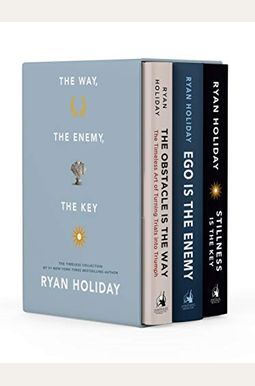  
The Way, The Enemy, And The Key: A Boxed Set Of The Obstacle Is The Way, Ego Is The Enemy & Stillness Is The Key
Book Overview
A timeless trilogy of the extraordinary bestsellers The Obstacle is the Way, Ego is the Enemy, and Stillness is the Key by Ryan Holiday, now available for the first time ever in a beautiful boxed set edition.
For more than two thousand years, Stoic philosophy has been the secret operating system of wise leaders, artists, athletes, brilliant thinkers, and ordinary citizens. With his acclaimed, bestselling books
The Obstacle is the Way, Ego is the Enemy,
and
Stillness is the Key,
Ryan Holiday has helped bring the Stoicism of Marcus Aurelius, Seneca, and Epictetus to hundreds of thousands of new readers all over the world.
The Obstacle is the Way
teaches you how to let go of the things you can't control and turn every new obstacle into an opportunity to get better, stronger, and tougher
. Ego is the Enemy
teaches you how to overcome and master the greatest obstacle in life--our insatiable ego.
Stillness is the Key
teaches you why slowing down is essential to charging ahead. This boxed set offers the Stoic insights and exercises from all three books featuring a vast array of stories and examples, from literature to philosophy to history. If you or anyone you know are seeking inner peace, clarity, and effectiveness in our crazy world, this collection will help immensely and makes a great gift. It will help you find the serenity, self-knowledge, and resilience you need to live well. Start your journey in the art of living.
Frequently Asked Questions About The Way, The Enemy, And The Key: A Boxed Set Of The Obstacle Is The Way, Ego Is The Enemy & Stillness Is The Key
Book Reviews
(8)
Did you read The Way, The Enemy, And The Key: A Boxed Set Of The Obstacle Is The Way, Ego Is The Enemy & Stillness Is The Key? Please provide your feedback and rating to help other readers.
Ryan Holiday is hands down my favorite author

Derived From Web

, Jan 20, 2022

ALL LOVE THESE BOOKS! I READ ALL THREE DIRECTIONS BEGINNING WITH "ARRIVES" BECAUSE ALL THREE DESERVE A PLACE IN MY HOME LIBRARY. Some people just need to read them all. BUT RYAN'S BOOKS ARE THE TYPES OF BOOKS YOU NEED TO KEEP A HARD COPY IN YOUR HOME.
Stoic accessible masterpieces

Derived From Web

, Jan 15, 2022

Like a slap in the face, these books are all over. Turner said he wanted to thank God that all the kids are "doing well." Made me feel so empty, so I needed more discipline, she wrote. It made him depressed because he realized how unstable he was emotionally and how impulsive he was. Many people will not like that. But these principles are ancient, tested and work. The books are extremely simple, even for a first-time writer. It's just that simple, I think. I've read many books on stoicism. They are too complicated and too much philosophical bloviating, Raymond said. The new York Times best-seller is a stripped-down, minimalist and practical exercise in decluttering. You can't do that, so you have to read the book the same day. If you want to learn more about ancient philosophy, you can't go wrong with John Heine's book. It's great to be back home, said Blair. I'm not sure which home is my favorite.
Perfect Gift For THESE Times...

Derived From Web

, Mar 14, 2021

I have a fan of Ryan Holiday's for a long time and these are my favorite from his collection. I purchased them as a present for my brother, but I haven't read the third book, Stillness is Key. nan I think it's refreshing to hear from the Stoics and try to relate to the resilience of hardships, he said. It's always great to have them all in one package, Bruno said. Besides, wouldn't they be a nice addition to your video call background?
NOT a Book Review

Derived From Web

, Dec 23, 2020

The publisher had labeled the book "for sale in India, Bangladesh, Bhutan, Nepal, Pakistan and Sri Lanka." Not for export to other countries. I am British citizen residing in the US. I am unaware of any censorship of these copies. It took them nearly a month to arrive, after having to order them TWICE.
First impression is disappointed

Derived From Web

, Dec 9, 2020

I was a little shocked when I opened the box, Mr. Dhaliwal said. These hardcover books are smaller than paperback books, making them suitable for reading on the go. The book looks like it has three normal-sized hardcover books but they are actually 13 inches by 19 inches, making them 13 inches by 36 inches. The normal price is $75 which they would never sell for if someone saw them in person. I'm not sure why they are published so small but, without even reading the first sentence, I'm disappointed. Another reviewer says they barely fit in the box, it's just too tight.
Disappointing

Derived From Web

, Oct 3, 2020

This box set by Ryan Holiday was disappointing. I had heard great reviews about his books, and especially after hearing him on Jay Sherry's podcast wanted to read them. Although the message is a great one, I just felt like I was reading quotes from other people and snippets of others lives. It didn't really tie together for me, Taylor said. The book is too short, the chapter structure is too loose and the organization of the book is not up to par. It felt like I was standing still, but the tape recorder was moving. I'm not sure I'll read all three. It's disappointing to say the least.
Box too small

Derived From Web

, Jul 17, 2020

I was excited to receive my boxed set of Ryan's books, Melissa. The only issue I have with this set is that the three books simply do not fit in the box that comes with it. You can fit them in, but they are so tight, that you cannot get them out. The books are great, the box is not.
Thought provoking and inspiring

Derived From Web

, Jun 4, 2020

It was a great deal, said Gillian Berryhill, "and I really enjoyed the box set." There are also some great books on the subject. I think that this would be a nice present for a high school or college graduate.