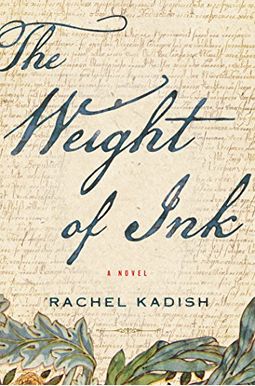  
Book Overview
This Description may be from another edition of this product.
WINER OF A NATIONAL JEWISH BOK AWARD
A USA TODAY BESTSELER

A gifted writer, astonishingly adept at nuance, narration, and the politics of passion.--Toni Morrison

Set in London of the 1660s and of the early twenty-first century, The Weight of Ink is the interwoven tale of two women of remarkable intellect: Ester Velasquez, an emigrant from Amsterdam who is permitted to scribe for a blind rabbi, just before the plague hits the city; and Helen Watt, an ailing historian with a love of Jewish history.

When Helen is summoned by a former student to view a cache of newly discovered seventeenth-century Jewish documents, she enlists the help of Aaron Levy, an American graduate student as impatient as he is charming, and embarks on one last project: to determine the identity of the documents' scribe, the elusive Aleph.

Electrifying and ambitious, The Weight of Ink is about women separated by centuries--and the choices and sacrifices they must make in order to reconcile the life of the heart and mind.
Frequently bought together
Frequently Asked Questions About The Weight of Ink
Book Reviews
(14)
Did you read The Weight of Ink? Please provide your feedback and rating to help other readers.
It really comes together

Derived From Web

, Mar 4, 2020

I started it wondering about the subject matter, not the most thrilling topic in my mind, but loyal to my book club's choice. As the story progressed, I became more and more intrigued about the characters and the intricate plot that connected lives in the 1600s and the 2000s in London. At the book's end, I felt sad not having more of these people's lives to learn about.
An Ambitious Effort at 17th Century Feminism

Derived From Web

, Sep 3, 2019

A truly ambitious effort to create a seventeenth century feminist philosopher and trapped in a world that characterized religious persecution and universal gender discrimination. The 21st century sleuths trying to uncover a bit of the same, contrasting how little and how much has changed over the centuries. The story comes to a bit of a slow start, but it takes time to develop the rich context and characters that populate these stories. History, philosophy and fun life and culture, then and now in these Jewish stories nicely come together.
An historic treasure

Derived From Web

, Jul 20, 2019

This book was one of the most intriguing and loving books I have ever read in a long while. A twisting story of literary and philosophical prowess, the author takes us on an unforgettable journey through time and thought. I ached with Helen and Aaron and I yearned for Ester to find the clues and connections from the over 300 year old texts. The historical hypotheses were fascinating and were realistically rendered. My sincere thanks to Rachel Kadish for giving me hours of supreme pleasure reading about events that have moved my soul.
Engrossing and eye-opening

Derived From Web

, Jan 4, 2019

This book drew me in and made me feel linked and immersed in the history it represents. A great novel can leave you thinking and speaking each time in the style of its prose, and this book did so in many different voices. Each character is well'relaxed and relatable. The history of the Jews of Lisbon, Amsterdam, and London becomes as clear as lives today. I feel drawn to study these places and lives further to gain better understanding and increase the richness I have already felt when immersing myself in this novel.
Two intertwined, emotionally compelling stories. Immense literary talent.

Derived From Web

, Oct 23, 2018

The author weaves this compelling tour de force, focused on a brilliant, young, orphaned Jewish woman. She wrestles with her faith, class, integrity, and constricting, culturally-defined gender role. Set in Gritty, 17th century London, multiple subplots contribute to her growth, happiness and fight for survival. Told in alternating narratives of the young woman and two disparate, contemporary document historians, each wrestling with their own histories while trying to understand her 350-year old writings and give context. This is an elite fiction.
Interesting but a challenge

Derived From Web

, Oct 8, 2018

This is an excellent example of historical fiction in the form of painting a different era and weaving together known historical events and characters without making them the dominant features or storylines. However, it is not an easy read as it contains much philosophy. It also makes you want to keep reading until the end, which is always the mark of a good book! Reading the author's notes at the back is helpful in pointing out the extent of her research, truth versus fiction, etc.
Humanity has 1000's of beliefs, but not one on them can change what is.

Derived From Web

, Jul 26, 2018

Another reviewer of this book closed her review with a comment that one of the messages she received from this book was that atheism is unsatisfying. I would agree, and add that the religious beliefs that humanity have concocted are the same, not to mention highly dangerous to others not like-minded. The type of intellect that the heroine of this book has brought her no end of frustration. By the end of her story, after a life marked by mental, physical and spiritual pain, it seems to me that life is for itself, and its most redeeming quality, the reason why people fight so hard to survive, the fleeting grandeur of desires fulfilled.
Complicated but worth it

Derived From Web

, Jun 12, 2018

Two stories interwoven, one contemporary and one around 1665. The papers are written by an unusually educated Jewish woman at a time when girls were not trained. The character Ester is so unusual that she corresponds to philosophers of the day. The researchers track her life a bit by bit. You get a real sense of what it was like to live in England in the 1660s. The book also demonstrates how passionate to learn and how it might overtake one's life instead of actually living life. This book is unusual, not run by the mill.
Read People of The Book Instead.

Derived From Web

, Apr 6, 2018

While reading the reviews of this book, I saw a statement that compared to people of the book, which I absolutely loved. I wanted to love this book but I got about half-way through and had to give up on it. I liked the dual plot, a past and present story ''. I liked the characters in the current story and may go back to reading it just to see how it ends. The story of the past about orphans who arrive in England to escape the Spanish Inquisition was very interesting, but I have read better. I just felt that the book got bogged with letters to rabbis and philosophers. Probably Jewish scholars would find it interesting. I got the point about the letters being written by a blind Jewish rabbi and scholar and not the brilliant young scholar for whom I worked, but unless you are turned on by philosophy, I wouldn 't recommend this book. I am an avid reader of historical fiction, but this was not my cup of tea.
A triumph! A compelling story, beautifully written.

Derived From Web

, Feb 5, 2018

17th century historians penned together an intriguing story from the struggling Jewish community of 21st century London while dealing with their own demons. The main characters are an apparently disconnected series of newly discovered letters and other documents that unravel the story of the book's real heroine, Ester Velasquez, a Jewish girl who transforms herself from a blind Rabbi's scribe to become a radical philosopher. Rachel Kadish explores the human condition, its frailty and triumphs with exquisite conventions of religion, philosophy and most importantly the role of women. Much of the drama unfolds in the 17th century, but the issues transcend time and remain part of the current religious and social debate. Ms Kadish, thank you.