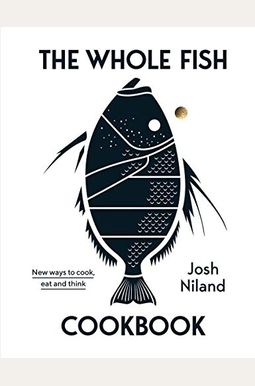 
 
The Whole Fish Cookbook: New Ways To Cook, Eat And Think
Book Overview
The Whole Fish Cookbook is the bestselling cookbook that has changed the way we think about fish. Jamie Oliver called Josh Niland one of the most impressive chefs of a generation and Yotam Ottolenghi voted the book one of his favourites - ever. Add to that a swag of awards, including: Two James Beard awards in 2020 - Restaurant and Professional and the prestigious Book of the Year; Andr Simon Food Book Award 2019; and The Australian Book Industry Association's Illustrated Book of the Year in 2020. The Whole Fish Cookbook was also shortlisted as debut cookbook of the year in the Fortnum & Mason food & drink awards in 2020 and longlisted as Booksellers' choice in the adult non-fiction category by the Australian Booksellers' Association. As well, photographer Rob Palmer won the Australian National Photographic Portrait Prize in 2020 with a stunning photo of Josh from the book.
'My cookbook of the year.' - Yotam Ottolenghi, The Guardian 'A mind-blowing masterpiece from one of the most impressive chefs of a generation.' - Jamie Oliver 'Josh Niland is a genius.' - Nigella Lawson We all want to eat more fish, but who wants to bother spending the time, effort and money cooking that same old salmon fillet on repeat when you could be trying something new and utterly delicious? In
The Whole Fish Cookbook
, Sydney's groundbreaking seafood chef Josh Niland
Read More chevron_right
Frequently Asked Questions About The Whole Fish Cookbook: New Ways To Cook, Eat And Think
Books like The Whole Fish Cookbook: New Ways To Cook, Eat And Think

Book Reviews
(9)
Did you read The Whole Fish Cookbook: New Ways To Cook, Eat And Think? Please provide your feedback and rating to help other readers.
Sometimes chefs say whatever they want without being honest

Derived From Web

, Feb 20, 2021

Inaccuracies such as Mackerel is high in fat, therefore it doesn 't age well ''. It is not, it is extremely high in fat. You see that there is a steamed section for cooking methods. Cantonese value freshness is due to the extra umami from something that is extremely fresh. These dry aged fish are not suitable for steaming, but steaming retains most of the flavor and is IMO the absolute best way to cook most fish and seafood. Overall, some good techniques and philosophy and this book shows that the author knows a lot about meat, which he applies to fish.
Perhaps for the professional chef, but not the home chef.

Derived From Web

, Dec 29, 2020

I am not a professional chef. But I like to take the time and skills to make a really good dinner for my wife and myself. We live in a place where many fish species are plentiful. Ergo, I thought that this book would provide many useful recipes. It does, and not. Most of the material expound focuses on the virtues of using fish innards. Really? With no explanation on how to harvest or how to prepare them. There are great many references to aging or drying fish before using them in some dish, but no information about how the average home could ever process fish with home appliances in this way. Overall, this is a textbook for a professional chef who has the means to follow the provided information.
Super Awesome Book

Derived From Web

, Sep 2, 2020

Great information about cleaning fish and the parts of a fish. The recipes are a little complex with a high difficulty level. Not sure that I will ever make them. If you want to make a number of recipes at home, this is probably not your book. That is, it provides alternative fish for each recipe, so that if you feel adventurous, you will be able to find the ingredients. At least for most recipes, greenspun.
Love this book, however...

Derived From Web

, Jul 14, 2020

I bought this book for my husband on his birthday. He is a chef and loves content absolutely. The book came, however, with a paper band that was taped around the book and stuck to the paper on the interior cover pages. This band was clearly meant to be removed..., however, it was impossible to take off without significant damage to the interior cover both on the back and on the front. Very disappointed about this packaging flaw ''.
Beautiful, but Inaccessible Ingredients

Derived From Web

, Jul 8, 2020

Niland is a genius and I would love to try his food. Unfortunately, I like living in the midwestern US and don 't have access to an actual fish market. There is literally no way for me to access even fillets of most Australian fish he references, let alone the bones, livers, eyes and other nasty bits that pretty much every recipe requires. I am a very adventurous cook and eater and am now sad that I will never be able to try any of this food.
The publisher added a pretty gold ribbon - if you try to take it off, it tears the book

Derived From Web

, Jun 2, 2020

Who came up with this design exactly? I now have a damaged book and am confident that the only way to buy an undamaged book is to get the kindle version. WTH :
If you're looking for great fish recipes, don't buy this book!

Derived From Web

, Apr 3, 2020

My family members are real foodies and we love fish, so that I thought this might be a great addition to my library. Not so unless you're into the arcane, like fish eyeballs and innards. I appreciate that this young chef thinks differently about food and using the whole fish and applaud his spirit, but this book was just not for me.
Exciting!

Derived From Web

, Mar 25, 2020

I'm really excited about everything that this book has to teach, from tools to anatomy, to recipes. I have a really good time with it and look forward to cooking!
Great

Derived From Web

, Dec 7, 2019

I would recommend further professional chefs along in their careers.