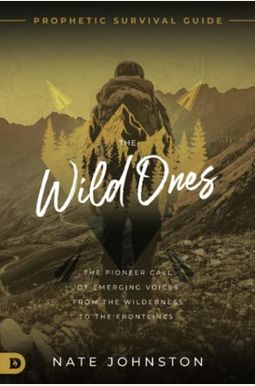 
 
The Wild Ones: The Pioneer Call Of Emerging Voices From The Wilderness To The Frontlines
Book Overview
Wild Ones, Arise
There is a move of God that is stirring and a remnant has heard the call--Wild, radical lovers of Jesus that have been hidden for far too long. Once the burnt out. The outcast. The voiceless and muzzled. Now they arise as the burning ones to release the word of the Lord and fire of Heaven into the four corners of the earth. They are the carriers of reformation, revival, and unique and undignified movements. They are a generation of David's called for such a time as this. In
The Wild Ones,
prophet and worship leader, Nate Johnston offers an urgent summons to the wilderness prophetic voices, and a jarring wakeup call to the established church: if we are to experience a fresh outpouring of the Spirit, we must reform In this timely book, Nate offers prophetic insights and Biblical revelation that will set you free from the fear of man, bring a fresh download from Heaven, and reveal your place in God's agenda to bring Heaven to Earth In
The Wild Ones
, you will receive:
Purpose for your wilderness season.
Direction for your unique, God-given gifts.
Healing from the pain of past rejection.
Encouragement to speak truth in the midst of the chaos.
Empowerment to release supernatural solutions in your sphere of influence.
Now is the time to emerge from the Wilderness and be the new sound and voice of truth that will unshackle bonds of oppression, remove veils, and set the captives free.
Frequently Asked Questions About The Wild Ones: The Pioneer Call Of Emerging Voices From The Wilderness To The Frontlines
Book Reviews
(10)
Did you read The Wild Ones: The Pioneer Call Of Emerging Voices From The Wilderness To The Frontlines? Please provide your feedback and rating to help other readers.
Life changing book!

Derived From Web

, Feb 27, 2022

I can relate to his story and his encouragement for us who have walked that path is invaluable! I've been waiting for some kind of permission or to be told it's ok to be the way God made me to be, and this book was it! It is truly amazing to know that God has created me, wild and out of the box for a reason. I am beyond grateful for this book, Diana said. Thanks for the blazing trail forward and then giving us this guide on how to navigate the way! Praying that God would continue to bless and multiply your words and influence! This book is what we need at this time and place in the world. It's great to be back home, said Blair.
Opinion piece ...lots of judgement

Derived From Web

, Feb 6, 2022

The author writes his opinion and experience in such a way that unless you share his ideals, you are not following Jesus properly.
This book will ignite you!

Derived From Web

, Jan 6, 2022

It has helped me understand and fully process the reasons I never belonged anywhere, why so much profound rejection and ridicule by even people considered to be church leaders, and why I never seemed to fit in anywhere. It has helped me in ways I don't have time to write in this review, but this book is a must read for anyone who has been in a wilderness season for way too long and for reasons they never understood. I highly recommend this book to anyone who enjoys good writing. Gear up pioneers and forerunners because a new thing is coming, and people need us to press through the hard and birth the things God placed in you for such a time as this. It's great to be back home, said Blair.
A prophetic guide for your voice and vision

Derived From Web

, Jan 2, 2022

Identity and the journey to be an authentic voice is a path that Nate has already walked through and he has given us a legend and a map to help every believer navigate their heavenly path. Whether you are a new client or an old client, Wild Ones will help you remain true to who you are called to be and will stir up the fire to get you going in the right direction! There is greatness and a unique call inside of every believer, while reading that call, you will be stirred to take that call and you will be ignited to live and walk it out. Whether you are on the verge of a breakthrough, a seasoned vet or just not quite sure where to start, Wild Ones is the guide and road map for your journey. Each chapter has a prophetic key to absorb and reinforce the chapter, and a prayer of activation to pray. Whether you are a seasoned warrior or a budding entrepreneur, Wild Ones has revelation and stories for where you are and are going. This is your GPS to steer you into the world of unknowns.
I fell off my chair!!

Derived From Web

, Dec 30, 2021

It was like reading a letter from God. Quattrone, 47, has served three years in federal prison for bank robbery. I've read some sections and just marveled at how God can speak directly to you as if the book was written for you alone. Get the book, too. Get it.
Must READ for Prophetic Leaders

Derived From Web

, Dec 29, 2021

We have experienced some insane portions of our journey without having the real language or understanding of why we were experiencing what we were. We had the knowledge and the voice of the Holy Spirit to help us navigate the wilderness, but it is refreshing to have those prophetic people who can come alongside you and give you encouragement to continue, he said. Thanks for writing this as we know it was hard to share some of the deep portions of your journey, but this book is one of the best I have ever read.
Wow! If you feel out of place in this world, go get this book!

Derived From Web

, Dec 28, 2021

I went back to that day as a 6yr old self getting on the church bus all alone as I felt a pull to be in church and going through life feeling out of place. I am God's wild one and if I am going to fit in anywhere I want to be in His kingdom, he said. This book is must read by all. Thanks Nate for your faithfulness to God and to the Lord, said the Lord's Prayer.
Wild read!

Derived From Web

, Dec 28, 2021

Brand new research by Oxford Economics shows that Gen X is a powerful force for good. There is also a wilderness section dedicated to saving money. Get a nice pen and start underlining and scribbling notes.
Hail to the misfits!!

Derived From Web

, Dec 27, 2021

I have only read Part 1 so far, but I feel like I have been seen. I have spent decades trying to fit the round hole or fitting the box requested by whatever church we were attending only to feel frustrated and denied the possibility of acting on the vision given to us by God, he said. It is so encouraging to know there are others like us out there and that we are now entering a season when what we are called to do is being recognized just as much as those who go the more traditional route.
Wildly Anointed

Derived From Web

, Dec 27, 2021

However, I will provide an overall review of the book once I finish it. This gift from Heaven is truly appropriate, highly captivating, and immensely intended for the furthering of God's Kingdom in this time, he said. His heart resonates throughout every page as he shares his experiences and the liberty of the Holy Spirit comes alive in all his glory. Even though I was not reading the entire book, the spirit stirred while I was reading the first few pages. I was moved to tears. I am excited to continue my journey through the text and look forward to sharing what I have gleaned from its impartation, he said. Thanks to Nathan for this navigation guide.