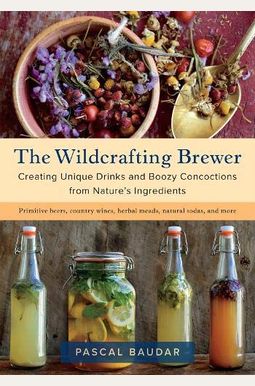 
 
The Wildcrafting Brewer: Creating Unique Drinks and Boozy Concoctions from Nature's Ingredients
Book Overview
Primitive beers, country wines, herbal meads, natural sodas, and more
The art of brewing doesn't stop at the usual ingredients: barley, hops, yeast, and water. In fact, the origins of brewing involve a whole galaxy of wild and cultivated plants, fruits, berries, and other natural materials, which were once used to make a whole spectrum of creative, fermented drinks.
Now fermentation fans and home brewers can rediscover these primitive drinks and their unique flavors in The Wildcrafting Brewer. Wild-plant expert and forager Pascal Baudar's first book, The New Wildcrafted Cuisine, opened up a whole new world of possibilities for readers wishing to explore and capture the flavors of their local terroir. The Wildcrafting Brewer does the same for fermented drinks. Baudar reveals both the underlying philosophy and the practical techniques for making your own delicious concoctions, from simple wild sodas, to non-grape-based country wines, to primitive herbal beers, meads, and traditional ethnic ferments like tiswin and kvass.
The book opens with a retrospective of plant-based brewing and ancient beers. The author then goes on to describe both hot and cold brewing methods and provides lots of interesting recipes; mugwort beer, horehound beer, and manzanita cider are just a few of the many drinks represented. Baudar Read More chevron_right
Frequently bought together
Frequently Asked Questions About The Wildcrafting Brewer: Creating Unique Drinks and Boozy Concoctions from Nature's Ingredients
Books like The Wildcrafting Brewer: Creating Unique Drinks and Boozy Concoctions from Nature's Ingredients
Book Reviews
(6)
Did you read The Wildcrafting Brewer: Creating Unique Drinks and Boozy Concoctions from Nature's Ingredients? Please provide your feedback and rating to help other readers.
This gorgeous book will deepen your relationship with your wild place.

Derived From Web

, Jul 20, 2020

To me, this book is pure magic. Secondly, Pascal has a friendly and approachable voice of a writer. Had I ever thought about foraging wild yeast? I am an Alaskan, and here in the middle-late summer, the woods is overflowing with abundance. I can not wait to get out there and see what I can do!
Such a good book

Derived From Web

, Apr 25, 2019

If you are into fermentation, herbalism or even tea, this book is amazing. I recently started fermenting and I have wanted to make my own wine but it seemed so intimidating with all the websites and equipment involved. People have been doing this for years and this book is more of a guide to teach the method, but not cap your creativity. Highly recommended!
Inspiration for offbeat home brewing ideas

Derived From Web

, Dec 26, 2018

Since I live in an entirely different part of the country from the author, a lot of recipes aren 't things I can do as-is, but the book is a delight to read and full of edible ideas to experiment with, especially when paired with another book about local plants that are edible. The foraging fare is a little limited now in December, but when the sap begins to flow in a few months and then plants start to bud, there are some very neat things to try.
Great guide for inspiration and new techniques

Derived From Web

, Jul 20, 2018

I feel like I'm going along for the adventure in each section as he describes each ingredient and how they are found, harvested, handled and used. I have been fermenting on my own for a few years and adding this book to my library introduced me with more ways to play. He has inspired new ingredients and methods with which I wouldn't have known to experiment. I also recommend The New Wildcrafted Cuisine for foraging and exploring all that the wilderness can offer you a kitchen.
dont stop here....it gets better!!!!

Derived From Web

, Apr 24, 2018

If you like it, stop here. See his book, The New Wild Crafted Cuisine. If you are a foodies, you will faint with joy. I can not write a review even if it is that good. If you are a photographer, look at the book and give up your career. You can not take better pictures than this. When you are in LA take his classes on a weekend, it will enlighten you, teach you to open your eyes and change your life.
Complete, tried & tested recipes for making alcohols you never knew existed.

Derived From Web

, Feb 21, 2018

Another fantastic book by the forager Pascal Baudar! There are a number of wild books about turning great plants into alcohol drinks. The Wildcrafted cocktail by Ellen Zachos makes your own foraged syrups, bitters, infusions and Garnishes. Includes recipes for 45 one-of-a-kind mixed drinks Wild double the size of your liquor cabinet, Emily Han's Wild Drinks and Cocktails Handcrafted Squashes, Shrubs, Switchels, Tonics and Infusions to mix at home and Stan Hieronymus's Brewing Local American-Grown Beer are all great starters, but Pascal brings you to the next level. His easy-to-follow recipes will have you fermenting quickly things that you never knew were fermentable in combinations that will make your taste buds sing. Of course, as a book by Pascal, the accompanying photographs are works of art in their own right. This book is great!