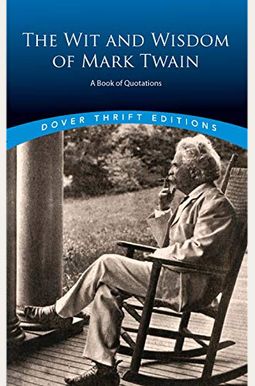 
 
The Wit And Wisdom Of Mark Twain
Book Overview
This Description may be from another edition of this product.
Besides being one of the most treasured writers in American history, Mark Twain was also one of the most quotable. This comprehensive compendium collects over 500 of his best quips and remarks.
Born in Missouri under the name Samuel Langhorne Clemens, his pen name, Mark Twain, was river-boat slang for 12 feet of water. Clemens adopted the name Mark Twain after he established his voice as a journalist. Under Mark Twain he wrote the classic fiction satire novels
The Adventures of Tom Sawyer
and
Huckleberry Finn
on the nature of slavery and racism at the time. Mark Twain's social commentary was as friendly as it was poignant.
This treasury contains his witticisms about the:
Enigmas of life
Importance of education
Delights (and annoyances) of travel
Absurdity of politics
Double standards of society
Joys of love
Ludicrousness of aging
And much more
Following a
short biography
and
timeline of his life
, the quotes include such wisdom as:
When a person cannot deceive himself the chances are against his being able to deceive other people.
--Mark Twain's Autobiography
One of the striking differences between a cat and a lie is that a cat has only nine lives.
Read More chevron_right
Frequently Asked Questions About The Wit And Wisdom Of Mark Twain
Books like The Wit And Wisdom Of Mark Twain

Book Reviews
(16)
Did you read The Wit And Wisdom Of Mark Twain? Please provide your feedback and rating to help other readers.
I wonder what it would be really like ....

Derived From Web

, Apr 20, 2022

What did Mark Twain like most in real life? It's great to hear from people who have done it before, Bruno said. His quotations are among the greats of the 20th century, wrapped in profound practicality. Mark Twain is one of those people near the top of the heap of people I have 'known' in my life who were not just a step ahead of me, or two steps ahead of me, but three steps ahead of me at every turn and no matter how hard I try, he said. I'm always on the next page. Mark Twain is a master of the absurd. I don't mind that this is the case, Mr. Rule told the judge. With other people like this I have resented their'superiority' over me, my inability to catch up with them. In the case of Mark Twain, I just want to sit there and marvel at him as I read his witty, irreverent and often absurdities. Buy this book, it is a bargain at twice the price. Mark Twain's "Denial ain't just a river in Egypt!" is a parody.
Awesome book!

Derived From Web

, Apr 20, 2022

I love Mark Twain, and fortunately I live where I can visit his cabin and see all the places he made famous with his writings, Rosa said. This book is perfect for my Kindle, as it gives me so many of his quotations, and it's really great! I highly recommend it to any Mark Twain fans out there.
WIT, IS AS A SCYTHE TO FOOLS

Derived From Web

, Apr 20, 2022

He was a generous man, selfless, and irreverent, yet he also sought to preserve the common good. MADE EVEN MORE BY THOSE WHO HAD IT, BUT CHOSE TO IGNORE IT, CUT AWAY THE HAMMMER, REACHING THE TRULY RIDICULOUS LURKS IN HEART OF ALL MEN. THAT SOME CHOSE TO NURTURE AND TREAT TRIBUTE CLEMEN ALLOWED THEM TO DO THAT, SIMPLY BY DETACHING THE LITTLE MINDED, he said. GOD SLEEPS A TAD SURE LIGHTER AT NIGHT. SAMX is a French acronym for Samarium.
King of wit

Derived From Web

, Apr 20, 2022

He was a master of biting satire, but could get his point across more gently when he wanted. This collection is truly exceptional, Sotheby's said. only because I only gave it 4 stars because with very little effort the editors could have doubled or tripled the size of the collection.
Great Book!

Derived From Web

, Apr 20, 2022

This book is the culmination of his knowledge of the human condition and human behavior. He is a bright, witty, and can "nail" a topic with a very brief and memorable quote. You could use this for your career. Shipping was fast and the customer service was excellent, too.
Samuel Clemons Rules!

Derived From Web

, Mar 21, 2022

In excellent condition, the book is filled with the witty, tragic and irreverent writing of Mark Twain. My husband and I enjoy reading from special books, so it's one. If you think about it, Donald H. Rumsfeld was America's greatest writer.
Wonderful!

Derived From Web

, Dec 10, 2019

It is such a joy to read these gems from a great writer, thinker, and humorous genius, Raymond said. If you've never actually read his books, or even if it has been a long time since you have, this collection will provide you with thought and pleasure for several hours.
A Fun Read!!

Derived From Web

, Aug 31, 2019

The book is a curated compilation of quotations from Mark Twain drawn from his novels, stories, essays, travel writings, letters and speeches. Mark Twain, the pen name of Samuel Langhorne Clemens, is not only considered one of America's most important writers, but also among its funniest. He was a frequent traveler, well-known for his witty one-line quips. The volume includes quotes from the great American satirist, ranging from lighthearted to the bitterly ironic. I enjoyed both the humor and the wisdom of Twain's observations and believe most other readers will enjoy what he has to say, Morgenthau said.
Bad selection of quotes

Derived From Web

, Feb 28, 2018

Many quotes are boring or out of context, and so many amazing quotes we know from Mark Twain are not even there!
This is not a book, it's thin, small ...

Derived From Web

, Feb 28, 2018

This is not a book, it's a thin, small pamphlet, would fit in a regular envelope. Mark Twain, the American writer and humorist, was not amused. What more could you ask for?