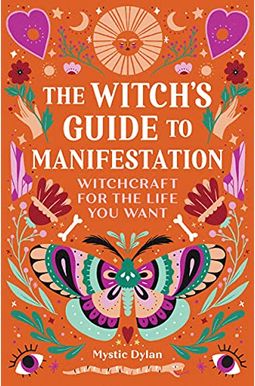 
 
The Witch's Guide to Manifestation: Witchcraft for the Life You Want
Frequently Asked Questions About The Witch's Guide to Manifestation: Witchcraft for the Life You Want
Book Reviews
(10)
Did you read The Witch's Guide to Manifestation: Witchcraft for the Life You Want? Please provide your feedback and rating to help other readers.
I didn't like it

Derived From Web

, Mar 1, 2022

I was hoping to find something more aligned with my beliefs and this isn 't just. I feel like the information I did agree was fairly basic, but if you found out about manifesting this intentionally, this could be an interesting read. I recomend it, however, and I wouldn't recomend it.
A good overview

Derived From Web

, Feb 6, 2022

This is a great introduction to the manifestation of and witchcraft. I appreciate the authors'research and attention not only to what are considered traditional aspects of the manifestation, but also to make it more approachable and achievable, even for those of us who have been practicing for a while. I also enjoyed the recommendations for making adjustments and substitutions, where necessary. In all, a pretty good starter's guide '', but also a great reference tool!
My fav book. Hit every mark.perfectly.

Derived From Web

, Jan 24, 2022

I found this book a while before, but is a great well rounded, intense, easy to understand information for manifestations, spells and alot. I look daily at eat and my Bible tooo. So happy, it's a great size to read and carry to a coffee shop over a medium bag, fits in a medium bag and not too big. Thanks author. You did well.
Good Info

Derived From Web

, Nov 30, 2021

This book was on the shorter side, but it was full of really good basic information. No matter the practice, brushing on the basics is always a good thing. Building blocks are the basic building blocks. Go Build!
Excellent Resources for New Witches

Derived From Web

, Nov 19, 2021

This book is easy to read and offers straightforward and practical explanations and tips. I really enjoyed it and learned a lot. In my collection, this will be a much-used reference book.
Great Book!!

Derived From Web

, Oct 31, 2021

I am not a beginner in Witchcraft, and I bought this book to see what it was about. I thought it might be like many other books about witching 101, but I started reading. I found it pulled me in right away and got my attention! I couldn 't put it down! '' This is a well thought book! Out of the box ideas, lots of out of the box ideas. I am really impressed with this author! '' I am really impressed! s'' is a .
Wonderful wonderful wonderful!

Derived From Web

, Oct 19, 2021

This book is so helpful! I ordered a couple of other books and a new one just came out as well, I think? This one will be getting as well as well. Very informative, friendly reading style. There is nothing to confuse or intimidate newbies. Wonderful! '' Wonderful!
THE book to have on Manifestation!

Derived From Web

, Oct 3, 2021

This book gives so much information about craft without being overwhelming! Colors, numbers, signs, herbs, and more, all presented with the proper historical respect for the craft deserved. I have never been more excited to dive into the manifestation with the perfect book to help!
Love it!

Derived From Web

, Sep 26, 2021

I am new on my journey and have been incessantly buying books, trying to build foundations and knowledge. This is a super easy read, with foundation, knowledge, and follows with resources. As a beginner, this book is really good to build your foundations as a really good foundation.
Amazing book!!!

Derived From Web

, Sep 7, 2021

This book is AMAZING! It takes you step by step with everything that you need to know. Not to mention that the artwork is incredible. Dylan can tell you to put his all into the book. Definitely would recommend if you are just starting out! It has amazing explanations and shows you everything that you need to do. One of my favorite books!