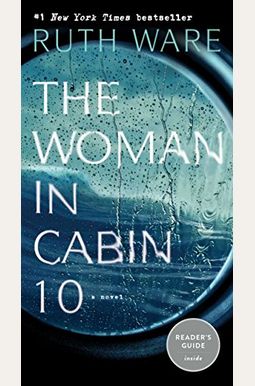  
Book Overview
This Description may be from another edition of this product.
INSTANT NEW YORK TIMES AND USA TODAY BESTSELER
FROM THE AUTHOR OF IN A DARK, DARK WOD
Featured in TheSkimm
An Entertainment Weekly Summer Must List Pick
A New York Post Summer Must-Read Pick
Included in Summer Book Guides from Bustle, Oprah.com, PureWow, and USA TODAY
From New York Times bestselling author of the twisty-mystery (Vulture) novel In a Dark, Dark Wood, comes The Woman in Cabin 10, an equally suspenseful and haunting novel from Ruth Ware this time, set at sea.
In this tightly wound, enthralling story reminiscent of Agatha Christie s works, Lo Blacklock, a journalist who writes for a travel magazine, has just been given the assignment of a lifetime: a week on a luxury cruise with only a handful of cabins. The sky is clear, the waters calm, and the veneered, select guests jovial as the exclusive cruise ship, the Aurora, begins her voyage in the picturesque North Sea. At first, Lo s stay is nothing but pleasant: the cabins are plush, the dinner parties are sparkling, and the guests are elegant. But as the week wears on, frigid winds whip the deck, gray skies fall, and Lo witnesses what she can only describe as a dark and terrifying nightmare: a woman being thrown overboard. The Read More chevron_right
Frequently bought together
Frequently Asked Questions About The Woman in Cabin 10
Books like The Woman in Cabin 10
What should you read after The Woman in Cabin 10 Book? Here is a list of books to read if you read and loved The Woman in Cabin 10
Book Reviews
(16)
Did you read The Woman in Cabin 10? Please provide your feedback and rating to help other readers.
Suspense

Because this book was so fantastic I bought two more books by the same author. I just couldn't put it down. On my third now and just as suspenseful. You don't know the ending until the book is nearly done. A great and quick moving novel.
Blah, blah, blah

Derived From Web

, Apr 20, 2022

Rather than this book being a page turner, it was at least a page skipper for me. I felt nothing for Lo who went on about her lack of sleep, how she had way too much to drink, how she really needed her anti-anxiety medication, how this, how this. Blah, Blah, Blah, Blah blah blah blah I really did not care whether she was alive or dead at the end of the book, or if she was dead by the end of the book. I just wanted her to shut up! I wanted her to shut up! ''
Quick Read with Engaging Characters and Mystery

Derived From Web

, Apr 20, 2022

This is a quick read and rather hard to put down once you start reading. I liked that I did not figure out the plot before the end like I do with so many books. Surprises are good. Surprises are surprising. The main character didn't just experience the events, but grew from them, which is nice. I really enjoyed the mystery and twists and the surprises. The characters were an interesting bunch and were well-developed. I liked the attitude of the main character's character - she refused to back down, even when she started second guessing herself.
Page turning with loads of unforseen turns

Derived From Web

, Jul 1, 2021

I don 't review books unless it's one I really like. I read a lot ''. Lo is a young woman on the treadmill of life. Her life soon takes over and drifts along taking what life throws at her. She boards a private yacht as a travel journalist for a 5 - day cruise. Her adventure becomes a nightmare and becomes a dream. It is a true nightmare or is this a nightmare in her own head? I love when a book surprised me. Hard book to put down, hard book to write down.
Blah blah blah

Derived From Web

, Jul 11, 2020

This book is a combination of interesting and boring. I didn 't know if I wanted to finish at a point, then suffered through reading through it got to the point I couldn t stop and then back to I didn 't care. Lo is home alone and a robbery occurs. She then goes on a work cruise and someone disappears, but no one saw the person but Lo. The Lo investigates blah blah blah blah blah blah blah blah, then Lo gets kidnapped blah blah blah blah blah blah blah blah blah blah blah blah blah blah blah blah blah blah blah blah Blah Blah Blah Blah Blah Blah Blah Blah Blah Blah Blah Blah Blah Blah Blah Blah Blah Blah Blah Blah Blah Blah Blah Blah Blah Blah Blah Blah Blah Blah Blah Blah Blah Blah Blah Blah Blah Blah Blah Blah Blah Blah Blah Blah Blah Blah Blah Blah blah
There are better books out there.

Derived From Web

, Nov 1, 2019

The story moved very slow. By the middle of the book, I was hoping that the main character would be killed. She was afraid of her own shadow and a panicking bowl of fluff. Like the stuttering Sandra Bullock in the film Speed, I wish the bus would have blown up. The book would have been pretty good if the main character was a strong kick butt woman. On the bright side, the spelling and punctuation would make any English teacher proud. Ruthless to be so sorry to be so Ruthless.
A trip of a lifetime

Derived From Web

, Oct 10, 2019

Lo is ready to sail on the maiden voyage of a luxury ship when her flat is robbed while she is there. Lo gets hurt, but decides to continue on the trip for her job as a journalist anyway. She is exhausted and is on the edge and drinking too much in her effort to relax and sleep. She awakens to a noise she attributes to foul play. The story picks up at a quick pace as she fights someone to believe her as well as her sanity.
Captivating !!

Derived From Web

, Jan 29, 2019

I absolutely LOVED this book. I sucked right in and I couldn t put it down. It usually takes me a long time to finish books, but I flew through this one. It is the 1st book I have ever read by the author Ruth Ware. As soon as I completed, I flew to Amazon and ordered her other 2 books. I even bought another one of the woman in Cabin 10 to give them to a friend. It is easy to follow and yet keeps you guessing and nail-biting from the very last page to the very first! !
A couple of good twists but otherwise overwritten and cheesy.

Derived From Web

, Jan 21, 2018

Firstly, an incredibly annoying main character. In the least, I did not care about her. Not even at the end. The only reason I even tried to finish the book was because I was reading it for the book club and we meet the next week. This author takes three pages to say what she could say in a paragraph. By the time I reached the 60 percent completion on my Kindle, I started skimming and reading the first sentence of each paragraph. I did all the way to the end of the book, and I didn 't miss a thing! This book is not for those who seek beautiful, interesting, thought-provoking writing. Don 't plan on being intellectually stimulated or moved by poignant moments. I believe it is a good beach read if you want something light and mindless and you are not a very critical reader. I can see them making a movie out of this book, and it will be better than the book.
This is one very bad book

Derived From Web

, Jan 17, 2018

I hated this book ''. The ending was ridiculous : I found offense that the protagonist is almost always drunk, bad at her job, not ready for a promotion, doesn 't know the social obligations of a trip that takes place in this book, and every woman knows never even thinks about borrowing lipstick or mascara. I wish I could have my money back. This book really makes women weak and stupid.