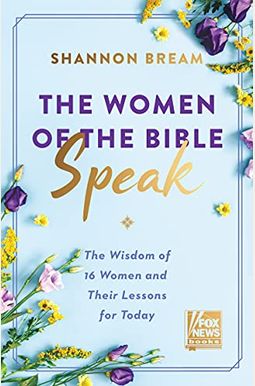 
 
The Women of the Bible Speak: The Wisdom of 16 Women and Their Lessons for Today
Book Overview
#1 NEW YORK TIMES BESTSELER
The women of the Bible lived timeless stories--by examining them, we can understand what it means to be a woman of faith.
People unfamiliar with Scripture often assume that women play a small, secondary role in the Bible. But in fact, they were central figures in numerous Biblical tales. It was Queen Esther's bravery at a vital point in history which saved her entire people. The Bible contains warriors like Jael, judges like Deborah, and prophets like Miriam. The first person to witness Jesus' resurrection was Mary Magdalene, who promptly became the first Christian evangelist, eager to share the news which would change the world forever.
In The Women of the Bible Speak, Fox News Channel's Shannon Bream opens up the lives of sixteen of these Biblical women, arranging them into pairs and contrasting their journeys. In pairing their stories, Shannon helps us reflect not only on the meaning of each individual's life, but on how they relate to each other and to us.
From the shepherdesses of ancient Israel who helped raise the future leaders of the people of God, to the courageous early Christians, the narrative of the Bible offers us many vivid and fascinating female characters. In their lives we can see common struggles to resist bitterness, despair, and pride, and to instead Read More chevron_right
Frequently Asked Questions About The Women of the Bible Speak: The Wisdom of 16 Women and Their Lessons for Today
Book Reviews
(16)
Did you read The Women of the Bible Speak: The Wisdom of 16 Women and Their Lessons for Today? Please provide your feedback and rating to help other readers.
Enlightening and Empowering

Derived From Web

, Feb 22, 2022

I loved this book. Ms. Bream has a lot of information about the lives of these women and their place in history.
A Very Enlightening Book

Derived From Web

, Sep 7, 2021

The book is about the women of the Bible and their roles. Shannon and many others put their hearts and souls into this book.
A Must Read!!

Derived From Web

, Jul 18, 2021

This book was very good. Shannon is a wonderful teacher. Her love of God is evident as she knows her Bible. Great stories about great women.
Sorely Disappointed

Derived From Web

, Jul 8, 2021

There are clear biblical inaccuracies and the author takes too many liberties in her assertions of what the women of the Bible said, felt, thought and their spectrum of influence. Don't waste your money if you borrow it from the library. I wouldn't recommend it.
Outstanding book! Love the way Shannon compares a pair of women in such an interesting way!

Derived From Web

, Jul 4, 2021

The book helps me see these women in a new light. I haven't enjoyed reading a book like this in a long time, but it is an excellent book and an excellent teaching tool for a ladies' Bible study.
We All Have a Purpose

Derived From Web

, Jun 15, 2021

The book is insightful and inspiring. God uses many strong women in the Bible. Rahab is the name of Jesus' mother Mary.
Excellent book for women

Derived From Web

, Jun 6, 2021

The book is wonderful for comparing two women at a time and what they did to help either their people or Jesus.
Disappointing Purchase

Derived From Web

, May 26, 2021

A lot of study and research went into drafting this book. I don't find it to be very interesting. The purchase was disappointing. If you are looking for accurate, biblical based context of these women in the Bible, it is not recommended.
Inspirational and necessary fo young women of faith!

Derived From Web

, May 18, 2021

Very motivating! It's easy to read. It's very real. Two were bought for a college coed and a high school senior. There are calls for strength of character and faith.
Excellent!

Derived From Web

, Apr 25, 2021

I am not a religious person but I enjoyed this book. The stories of the biblical women are so relevant today. Along the way, great writing and provoking questions.