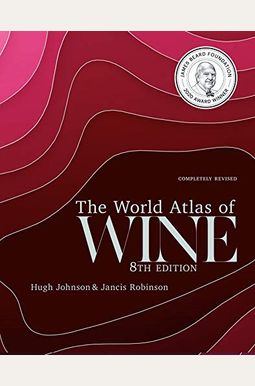 
 
The World Atlas of Wine 8th Edition
Book Overview
2020 JAMES BEARD AWARD WINER
JANCIS ROBINSON - 2020 JAMES BEARD COKBOK HAL OF FAME HONORE
The most useful single volume on wine ever published. If I owned only one wine book, it would be this one. - Andrew Jefford, Decanter
Few wine books can be called classic, but the first edition of
The World Atlas of Wine
made publishing history when it appeared in 1971. It is recognized by critics as the essential and most authoritative wine reference work available. This eighth edition will bring readers, both old and new, up to date with the world of wine.
To reflect all the changes in the global wine scene over the past six years, the Atlas has grown in size to 416 pages and 22 new maps have been added to the wealth of superb cartography in the book. The text has been given a complete overhaul to address the topics of most vital interest to today's wine-growers and drinkers.
With beautiful photography throughout, Hugh Johnson and Jancis Robinson, the world's most respected wine-writing duo, have once again joined forces to create a classic that no wine lover can afford to be without.
The World Atlas of Wine is the single most important reference book on the shelf of any wine student. - Eric Asimov, New York Times
Like a good bottle of wine, you'll find yourself going back to it Read More chevron_right
Frequently bought together
Frequently Asked Questions About The World Atlas of Wine 8th Edition
Books like The World Atlas of Wine 8th Edition
Book Reviews
(10)
Did you read The World Atlas of Wine 8th Edition? Please provide your feedback and rating to help other readers.
Gorgeous and very in-depth wine book

Derived From Web

, May 24, 2021

The pages are in full color, thanks to our partner, Adorama. The book is divided into three sections: History, Archaeology and Ethnography. Attention to growing, how to read labels, all about the grapes. This is not a beginners book. I debated returning it because I can barely lift it, but once I opened it, I decided it's a keeper.
Beautiful single volume book on the world's wines

Derived From Web

, Dec 7, 2020

The new edition is better than earlier editions. However, the book could be more explanatory on certain subjects. There is no clear explanation for the difference in reducing sugar between Beerenaudlese, trockenbeerenauslese and Sauternes. The gazetteer's paper is too small to properly display in the index and also requires corrections. Overall, this is a fine book.
Only for wine afficionados.

Derived From Web

, Jul 18, 2020

There have been a few additions compared with previous editions, but many significant wine regions are missing or have insufficient detail to show vineyard locations. This is not to be used as a guide to travel.
Unclear what other reviewer is talking about

Derived From Web

, Jul 9, 2020

The criticism is widespread, with roughly three quarters of the reviewers saying the pictures are small and Jancis' prose is neutered. The Harrisons' Web site says the allegations are "completely untrue". They described themselves as having bought a first edition Wine Atlas in the 1970s, which is probably why people thought it was credible. I don't know whether it's a sense of nostalgia or diminished eye sight, but the Atlas is a huge book, and they haven't gone and filled it with small pictures. I have included a picture of a page I opened to randomly—burgundy. Note that this is an overview of the entire province. Each region within the map has its own unique shape and size. The prose is also lively and engaging, while being more detailed than "windows" or "wine bible." I'm only writing this response because they had me on the fence, but when the book arrived, I could tell in the slightest what they were on about.
Best yet...

Derived From Web

, Mar 2, 2020

I know some people have said this is not worth the cost. However, if you are really interested in understanding the topographical differences between the regions, then this is a worthwhile investment. I have owned all of the other three, and the quality of this one is much better than some of the previous versions. Just wait for a good sale, it will be worth it, Tunick said. I would definitely recommend this book to anyone.
Limited information

Derived From Web

, Jan 6, 2020

The book has great elevation maps showing the various elevations of many vineyards. Even with the help of Google Maps, the company's maps do not show many notable vineyards. Only a few of the maps are available on the Web site. I'd recommend it to anyone who enjoys looking at the maps.
Best for the Wine Student

Derived From Web

, Oct 25, 2019

It's just that simple, the Matrix creator said. This is, in fact, a book for people who read voraciously. This is an academic appointment for those of us who just want to know as much about wine as we can possibly fit into our brains. Although I have the previous edition, I decided to purchase this one because I know how much and how quickly the world of wine can change in a short period of time. Service is excellent, and I highly recommend it to anyone.
Profoundly Disappointing

Derived From Web

, Oct 18, 2019

I was a huge fan of the first edition of The World Atlas of Wine. Only a handful of the photographs are readily available, and the rest are poorly reproduced. The bottle labels are missing. The new font is an illegibly small font. However, this does not mean the text is not current or accurate. It's just that, 'cause nobody's bothered.
A Great Addition to Any Wine Library

Derived From Web

, Oct 6, 2019

The new update is the best one I've seen so far. The new edition has a more traditional layout, and is far more approachable than previous iterations. It's great to read and use for reference, and the maps and graphics are gorgeous. It's great for anyone who wants to learn how to properly bottle and cellar fine wines.
EVERY EDITION IS BETTER THAN THAN THE LAST!

Derived From Web

, Oct 3, 2019

This is the fourth and final volume of the 'Atlas of Wine' series. And I've never been happier. Full of new information, updated maps and appellations. It's not the type of book you read cover to cover, but if you have the time, you would definitely enjoy doing so! If you love, or have ever wondered where the wine in your glass comes from, I mean where is it really comes from? Blair's lawyer Paul LiCalsi said the client was not present at the time.