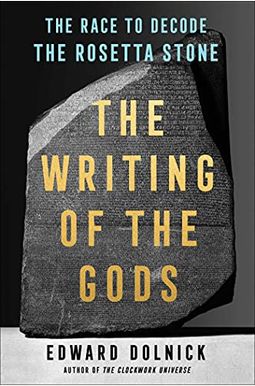 
 
The Writing Of The Gods: The Race To Decode The Rosetta Stone
Frequently Asked Questions About The Writing Of The Gods: The Race To Decode The Rosetta Stone
Book Reviews
(7)
Did you read The Writing Of The Gods: The Race To Decode The Rosetta Stone? Please provide your feedback and rating to help other readers.
Terrific read

Derived From Web

, Mar 16, 2022

For centuries Egypt has been endlessly fascinating. Edward Dolnick tells the incredible story of Rosetta Stone's discovery, the mystery of the three different scripts it held, the hold it had on many to solve it, and the tapestry of the two men involved in deciphering them. Along the way, Dolnick informs the reader about the facets of deciphering that make it a greater challenge than decoding any message. He uses examples of language elements and cultural wrinkles that we are familiar with today, and in doing so gives insights into ancient Egypt life.
Fascinating story

Derived From Web

, Nov 20, 2021

I just finished reading The Writing of the Gods by Edward Dolnick. I have been an Egyptophile since I was 7, and visited Egypt and the Nile a few years ago BP. I tried to read foreign writings for many years, but never got past the cartridges of hieroglyphic kings. After reading this fascinating history of the first men who deciphered the ancient Egyptian texts, I am going to try again!
Cannot put it down!

Derived From Web

, Nov 14, 2021

All digressions are relevant in a pointed way. Now I go straight to the author's other Amazon entries to buy all of them, as well as two books he notes in the text.
Kindle edition the best

Derived From Web

, Nov 12, 2021

This is one of the most readable books I have been reading in a while. The illustrations were simply enlarged by left clicking and could be enlarged by using my fingers on my touchscreen.
Superb!

Derived From Web

, Oct 31, 2021

Dolnick moves what could have been a dry slog at the pace of a thriller, his explanations of some complex issues are marvelously understandable Just ordered eveeything else he's written!
Greatly enjoyed this book

Derived From Web

, Oct 27, 2021

I learned a little bit about the Rosetta Stone without having a satisfying understanding of how it was cracked. This book delighted my curiosity by explaining in easy prose how the ancient Egyptian writing became readable to 19th century scholars. It was written with confidence, sometimes funny, and led me clearly through the achievements of competing geniuses, an Englishman and a Frenchman, in bringing back Egypt of the Pharaohs. I do wish that there had been a concluding section on how much ambiguity remains in ancient readings of these modern texts.
Update

Derived From Web

, Oct 22, 2021

Previous review updated on previous review. Didn 't keep the Kindle version after all. Amazon needs to match the Look Inside '' presentation with the actual Kindle book. The hieroglyphs were quite visible on Look Inside '', but were tiny, useless and not enlargeable in the actual Kindle.