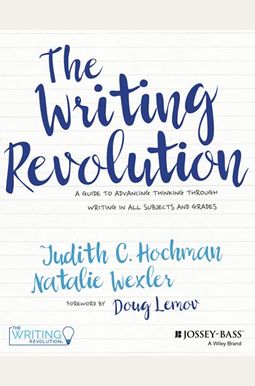 
 
The Writing Revolution: A Guide to Advancing Thinking Through Writing in All Subjects and Grades
Frequently Asked Questions About The Writing Revolution: A Guide to Advancing Thinking Through Writing in All Subjects and Grades
Books like The Writing Revolution: A Guide to Advancing Thinking Through Writing in All Subjects and Grades
Book Reviews
(7)
Did you read The Writing Revolution: A Guide to Advancing Thinking Through Writing in All Subjects and Grades? Please provide your feedback and rating to help other readers.
Beginners don't stop here.

Derived From Web

, Aug 13, 2021

If you have never done much writing, let alone taught it, feel free to pick this up because you will gain writing basics. Some worthwhile techniques are included, but the authors added a lot of superfluous padding. The useful bits burying the burying bits. This method does the opposite of advancing the thinking. It promotes a drill and kill mentality, so that you might want to include other methods that do encourage understanding and thinking through structure, such as the painted essay to cut back. The idea that writing can and should be taught across all subjects is great, but this offers few practical applications to support this.
Suitable as a general reference for newbie writing teachers

Derived From Web

, Feb 21, 2020

TWR is a good introduction for those who have not taught a mixture of writing, syntax, and grammar previously. If you are a homeschooler, it is not a bad resource to have on hand, just unnecessary if you have a lot of experience teaching writing with other curricula, such as those published by Well Trained Mind, Circe Institute, IEW, Lively Art of Writing, Killgallon Sentence Composing, etc. When I ordered this book, I was specifically looking for a more general application of the classroom methodology without having to purchase expensive workbooks. It was just not quite what I was looking for.
Genius

Derived From Web

, Jun 7, 2019

If you want to transform your classroom of aspiring writers into writers, read this book and get it over the summer. You will be able to use it immediately, especially the because, but so strategy and revision strategies. It really works and kids like it because they are suddenly writing sophisticated-level professional sentences, which they can use in their essays. The principle is that you can 't write if you can 't master complex sentences. It addresses these issues in a simple user-friendly way.
Transformational!

Derived From Web

, Jan 28, 2018

This book has transformed the way I teach writing in my 2nd-grade classroom. I started teaching with my students both sentence level and paragraph level lessons. I already noticed a major change in my students, and I have already noticed a major change in my students. They are wanting to write, staying on topic and even asking me what is our topic sentence? Additionally, I have recommended this book to my other colleagues ; they too are interested in reading it and excited that it has such an impact on my students. This book deserves nothing less than 5 stars! Amazing!!! I also love that all the ideas promote cross-curricular integration with your writing lessons. It is a wonderful resource that makes a difference in my classroom, truly. One recommendation I would recommend that the authors create some sort of supplementary editable book that orders the teaching concepts. I made it for myself, but it would be nice to have something already made for me.
TWR makes sense.

Derived From Web

, Sep 2, 2017

The premise is that students can not write essays if they can not produce a complete sentence. The techniques to follow are simple in nature to include. The author also provides differentiated teaching. I am looking forward to trying some of the suggested methods.
Finally! I found this wonderful guide!

Derived From Web

, Sep 1, 2017

The Writing Revolution is one of a kind of practical, step by step guide that helps teachers teach writing, especially expository writing, in all grades. I bought the ebook version ''. The most assuring point is that it tells you to start with the basic sentences. This approach is particularly designed to help teachers who teach English language learners. It provides many online resources and templates. Furthermore, I love the concrete suggestions of how to teach instructions, the pacing guide of when and what to differentiate at different times within school years is also helpful. In addition, it has very clear assessment resources. Just can 't wait to try them all out. The only thing I need to figure out is how to download and print the resources.
A Practical, Step by Step Guide for Teaching Students How to Write

Derived From Web

, Aug 28, 2017

I teach English language learners, and I am currently reviewing curriculum for my fall classes. The Writing Revolution's recommendation to teach writing by starting at the level of the sentence, even with elder students, makes so much sense. I plan to weave the method TWR into my instruction. I also recommend this book to teaching colleagues. I will also recommend this book to my teaching colleagues. Judith Hochman and Natalie Wexler, thank you for your excellent book, Natalie Wexler.