Buy 3 Get 1 Free
Our Best Sale Yet! Add 4 Books Priced Under $5 To Your Cart     Learn more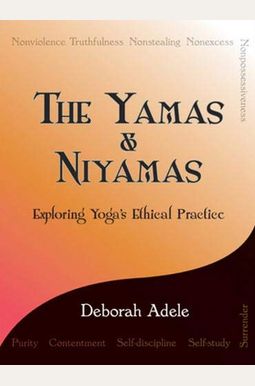 
 
The Yamas & Niyamas: Exploring Yoga's Ethical Practice
Book Overview
The first two limbs of the eight-fold path of yoga sutras--the basic text for classical yoga--are examined in this spiritual guide to the practice of yoga. Foundational to all yogic thought, they are considered to be the guidelines to the yoga way of living that free individuals to take ownership of their lives, direct them toward the fulfillment they seek, and gain the skills to choose attitude, thought, and action. The first five guidelines are referred to as the yamas--a Sanskrit word that translates to restraints--and encompass nonviolence, truthfulness, not stealing, nonexcess, and nonpossessiveness. The last five are referred to as the niyamas, or observances--purity, contentment, self-discipline, self-study, and surrender. A self-study section at the end of each chapter may also be used by instructors for group discussion.
Frequently Asked Questions About The Yamas & Niyamas: Exploring Yoga's Ethical Practice
Books like The Yamas & Niyamas: Exploring Yoga's Ethical Practice
Book Reviews
(14)
Did you read The Yamas & Niyamas: Exploring Yoga's Ethical Practice? Please provide your feedback and rating to help other readers.
... add a review that has not already said everything good there is to say about this book

Derived From Web

, Apr 20, 2022

It is difficult to add a review that has not already said everything good there is about this book to say. I add this here to help keep the 5 star rating for this book and simply say that there is no better material on this topic than I have ever come across as good as this. Cannot recommend highly enough.
Number one book in my collection.

Derived From Web

, Apr 20, 2022

For those who don 't know what the yamas and Niyamas are, they are much like the ten commandments of yogic spirituality. This book explains them and inspires the reader to practice them daily in daily life. The author has provided questions for journaling and reflection after each section. If you truly want to lead an authentic life with purpose and in harmony with the world, read this book close and keep it. Namaste!
A self help book at best, muddled understanding of the spirit of "Yoga/ Union"

Derived From Web

, Oct 10, 2021

I was looking for a book for someone about this. When I first saw the title The Yamas and Niyamas Exploring Yoga's ethical practice '', I became very eager to read this book. So eagerly, I ordered it not, but just preview and started reading. Then she skimmed. Though it might be helpful to some on a practical level of finding some meaning a little below the surface we live on, it is usually about a person very autobiographically expressing their own understanding of the subject. Though there is common sense that might be helpful to some, the book's focus is the common experience of life as Bhoga. The resulting attitude adjustments to overcome the resulting disappointments obscure the tact of yoga and miss to mention that although Bhoga is necessary for a healthy mind and body, we should always focus on our divine self.
Great little book

Derived From Web

, Jul 24, 2021

I have not read it in its entirety, but I am very pleased with the purchase and believe the information to be very enlightening.
Very good book to read and re-read

Derived From Web

, Nov 16, 2020

A very modern approach to explaining the Yamas and Niyamas in a way that is relevant to our accessible time.
Do yourself a favor and just buy it

Derived From Web

, Aug 18, 2020

I have bought this book many times for my friends and family. I think everyone should read it, I think everyone should read it. It is one of the most valuable books to add to your collection and one of my all-time favorites.
Great Read!

Derived From Web

, May 31, 2020

Easy to read. Easy to digest, easy to digest. Practical and reflective teachings, practical and reflective teachings. Religious references, but not to be used in a persuasive way. Insightful and engaging. Definitely a repeat read, as it will give new and deeper revelations as it relates to where one is in life, as it should. Highly recommended. Highly recommended.
Quick and relevant read

Derived From Web

, Feb 23, 2020

Super easy to read and very helpful explanation of the yamas and niyamas. Breaks things very clearly with plenty of relevant examples to which many can relate. Breaks things down very clearly with plenty of clear examples. This quick read would definitely recommend this definite recommendation. The book arrived on time and in perfect condition.
Don't buy it if you don't have to

Derived From Web

, Jun 20, 2019

This was a required course material for a yoga training class. It is poorly written, with too many we statements. We do this as people, we are this, we are that, etc. Lady Speak for herself, Speak for yourself. Written by self-proclaimed feminist that is just a terribly hard to digest, read by. If this were not required course material, I would have asked already for my money back for my money.
Confirms Yoga is Hinduism

Derived From Web

, Jun 14, 2019

It was a good book to learn about yoga and confirmed that yoga is Hinduism, although the author did not state this fact directly. One would need to be trained in the subject in order to catch all the Hindu allusions in the book. Specifically, the words used to describe poses and such are Hindu words, but the author made it look like it was simply morality and ethics. We can all agree that the morality of the major world religions is essentially the same, but the question is who is God? How is one saved and how is one saved? What is the nature of reality and the afterlife? and what is the nature of reality and the afterlife? The questions that radically distinguish the different faiths are the questions : This book does not touch on this much, although the point of yoga is to connect with what is really real in the spiritual realm, making yoga a dangerous practice if you subscribe to a different faith. By practicing yoga consciously or unconsciously, you will engage in spiritual relativism and this will have an influence on what you believe.