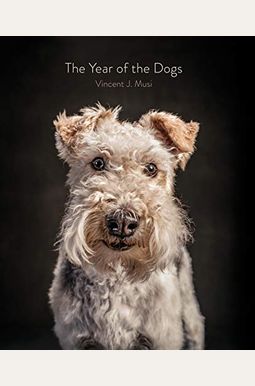 
 
Book Overview
From a labrador that likes opera to a tooting bulldog, Vincent Musi chronicled the character and personality of everyday dogs and compiled them into one gorgeous and captivating book.
Discover the stunning collection of photographs that shows the majesty, playfulness, and joy that is man's best friend:
As a
National Geographic
photographer, taking pictures of lions, tigers, and bears was a regular day's work for Vincent Musi, but in 2017 he gave himself a new challenge: dogs. Using the same lighting and photographic techniques he uses for his National Geographic photography, Musi spent a year shooting portraits of dogs and compiling them into a book complete with all of the tail wags, wet noses, and dogs of all shapes and sizes. - Features
over 100 dogs
in a series of exquisite photos with close-ups, profiles, and full body shots along with a narrative about each dog
- Presented in an elegant package that properly showcase the vitality of Musi's photos
- Vincent J. Musi is a popular speaker,
National Geographic
photographer, and owner of the Unleashed Studio. He resides in South Carolina
With delightful and informative bios displayed next to each portrait, The Year of the Dogs will have you entertained and doggedly coming back for more.
Makes an excellent coffee table book for casual browsing and to inspire happy conversations about dogs.
The Year of the Dogs
will be the go-to gift book for dog lovers of all ages.
Frequently bought together
Frequently Asked Questions About The Year of the Dogs
Books like The Year of the Dogs
Book Reviews
(11)
Did you read The Year of the Dogs? Please provide your feedback and rating to help other readers.
Excellent coffee table book

Derived From Web

, Aug 8, 2021

When I opened my order, the front cover was crinkled and torn. It's just that nothing could be displayed on my table as a conversation piece. I already have more items from this company in my cart thanks to the great customer service, said Jennette.
Dust jacket not in good shape - not good for a coffee table book

Derived From Web

, Oct 16, 2020

I was so excited to receive this book, Melissa. However, I will have to return it because the dust jacket has several places of "clearish, hardened" substance. I'm going to re-order with the hope that the new book won't have this issue, Hachette said.
Cutest coffee table book

Derived From Web

, Jun 26, 2020

A passionate photographer, Frank Quattrone, agrees with the verdict of this book. Not surprisingly, these photos were taken with all pups' pictures in the same photo booth. It was almost twice the size of the book I thought it would be. We bought it to go on some bookcases we're having built, to dress up the shelves and even on our currently unfinished shelves it looks great and will be something we show to fellow dog lovers when they visit. Added pictures, but Amazon seems to be uploading them sideways so sorry in advance _ just turn your phone screen. jpg?
Gorgeous Photography Shows Personalities

Derived From Web

, Dec 30, 2019

The dogs show off their personalities in the photos. The writing is less than stellar and the photos are mostly black. Sometimes its great and seems to fit the perfectly dog, but occasionally it just tries too hard. Still, I enjoyed knowing a bit about each dog, and also the trials and tribulations of trying to photograph these wonderful creatures. The foam is good, too, he said. Bit enough to see all the nuances of the photographs but not so large as to be as unwieldy as to be as useful as coffee table books.
Great stories and photos!

Derived From Web

, Nov 14, 2019

We're delighted that you included our very special Charlie in your book, we said. Charlie recently passed away but we get such delight out of him being in this book, we can't stop smiling. We plan to give our friends and family members copies of the book as a present this year. Thanks for the donation.
If you love dogs you will adore this book

Derived From Web

, Nov 5, 2019

It's one I will keep on the coffee table and can recommend it as a Christmas gift for any dog lover. Vincent Musi was a National Geographic photographer who was frequently in challenging situations taking pictures of lions, tigers and other wildlife in the field. After deciding to suspend travel to be with his family for a year, he took on a challenge of opening a studio exclusively for dog portraits. This book is the result of many hours of research and planning. It reminded me of one of my old chow dogs. If you are a dog lover you'll love looking through this book and reading about each of the six. LibraryThing did not compensate me for this review. LibraryThing, a division of Amazon. com, also sells books by Peter Costello.
Beautiful collection of characters and underdogs!

Derived From Web

, Oct 22, 2019

In "The Dog's Journal," Pauley Obeid takes us on a journey through the lives of other people's dogs. Each of them is full of heart and we love them all! I really love how Vince highlights the underdogs, misfits and senior dogs, not just the cute dog portraits. Even the shy ones will instantly get their personality on with every other dog's. The book is a labor of love, Raymond said.
Stunning!

Derived From Web

, Oct 12, 2019

A great book, Simon. Fine art of dogs is a wonderful work of portraiture. Portraits of dogs of mixed breeds, rescues, the next door, even some purebreds. The pages flow off the pages. This is a great present for any dog lover.
Beautiful and fun!

Derived From Web

, Sep 27, 2019

This book is a work of art, a ray of sunshine, a happy adventure full of beautiful dogs portraits and creative musing by Vincent Musi, a National Geographic photographer. Whether you are a dog lover or not, this book will have you grinning ear to ear as you turn each page. Just make sure to keep one for yourself.
Smile, laugh, and maybe cry, from page to page

Derived From Web

, Sep 20, 2019

A collection of stunning photography with beautifully written shorts per dog that will make you smile page by page. This amazing book should be in every doctors office, hospital room, and anywhere that people have a moment to reflect and might need to feel wonderful about life via dogs and a very funny photographer.