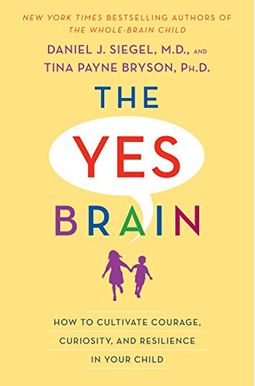  
The Yes Brain: How To Cultivate Courage, Curiosity, And Resilience In Your Child
Book Overview
From the authors of The Whole-Brain Child and No-Drama Discipline, an indispensable guide to unlocking your child's innate capacity for resilience, compassion, and creativity.
When facing contentious issues such as screen time, food choices, and bedtime, children often act out or shut down, responding with reactivity instead of receptivity. This is what
New York Times
bestselling authors Daniel J. Siegel and Tina Payne Bryson call a No Brain response. But our kids can be taught to approach life with openness and curiosity. When kids work from a Yes Brain, they're more willing to take chances and explore. They're more curious and imaginative. They're better at relationships and handling adversity. In
The Yes Brain,
the authors give parents skills, scripts, and activities to bring kids of all ages into the beneficial yes state. You'll learn - the four fundamentals of the Yes Brain--balance, resilience, insight, and empathy--and how to strengthen them
- the key to knowing when kids need a gentle push out of a comfort zone vs. needing the cushion of safety and familiarity
- strategies for navigating away from negative behavioral and emotional states (aggression and withdrawal) and expanding your child's capacity for positivity
The Yes Brain
is an essential tool for nurturing positive potential and keeping your
Read More chevron_right
Frequently Asked Questions About The Yes Brain: How To Cultivate Courage, Curiosity, And Resilience In Your Child
Books like The Yes Brain: How To Cultivate Courage, Curiosity, And Resilience In Your Child
Book Reviews
(7)
Did you read The Yes Brain: How To Cultivate Courage, Curiosity, And Resilience In Your Child? Please provide your feedback and rating to help other readers.
Good book, lots of review from previous books

Derived From Web

, Apr 12, 2021

If you've read The Whole Brain this Child will feel a bit repetitive. They spend time going back over that back and explaining why the Yes Brain or Whole Brain approach is beneficial. If you've already bought in then all you really need is a fridge sheet from the end.
Great Read

Derived From Web

, Jun 9, 2019

The book was a gift, and I thought I would read a bit of it, ended up reading half before I had to give it away. Those who are having problems with there kids should read this book. I read up on the best way to deal with kids, wish I had this book at the time, Mr. Dhaliwal said.
An empowering read for parents

Derived From Web

, Feb 23, 2019

The books of Daniel and Tina Payne are some of the most helpful, liberating, and enlightening books on parenting I have ever read. With helpful examples from their therapy and their experience raising kids, Dr. Siegel and Mr. Bryson equip parents with specific techniques and practices guaranteed to strengthen their relationships with their children and, at the same time, better understand how to raise them to become who they were made to be.
Easy, fun read and resource for parents and educators

Derived From Web

, Sep 19, 2018

If you've read other books by Dr. Siegel and Bill Bryson, you will appreciate this one and be familiar with the concepts, as they are re-written. It's a good companion book to Carol Dweck's "Growth Mindset: The New Science of Success." What I liked about the Yes and No brain concept was that it gave me new language to use with children when they are in a state where being open to risk, novelty, change, non-choice is a challenge, Dr. Goin added.
The tips are good and he is one of my favorite parenting experts

Derived From Web

, Apr 19, 2018

I'm a huge fan of Siegel's work, but this book just isn't on the same level as his other stuff. It frequently mentioned his other books. I bought this for original content, not as a review of his previous work. He is one of my favorite parenting gurus.
I really found this useful. I wish I had gotten it in print ...

Derived From Web

, Mar 28, 2018

Thanks for the tip. I wish I had it in print, as I would have tabbed it. Even with the Kindle version, the cartoons are difficult to read. I still want to go back and show them to my son. The red-blue zone idea was key to breaking through that barrier, Mr. Dhaliwal said. I plan to read their other books and I hope they are as good as this one.
Must read for ALL Parents

Derived From Web

, Jan 16, 2018

Whole Brain Child, No Drama Discipline and Parenting by Sandra Day O'Connor. The Yes Brain expands on those books, but even more exciting sections for us as parents to reflect on ourselves. I really love the exercise and cartoons, too, said Jennette Tamayo, a New Jersey mom of two. This book is definitely worth a read to help build resilience and courage. Easy to see where I can improve on seeing, hearing and being there for my kid, and nuture their inner spark, he said.