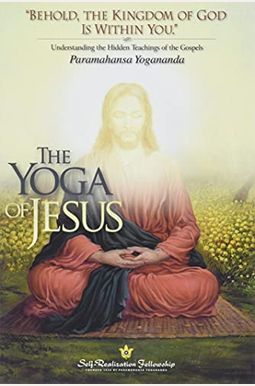 
 
The Yoga Of Jesus: Understanding The Hidden Teachings Of The Gospels
Frequently Asked Questions About The Yoga Of Jesus: Understanding The Hidden Teachings Of The Gospels
Books like The Yoga Of Jesus: Understanding The Hidden Teachings Of The Gospels

Book Reviews
(15)
Did you read The Yoga Of Jesus: Understanding The Hidden Teachings Of The Gospels? Please provide your feedback and rating to help other readers.
Wow, I can believe I was raised in a ...

Derived From Web

, May 30, 2022

Wow, I can believe that I was raised in a liberal home, went to a Christian arts college and never heard of this book. Very enlightening on the teachings of Jesus and very applicable to how we should live in modern society. He is not trying to replace the teachings of Jesus or to posit a new Christianity. In fact, reading this book makes me want to be identified again as a Christian. I think that every Christian should read this book.
Good book

Derived From Web

, May 30, 2022

It helps you understand the role of Jesus as a Yogi and how his teachings relate to Eastern philosophy. For years, I would read when Jesus says that Elijah has already come and that it says in the Scriptures that he was referring to reincarnation, so it only shows you that the real teachings of Jesus and his message have been hidden from us.
Jesus was a yogi

Derived From Web

, May 30, 2022

Yogananda illuminates the true meaning of Christianity in a small paperback. It can be difficult to reconcile the original spiritual essence of a religion with what it sometimes becomes in the modern day, but Yogananda has done just that and has given much praise for doing so. The ebook version is done beautifully. I particularly like the sidebars, which offer very interesting insights from modern science and historical research. Especially during the Christmas season, much is recommended.
Excellent book!

Derived From Web

, May 30, 2022

It is ties together what I always thought was true. I have recommended all his teachings. I've planned to read all his teachings. I am so glad that I found him!
Excellent!

Derived From Web

, May 30, 2022

This is an excellent, quick-reading, boiled-down version of the second coming of Christ, which explains the Gospels of Jesus, as interpreted by Paramahansa Yogananda. As with all Yogananda's books, this is filled with tremendous wisdom and insight.
Aum!

Derived From Web

, May 30, 2022

As a practicing Christian who has always sought solace in metaphysical and Eastern philosophies, I love seeing the East meet West with all the teachings of Paramahansa Yogananda. Also read his autobiography, too!
Recommended A+++++

Derived From Web

, May 30, 2022

Today, 31015 received just the same. This book is amazing - I have been raised as a Christian for 50 years, but always left with lots of unanswered questions about the teachings of Jesus that every Christian denomination tries to avoid touching. This book answers all my questions and then some in such an elegant, easy to understand way. In 1996, I discovered the teachings of Paramahansa Yogananda. For 15 years, I lost my way. After going through some difficult times, finally back on track. Can 't recommend his teachings enough for cultivating happiness and well-being.
Must read!

Derived From Web

, May 30, 2022

The Paramahansa Yogananda is such an amazing human being. All his works are required reading. The yoga of Jesus is a great book, every page has wisdom and makes me think about all he says and so much of what we have learned is wrong. Much of the Bible is misinterpreted and Yogananda helps explain what the scriptures mean without the westernized beliefs behind them in detail. It is one of those books where each page leaves you pondering his words and also wanting to take action.
Amazing book

Derived From Web

, Jan 28, 2022

This book really demonstrates how much individual religions and Christianity have in common when separated from Eastern Church Dogmas. I read this book first to help me understand the larger work better. Highly recommended.
I truly respect Yogananda, but...

Derived From Web

, Nov 3, 2019

The implications of what he proposes are that Jesus came to teach essentially various forms of Kriya yoga he is teaching. I find this very convenient and am not willing to accept it just as it is truth. It is his Jesus. In his image, he is : I adore Yogananda and most of his autobiography, but this book did very little for me. There were a few ideas that I found potentially illuminating. But I put it down quite quickly and realized that it was not my truth, but it was his. There was no reason to read further, so there was no reason to continue reading. I don 't have an issue with anyone reading this and though I respect him, I can not recommend reading this at all. I never give away my power, whether someone is considered an expert teacher or an avatar... that is nice. But no one can tell me my own truth. Ultimately, I must read my own book.