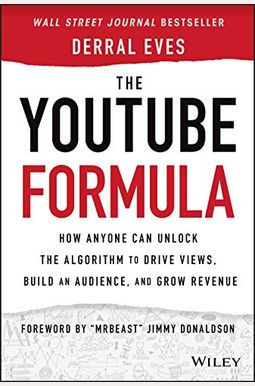 
 
The Youtube Formula: How Anyone Can Unlock The Algorithm To Drive Views, Build An Audience, And Grow Revenue
Book Overview
PRAISE FOR THE YOUTUBE FORMULA
Only one or two other people in the entire world understand YouTube on the level that Derral does. I have one of the top three most-watched channels on YouTube, and I still talk about YouTube data and strategy with Derral because nobody is on the same wavelength as he is. Whether you have 5 subscribers or 5 million, you can learn how to be successful on YouTube by reading Derral's book.
--Jimmy Donaldson, MrBeast
Study it. understand it. dream it. Derral Eves just wrote the bible to YouTube success.
--Jordi van den Bussche, Kwebbelkop
Derral has the rare experience of being successful on YouTube as a creator, a marketer, an advertiser, and an entrepreneur. This book teaches you how to understand YouTube from the big picture all the way down to the important details.
--Chad Wild Clay and Vy Qwaint, Co-creators of Spy Ninjas
When you talk about the 'brains behind the throne' among top YouTube stars, you're talking about Derral Eves. His unique understanding of the inner workings of YouTube, coupled with an insatiable appetite to find out why certain videos perform and others languish has placed him at the forefront of online video experts. Derral understands not only WHAT you need to do to build a bigger audience, but WHY you need to do it. Whether you're Read More chevron_right
Frequently bought together
Frequently Asked Questions About The Youtube Formula: How Anyone Can Unlock The Algorithm To Drive Views, Build An Audience, And Grow Revenue
Book Reviews
(8)
Did you read The Youtube Formula: How Anyone Can Unlock The Algorithm To Drive Views, Build An Audience, And Grow Revenue? Please provide your feedback and rating to help other readers.
not bs

Derived From Web

, Mar 26, 2022

No doubt, Rushworth will get his share of fast views. I do wish the book would have gone into more detail about certain things, Rowling said. It's still a great book, and I wish I had found it when I was younger.
Excellent resource for creators

Derived From Web

, Jul 10, 2021

This site has all the latest videos and news for Youtubers. If you take the time to implement the strategies in the book, you'll see results. It's great to be back home, said Blair.
Takes the mystery out of YouTube and makes it available to everyone

Derived From Web

, Apr 8, 2021

Very useful book for those who are starting, for those who already have a successful channel or for those who want to benefit from the possibilities of YouTube, it is easy to read and it is full of very well-explained strategies with which Derral has helped him grow his channels.
Best YouTube book ever.

Derived From Web

, Mar 10, 2021

I started a YouTube channel in August of 2007, and it has grown to over 1 million subscribers. In July, I became a monetized partner at YouTube. YouTube recognized my expertise and I became a Gold Product Expert. That said, I know how the YouTube platform functions. Yes, I do, in fact, purchase and read a lot of books. Years ago I took the family to Disney World in Florida and I took a suitcase full of books. It's a suitcase, right? If your goal is to grow a successful YouTube channel, we strongly recommend that you take the LSAT.
Disappointed

Derived From Web

, Mar 3, 2021

This book doesn't contain anything new that you can't get from Derral's YouTube videos, Sosa said. I'm a bit disappointed, to be honest, because there was a lot of marketing hype and collaborations with other creators before the product launch, Raymond said. Brand New Zealand has no recommendation.
Derral - The Unofficial Uncle of YouTube

Derived From Web

, Mar 2, 2021

He's just that favorite uncle we all have. You know the fun, bails you out of a jam, encourages you when you make dad uncle mad... that guy! DropCatch has been behind the data since its inception. He knows what makes it tick, what he can get away with, and how to become everyone's favorite. In his book, Derral offers a wealth of actionable items that any futurepresent YouTuber can act on. He's the guy I'm watching and learning from in all things. Thanks for sharing all the good stuff with us!
Derral Eves is a pirate! Here's proof!

Derived From Web

, Feb 28, 2021

I just got into Formula One a few days ago and read it cover to cover this weekend, Mr. O'Neill said. I am excited to begin implementing his strategies immediately. One of the review pages calls it the "bible" to success on YouTube. It's more like a treasure map, Tunick said. We were led to the spot by Derral, who gave us a shovel, compass and a map showing us the way to the treasure. There is no question that this stuff works. The cool thing is, all of these creators came from the same humble beginnings: zero. Thanks for all the opportunities on the internet and extremely grateful for Derral Letting us into his world, Tunick said.
The book that will make you $1,000,000

Derived From Web

, Feb 25, 2021

I have big goals for 2021 and youtube will help me reach them, he said. The average person buying a book about technology will probably never find out what it is. The youtube formula is far from outdated. I have already started implementing strategies laid out in this book and can't wait to see the results. Thanks to all the sponsors, and especially to Derral and the team at AOL Games. Chevy's Youtube channel has had more than 1 million views. In addition, I started a new youtube channel with this book and in 70 videos I have 134k subs. The channel was designed with the help of Youtube's own engineers.