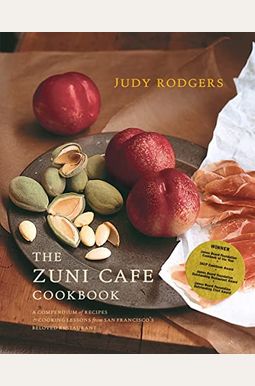 
 
The Zuni Cafe Cookbook: A Compendium Of Recipes And Cooking Lessons From San Francisa
Book Overview
In The Zuni Cafe Cookbook, a book customers have been anticipating for years, chef and owner Judy Rodgers provides recipes for Zuni's most well-known dishes, ranging from the Zuni Roast Chicken to the Espresso Granita. But Zuni's appeal goes beyond recipes. Harold McGee concludes, What makes The Zuni Cafe Cookbook a real treasure is the voice of Zuni's Judy Rodgers, whose book repeatedly sheds a fresh and revealing light on ingredients and dishes, and even on the nature of cooking itself. Deborah Madison (Vegetarian Cooking for Everyone) says the introduction alone should be required reading for every person who might cook something someday.
Frequently Asked Questions About The Zuni Cafe Cookbook: A Compendium Of Recipes And Cooking Lessons From San Francisa
Books like The Zuni Cafe Cookbook: A Compendium Of Recipes And Cooking Lessons From San Francisa
Book Reviews
(12)
Did you read The Zuni Cafe Cookbook: A Compendium Of Recipes And Cooking Lessons From San Francisa? Please provide your feedback and rating to help other readers.
Ok book, but not for me. Seller was prompt.

Derived From Web

, May 20, 2022

I did not love this book. I was hoping for more recipes and photographs of food.
Iconic cookbook from the San Francisco restaurant.

Derived From Web

, May 20, 2022

Beautifully written with well photographed photography.
Not For Beginners

Derived From Web

, May 20, 2022

This cookbook is usually right, though not entirely. Since I am already a reasonably accomplished home cook with a professional chef son, I can follow Rodgers's convoluted instructions without too much difficulty. But if I were a novice cook, I would be entirely at sea.
My Own Fault

Derived From Web

, May 20, 2022

Alas, it is my own fault for buying a cookbook that turns out I'll probably never use. I was seduced by a review in a major publication and broke my two self-imposed rules about buying cookbooks. Never buy one by a chef and restaurant owner and never buy without first looking. But the review was so warm and enthusiastic that I went straight to my computer and ordered it. I wish I had read both the reviewers'comments and the readers'comments first. Then I would have known that I would not be interested in the first 52 pages at all. Having cooked simple but good food for nearly half a century, there is not much I know about kitchen tools and basic techniques. Indeed, Judy Rodgers is a good writer, but if I want to read about one's formative years in the cooking field, I'll look for a memoir. There is also the early salting recommendation that informs many of the recipes. I try to increase the sodium in my cooking, not reduce it. I may give it to a daughter or a daughter-in-law.
Not bad, but......

Derived From Web

, May 20, 2022

Not bad, but I don 't think I am qualified to prepare these recipes! As previously stated, it is great for a more professional cookchef. I also like to see a picture of the dish before I make it, and there are no pictures in this book. That said, I learned a lot of new ideas and methods for reading it.
Birthday gift

Derived From Web

, May 20, 2022

Originally, I borrowed this book from the library. I bought it to give it to our daughter, who lived in San Francisco. Her birthday is still coming so I have not yet given it to her, but I have high hopes that she will like it!
CHEAP REPRODUCTION OF ORIGINAL

Derived From Web

, Jun 29, 2020

In the advertisement, it says First Edition 2002. The date is correct, but the real first edition was printed in the USA and the pages are thick and cream colored. It comes under the original Norton imprint, but may be completely phony. Either shame on Norton for selling this or more likely shame on Amazon for authorizing this imitation as the real thing.
One of the best cookbooks ever and that's saying a lot

Derived From Web

, Mar 4, 2020

This is one of the best cookbooks ever written. It stands Michael Field's cooking school and mastering the art of French cooking. The recipes are wonderful and it is also very instructive.
Great content, flimsy pages, printed oversees. NOT first edition nor first printing, as advertised.

Derived From Web

, Nov 18, 2019

The content of this book is excellent, with treasured recipes from the Zuni Cafe, but the version delivered to me last week was printed in China, not printed in the USA, as shown on the Look Inside photos of the book. It is obviously a reprint, but this is not clearly noted, as it normally would be. I found a vintage version that was indeed printed in the USA. The pages in the USA version are more robust.
BEAUTIFUL BOOK!! READS LIKE A NOVEL!!

Derived From Web

, Aug 1, 2019

This was not what I expected, but was delivered above and beyond! It is like a cookbook that reads like a novel, it's as if the author speaks to me and teaches me on the way. The only small negative is that not all recipes have pictures. Only some of the recipes are shown in the book, that is one of the things I enjoy about my other cookbooks... when the recipe is finished in the finished product. No points taken for this, just a side comment.