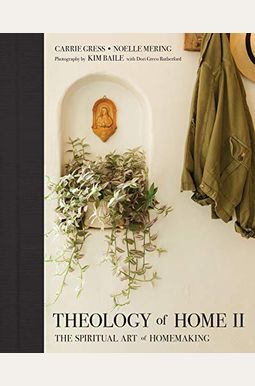 
 
Theology Of Home Ii: The Spiritual Art Of Homemaking
Frequently Asked Questions About Theology Of Home Ii: The Spiritual Art Of Homemaking
Book Reviews
(8)
Did you read Theology Of Home Ii: The Spiritual Art Of Homemaking? Please provide your feedback and rating to help other readers.
Beautiful book and inspiring content

Derived From Web

, Jan 18, 2022

What a beautiful book and message about motherhood, family life, and using our feminine genius to create bright, cheerful homes and spaces where the eternal is present in family life! I love this book and its appeal to women with careers, as is clearly reflected in the women quoted in this book, as well as women whose primary professional work is at home. I highly recommend for women with young families and even empty nesters who create beautiful homes where their children and grandchildren love to return! The physical book is also absolutely beautiful! I love these authors and look forward to seeing more of their work in the future!
Book not properly digitalized

Derived From Web

, Dec 28, 2021

I haven 't much more to say about the actual content of the book, although I AFTER discovered that it is written from a Catholic worldview. My principal beef is that it appears to be a cut version of the hardcover book. Not only could I not load it on my Paperwhite, but I can not properly change the font on my fire or highlight it properly. If I continue so it is going to be a very HARD read... which is why I only give 3 stars before I finish the introduction. Be prepared for the buyer. And sorry, author ladies, this issue needs to be rectified in order for your work to be appreciated effectively.
As a SAHM and Christian — NO THANKS…

Derived From Web

, Sep 12, 2021

Well, it is a Christian cover and spine for use as a coffee table book, but comes from a pretty stay-at-home mom... I disliked everything about this book. I believe that women should be able to choose what they want, and other women should stand by and applaud, e.g. a stay-at-home mom, not a mom, etc. This book feels like a group of women who all attend the same Catholic Church together to push their version of womanhood. Also, the pictures are not good and the design '' of these homes by women can not be considered " design ". We're just getting closeups of Mary's statues. Definitely a pass for anyone other than Catholic women, who believe that all women belong at home and should enjoy it. Basically, nobody is involved.
Don't save this for later! Buy it now

Derived From Web

, Jan 27, 2021

A good coffee table book also! I'm sharing this with friends!
A gem

Derived From Web

, Jan 22, 2021

Ich am so grateful to the authors for writing this book. They have really given an insight into the vocation of womanhood and the struggles of modern mothers. There were so many profound points made that really resonated with me even during a time of spiritual darkness. I recommend this book highly and give it to many friends as gifts ''.
It is garbage

Derived From Web

, Jan 9, 2021

Do not buy this book unless you yearn for Gilead or hope to become either and Handmaid or a Martha someday. The description made it sound like it was all quaint housekeeping techniques and creating a spiritually peaceful home. The very beginning slams 1960's feminists for not being fulfilled housewives because they needed Jesus. This book makes me want to burn my 19th century farmhouse, all my linen aprons and move to a loft in the city. This book is a perfect example of religious granola, who are actually faux zealots. In lieu of my farmhouse and aprons, I should burn this book just in case. It does not deserve the effort required to return it.
Good and thought provoking

Derived From Web

, Jan 7, 2021

Since I am a baby boomer, I agree with most of this book.
Homemaker: The Nourisher of Souls

Derived From Web

, Nov 19, 2020

Homemaking The ache without name or creating a place where body and soul are nourished, protected, comforted and known? This beautiful second volume of theology of home, with its spotlight on the homemaker, explores and reveals ways in which being a homemaker in families of any size can produce surprising purpose and meaning through the sheltering and nourishing of other souls. With a special focus on motherhood-in its broadest meaning, biographical photography, information on subjects ranging from olive trees to a history of coffee, beautiful blurbs on inspiring women and much more, this is truly a book that informs and inspires.