Buy 3 Get 1 Free
Our Best Sale Yet! Add 4 Books Priced Under $5 To Your Cart Learn more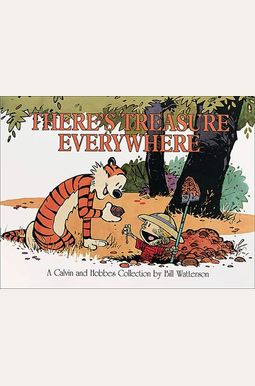 
 
There's Treasure Everywhere: A Calvin And Hobbes Collection Volume 15
Book Overview
In the world that Calvin and his tiger Hobbes share, treasures can be found in the most unlikely places, from the outer regions where Spaceman Spiff travels to the rocks in the backyard--this curious duo roams their world in search of fortunes (and misfortunes ) to be experienced. Whether Calvin and Hobbes are blasting off on another interplanetary adventure or approaching warp speed on a downhill wagon ride, their capers consistently charm and refresh their readers' days. On his own, Calvin is prey to the insidious killer bicycle, is the arbiter of the Dad poll, is the creator of a legion of snowmen who provide an incisive social commentary, and Hobbes is always there as the perfect companion. Watterson's talent is evidenced by the range of thought-provoking emotions the strip encompasses in addition to the laughs it induces: the loyalty and friendship between Calvin and Hobbes, the challenge of being a patient parent, and the sardonic viewpoint of a cynical six-year-old (I'm a 21st-century kid trapped in a 19th-century family, laments Calvin) combine to make this one of the best-loved strips in cartoon history.
Frequently bought together
Frequently Asked Questions About There's Treasure Everywhere: A Calvin And Hobbes Collection Volume 15
Book Reviews
(15)
Did you read There's Treasure Everywhere: A Calvin And Hobbes Collection Volume 15? Please provide your feedback and rating to help other readers.
These books win over kids electronics time (Serious Parenting Win)

Derived From Web

, May 18, 2022

My children LOVE reading Calvin's Hobbes. It's love. We buy them every book because with all the electronics available, it is a parenting win to get them to love anything that has to do with reading. My husband reads a few pages every night and when we tell them it is reading time, my oldest goes for the comics by Calvin 'apos ; Hobbes. We added them all to his Christmas list and I know that he will be so excited when he gets them.
8 year old adores

Derived From Web

, May 18, 2022

He has to read as part of his daily homework after school, and these books are always his first choice. The way his face lit made me want to buy every single book. I have ordered from Amazon in the past for my children, but have always opened and wrapped them. If you order it for your young one, I would suggest telling them that they received a package in the mail. It is great to see the excitement and joy they get from receiving mail!
Calvin and Hobbes is a must reading for all kids

Derived From Web

, May 18, 2022

My husband owns most of the books ever published by Calvin and Hobbes. We introduced our eldest daughter, Calvin, when she was eight and a good reader. She loved him on the first reading. When she found out that a few books were missing from her father's collection, she saved her money and bought this book. My daughter was kind enough to let her father read the book, but she still hasn 't let me!
Good, pure, funny stuff that will leave a smile on your face for hours

Derived From Web

, May 18, 2022

I am so glad that I came back and have now introduced them to my children! There is a subtlety to humor that is not often found today. It is often mischievous humor, but it is a pure humor free of innuendo and crude butt jokes that often draw us down. Read a few pages and you will know quickly if this is for you. I highly recommend ''.
A Classic

Derived From Web

, May 18, 2022

Bought this copy for my grandson so that they have the whole set.
How I start my day

Derived From Web

, May 18, 2022

Calvin and Hobbes thank you for the universe. This prepares me for a day that will usually contain some stress, along with a cup of tea. This is genius along with all the other books by Calvin and Hobbes.
Calvin & Hobbes for a determined reader.

Derived From Web

, May 18, 2022

I've bought this book for my son. He loves Calvin and Hobbes so much that he learnt to read the comic book, though his first language is Spanish. Every time we go on an Errand, he takes one of his Calvin and Hobbes books and read the strip from the back seat so that I can hear him. It is ingenious, humorous and well written.
One of the best

Derived From Web

, May 18, 2022

I love all Calvin and Hobbes, but this particular collection seems to have a particularly high density of both humorous comics and profoundly insightful observations on our nature and the human condition.
Headline

Derived From Web

, May 18, 2022

I love Calvin and Hobbs, they always make me laugh, no matter what the script is about. I would reccomend it.
Great book, terrible shipping

Derived From Web

, Feb 28, 2022

I love Calvin and Hobbes and wanted to have this book for my collection, and I have no issue with the book itself. The shipping is where the problem is located. All the other books I ordered were sent in a box and I assumed that this would also be. It was bending on the porch in a C shape, left on its spine. The book does not lay flat, but I was slightly lucky that none of the pages or covers were creased. Currently I have it pressed under a weight to see if I can straighten it. I would recommend ordering books from a different company, preferably one that knows how to treat them.