Buy 3 Get 1 Free
Our Best Sale Yet! Add 4 Books Priced Under $5 To Your Cart     Learn more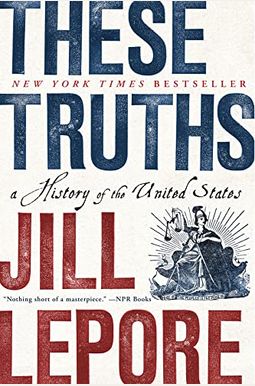 
 
These Truths: A History Of The United States
Book Overview
This Description may be from another edition of this product.
Written in elegiac prose, Lepore's groundbreaking investigation places truth itself--a devotion to facts, proof, and evidence--at the center of the nation's history. The American experiment rests on three ideas--these truths, Jefferson called them--political equality, natural rights, and the sovereignty of the people. And it rests, too, on a fearless dedication to inquiry, Lepore argues, because self-government depends on it. But has the nation, and democracy itself, delivered on that promise?
These Truths tells this uniquely American story, beginning in 1492, asking whether the course of events over more than five centuries has proven the nation's truths, or belied them. To answer that question, Lepore traces the intertwined histories of American politics, law, journalism, and technology, from the colonial town meeting to the nineteenth-century party machine, from talk radio to twenty-first-century Internet polls, from Magna Carta to the Patriot Act, from the printing press to Facebook News.
Along the way, Lepore's sovereign chronicle is filled with arresting sketches of both well-known and lesser-known Americans, from a parade of presidents and a rogues' gallery of political mischief makers to the intrepid leaders of protest movements, including Frederick Douglass, the famed Read More chevron_right
Frequently bought together
Frequently Asked Questions About These Truths: A History Of The United States
Books like These Truths: A History Of The United States
Book Reviews
(17)
Did you read These Truths: A History Of The United States? Please provide your feedback and rating to help other readers.
A real eye opener

Derived From Web

, Nov 2, 2020

I have to say that I am no slouch on real history... but I found this book to be a real eye opener. The founders were human and were products of their times. I get this. But wow, I have been forced to think about the principles on which this nation was founded... and what they mean today. I am only 25% through this book... and I have already learned so much.
This should be the curriculum for every American school

Derived From Web

, Oct 18, 2020

I read lots of books about American history, but they focused on a particular issue or period. Lapore covers ALL history. Her lucid explanations make the story of America easy to grasp. From this well-written book you learn SO MUCH.
Terrific and very readable history showing the new as very old indeed.

Derived From Web

, Jul 26, 2020

This author does a masterful job of bringing together hundreds of historical threads into a coherent chorus of debates that connect today's conflicts quite clearly with those born with the birth of the nation. Time and again, the reader is brought to see that those very vexing contradictions in the foundation of the country are one and the same as those debated passionately today. I highly recommend this book to anyone interested in how we got to the polarization we find ourselves in today, and if there is solace to be found, it will be in discovering that the poles existed all along.
A long must read in today's climate

Derived From Web

, Jun 24, 2020

I read several of Lepore's books and I think she is spot on in her interpretation of history, American history. This book is the history of the United States. Not one book can contain the entire history of any country, so she focuses on racism and black rights during the course of our American history. She makes you think, she makes you see things a little differently than typical history books. She shows how important the racial issue has been in our country and how we have tried to change things, perhaps unsuccessfully.
Proof that History repeats and America has often had bad leaders

Derived From Web

, Mar 5, 2020

It is hard to confront the facts of our history, which includes slavery, and not to treat women for such a long time. It is even more disturbing to realize that there is still hate, prejudice, and ignorance driving policies and decisions of current leaders. Understanding our past history is the first step in correcting our path in the future toward truth and justice. This book and These Truths can serve to enlighten this country to treat citizens equally and to respect those who are different from ourselves.
Inside American histoty

Derived From Web

, Mar 3, 2019

I was completely involved and impressed with two thirds of this book, but started to lose more and more interest, as the author invested unnecessary interest and detail that caused the book to be stale and tedious.
Essential Reading for Anyone Who Loves America and wants to Love it More.

Derived From Web

, Feb 12, 2019

Prof. LePore's new history should be required reading for every adult, even those of us who claim to know well U.S. history. Her assumption is that the readers know the basics and don 't need to repeat it. What they need is to hear how political history, women's history and black history are essential strands that must be woven in, and she has done it in a readable way. These are not treated as separate histories, but as essential elements of a more comprehensive history, not included in school texts.
Good introduction

Derived From Web

, Feb 4, 2019

These truths are a good introduction, bird's eye view of US history, for those who have no substantial knowledge of the USA, or for those who taught US history with blacks and women, or even air-brushed from them. Lepore would contrast American political and social ideals with actual practice, although her explanation of the ideals is thin, simply ascribed to the enlightenment, but not really. The contrast to these ideals, especially in the generally abominable treatment of blacks, is well described. Her writing is very good, but often reads more like a reportage, which may be the right tone for such a book. I have no hesitation in recommending it.
A Peculiar History of These United States

Derived From Web

, Jan 20, 2019

To say the other Suffice book is dominated as historian by a very skewed approach. Calling it a history of the United States '' is a complete misnomer. Lepore is determined to include the history of slavery as a very real component of her history, but rather than being a component, it dominates her entire focus. For example, the Revolutionary War receives very superficial coverage, but its effects on slaves receives major attention. This entire effort feels like advertising. I want to get my money back!
Great background for the current political era

Derived From Web

, Nov 14, 2018

Having not taken us history since 1996, I found this comprehensive overview of the modern era through the lens of the revolutionary era to be extremely helpful in understanding how much of the current political invective has been part of the conversation since before the modern war. I found myself as excited to get back to reading, as I am usually for a Scandinavian crime novel. Recommended highly for anyone who wants to understand these United States.