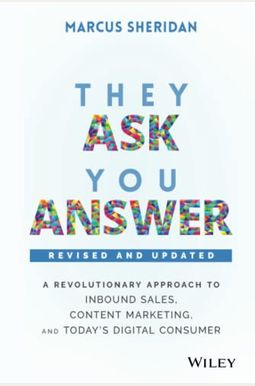 
 
They Ask, You Answer - Revised
Frequently Asked Questions About They Ask, You Answer - Revised
Book Reviews
(8)
Did you read They Ask, You Answer - Revised? Please provide your feedback and rating to help other readers.
Major Impact on My Career!!

Derived From Web

, Feb 9, 2022

There have been a few books in my business career that have changed my perspective and have made a huge impact, he said. The book is also available in the Amazon Kindle edition. When I read this book, I couldn't believe how easy it was to follow, yet so often neglected. One step at a time, your business will be transformed by this teaching. I highly recommend that you read this.
This book will change your company, your path to success, and your life!

Derived From Web

, Jul 16, 2021

I bought this book for myself and when I finished it I ordered one for the owner of the company. He was just as excited about the philosophy as I was, and we have since ordered copies for our other employees, we have since added. The book makes you look at everything in a completely new light. We have become the go-to authority on longarm quilting machines, and have created a knowledge base on our web site to share our knowledge with our customers. Selling stuff is soooo much more fun than helping people make a good purchasing decision, Reeves said. A great book, great author, great ideas, said Dr. Goin. This is not the kind of book that will just sit on your shelf with the other books. It will take you a few minutes to read, but you will be able to write in with a pen, color with a highlighter, and talk about all the time. It's not just a book, it's a way of life.
The best business book I've read in years

Derived From Web

, Jan 22, 2021

One word. What's more, this is a total game changer, Raymond said. Already seeing the results of the implementation, we're seeing them in action! I can reccomend this book to each and everyone who wants to take hisher business to the next level and smoke your competition Full steam ahead and full video! I also recommend buying The Sale these two go hand in hand.
Marketing Plan needed today!

Derived From Web

, Jul 11, 2020

This book outlines exactly what our focus should be today in building a system to bring the right customers to us, he said. This is the book and plan for every serious business about owning their target customer market.
#1 Book for Your Content Marketing Toolbox

Derived From Web

, Mar 27, 2020

They Ask, You are the best guide to creating and implementing powerful content marketing programs. I highly recommend this book to my entire web and marketing team, as well as to our CEO and sales managers. Marcus Sheridan writes in a no-nonsense way and will help marketing and sales management understand the importance of working together and achieve greater sales and success -- by leveraging sales' knowledge of their customers most asked questions and allowing marketing to answer those questions.
I'm not a fan of organic content marketing, but I'm glad I bought the book

Derived From Web

, Dec 30, 2019

Let Me Start My Journey, Lord! I heard him on a podcast, then saw his site on top ten sites with video banners, THEN saw it in the airport. I was like, shoot this guy is following me around, I'll take a look, he said. It was a total waste of money, I think. Like most people, you enjoy thorough books. Get this one, buddy. I'm not such a believer in 2020, but it doesn't matter because this book gives you fundamentals that go into all aspects of content marketing. Thanks to this book, I am building more websites and this book is really helping me improve them. 2020 is now. This video was originally uploaded to youtube. com. Thanks for the tip. Thanks for your interest in my book, I'll email you soon - since you share your email! NBC also aired "Heroes" on Thursdays, starring Burt Young and Hal Yeager.
A must read for ALL business professionals

Derived From Web

, Dec 28, 2019

As a Content Marketer, I must say that this is the most valuable book I have read all year. This is a must-read for anyone in the business world, not just sales and marketing professionals. Don't get carried away with the exercises, and have an open mind, a pen and notebook ready to work through the questions, he suggests.
The most important philosophy I've ever applied to my business

Derived From Web

, Sep 21, 2019

Michael Savage's new book is a "simple, practical, actionable" and "Real" read. Companies are failing with inbound marketing, and those that are succeeding are doing it with They Ask, You Answer.