Buy 3 Get 1 Free
Our Best Sale Yet! Add 4 Books Priced Under $5 To Your Cart     Learn more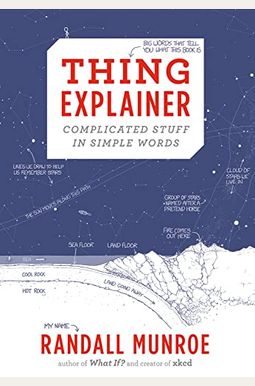 
 
Thing Explainer: Complicated Stuff In Simple Words
Book Overview
From the creator of the webcomicxkcdand author of the #1New York TimesbestsellerWhat If?, a series of brilliantly and simply! annotated blueprints that explain everything from nuclear bombs to ballpoint pens

Have you ever tried to learn more about some incredible thing, only to be frustrated by incomprehensible jargon? Randall Munroe is here to help. In Thing Explainer, he uses line drawings and only the thousand (or, rather, ten hundred ) most common words to provide simple explanations for some of the most interesting stuff there is, including:

food-heating radio boxes (microwaves)
tall roads (bridges)
computer buildings (datacenters)
the shared space house (the International Space Station)
the other worlds around the sun (the solar system)
the big flat rocks we live on (tectonic plates)
the pieces everything is made of (the periodic table)
planes with turning wings (helicopters)
boxes that make clothes smell better (washers and dryers)
the bags of stuff inside you (cells)
How do these things work? Where do they come from? What would life be like without them? And what would happen if we opened them up, heated them up, cooled them down, pointed them in a different direction, or pressed this button? In
Thing Explainer,
Munroe gives us the answers to these questions and so many more. Funny, interesting, and always understandable, this book is for anyone age 5 to 105 who has ever wondered how things work, and why.
Frequently bought together
Frequently Asked Questions About Thing Explainer: Complicated Stuff In Simple Words
Books like Thing Explainer: Complicated Stuff In Simple Words
Book Reviews
(15)
Did you read Thing Explainer: Complicated Stuff In Simple Words? Please provide your feedback and rating to help other readers.
Buy a physical copy, not the Kindle version...

Derived From Web

, Apr 20, 2022

The diagrams don't translate well to the smaller Kindle. Simply put, you will need all 13 x 9 inches to understand and appreciate the illustrations and explanations.
Buy this (real) book!

Derived From Web

, Apr 20, 2022

What a great book! I was a bit worried after reading some of the reviews which said that it was hard to understand, but I am glad that I bought it because it is, for the most part, very easy to understand, Ms. Lee said. There were only a few times when I was a bit confused, and then had the aha! Momentous happenings: I realized what the book was trying to convey. The diagrams are fascinating and well drawn, and cover a broad range of items, including body parts, nuclear power plants, the Earth, household appliances, the US Constitution and various flying machines. Overall, I'm glad I bought the book rather than the Kindle version because the writing is very small and there are some pages that pull out to show extra large diagrams. Amazon's Kindle version simply couldn't compare. The book itself is a whopping 368 pages, contains a large number of diagrams, and would make a great coffee table book or a gift.
You like the things explained, and simple

Derived From Web

, Apr 20, 2022

He arrived at a list and wrote a book explaining the Saturn V rocket and nuclear power, among others, using only those. While strained occasionally, the effort is a lovely oversized hardbound book that will see a lot of use. What gets left behind when we strip things down too far is often the customer service we provide. Language is the seat of comprehension, and this book is both an engaging, funny coffee-table book for adults as well as a light-hearted exploration of epistemology and language for young students. It's great to hear from Dr. Goin that people recommend it highly.
because I love this so much

Derived From Web

, Apr 20, 2022

I've bought multiple copies as gifts because I love this so much. For those of us without a science background, it's a great explanation of how exactly a cell phone is put together or how a building is constructed. There are a lot of things I didn't realize I knew. While this isn't a full explanation of how to do this, it's a great jumping-off point to help you get started and visualize what the more advanced books try to teach you.
Great idea, less than perfect execution

Derived From Web

, Apr 20, 2022

Great idea, but there were a lot of times when he was using simpler words than necessary just for the sake of using them. The end result was that some of the explanations came out even more complicated, since I had to try to figure out what he was trying to say.
This is a great book to break away from the hard core break ...

Derived From Web

, Apr 20, 2022

Technical support is available Monday through Friday from 8 a.m. to 5 p.m. This is a great book to break away from the hard core break fix mind set, said Paul LiCalsi. I have it displayed in my living room so that people visiting me can ask about it just as I did when I bought a copy.
Buy it! Gift it!

Derived From Web

, Apr 20, 2022

This is the most fun, useful, and awesome book we've found in a long time, Raymond said. We gave one to each of our children's families for Christmas. We're all inquisitive people and enjoy learning along with our children and this makes it a real family experience, Mrs. Dhaliwal said. It has now been recommended to several friends of similar interests and will probably give as a gift a few more times at least.
Fun book with enjoyable illustrations and explanations. It's a non-technical "how things work" kind of book.

Derived From Web

, Apr 20, 2022

I'm an engineer, and this is a great book to read. I have actually learned some things from this book, and have been amused by the explanations and illustrations, Mrs. Cowger said. The non-engineering language makes it fun to read, as it kind of keeps you trying to figure out what is meant by the program. Once the pictures are taken, they come in.
For fans of XKCD

Derived From Web

, Oct 24, 2019

In this book, Munroe takes complex concepts and machines and explains them via exploded diagrams. There is no jargon, and concepts and things are explained with the most commonly used words in the English language.
Very useful

Derived From Web

, Oct 18, 2019

Another useful book for my husband so he can explain the bizarre and everyday stuff better to our 6 year old.