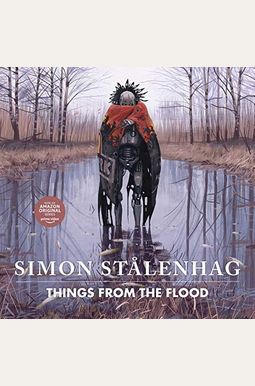 
 
Frequently Asked Questions About Things from the Flood
Book Reviews
(8)
Did you read Things from the Flood? Please provide your feedback and rating to help other readers.
Bought New, Came Damaged

Derived From Web

, Feb 21, 2022

I have wanted the books from S.S. for a very long time and I finally pulled the trigger and ordered this and Tales From The Loop. I received them as New and ordered them today. They are definitely not new. At first glance, it looks like they have been tossed for a good long time. The spine is cracked, the spine is wrinkled, and the corners are dented and split. I was not able to capture a good picture, but running your hands along the front and back of the cover, you can feel indents and scratches as if it has been dropped on and dragged over things. I have had books for years that I regularly use that are in better condition than these. Devastated very much.
Cannot remove Amazon brand tag in cover 👎🏼🤬

Derived From Web

, Mar 21, 2021

The work itself is brilliant and exactly what I've been hoping to display in my home for years. I am a huge fan of Stlenhag. But it is very frustrating to have this silly Amazon sticker on the cover and I feel it ruins the art. I will not display this on my coffee table.
Excelente Libro

Derived From Web

, Feb 22, 2021

Le regale a mi hijo el pasado de 2020 la Triloga de este autor, las ilustraciones son impresionantes y la historia cautivante. Recomendado is a modified version of the original.
Very Disappointed in quality of printing

Derived From Web

, Jan 18, 2021

Stalenhag has all my books. Very high materials and feel very high. This copy came after the show was released on Amazon and the print quality changed drastically. The material used in the book cover is obviously inferior and there is a Amazon Original logo printed permanently. If they had not changed the print quality and had been a sticker, it would have been welcomed, but what they did is very disappointing. Now I have 3 excellent books, next to this low 4th member of my collection. It seems that this is the only version currently in print. I hope they return to the better quality print and I can complete my collection in the future properly.
Dismal

Derived From Web

, Jan 15, 2021

So disappointed by the second book by this author. The potential was simply missed. Dark, but not a darkness that brings interesting and enlightening knowledge, simply a gray and dismal end...
Really with the advertisement!?

Derived From Web

, Dec 29, 2020

The original Amazon logo is not a sticker and is part of Hardcover Print. Very disappointing, extremelly. I think that most people would agree that they are not getting an embedded Amazon advertisement on the front of a hard cover book that they would like to have for years. Honestly, I was shocked at this decision to set this apart of the physical front of Hardcovers!
A nigh perfect retro futuristic art book, marred by a permanent "NOW AN AMAZON ORIGINAL SERIES"

Derived From Web

, Nov 17, 2020

I am a big fan of everything that Fria Ligan has done in the last few years, as well as the Tales of the Loop RPG spin-off from Simon Stalenhag. This book is the one that started it all, and is basically perfect haunting, nostalgic yet sci-fi, Bleak and inspiring... The beautiful flavor text to accompany the solid art prints. But it has a permanent, orange circle emblazoned on the cover that reads now an Amazon Prime video with the Amazon Prime logo. It is so ugly and incongruous with the rest of the piece that I'm considering returning the book...
good, but sparse

Derived From Web

, Oct 18, 2020

Art and writing is excellent. I have written all three of his works. They are just snapshots that show the general direction of the story but leave a lot of enticing gaps. The third work, The Electric State, is a more complete narrative, but still leaves a lot of mystery. That was probably the author's intention, but leaves me sadly unfulfilled. I have seen some of his art in other places that seems to belong in these books, but remains a complete mystery.