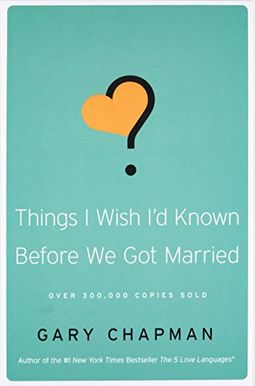 
 
Things I Wish I'd Known Before We Got Married
Frequently Asked Questions About Things I Wish I'd Known Before We Got Married
Book Reviews
(14)
Did you read Things I Wish I'd Known Before We Got Married? Please provide your feedback and rating to help other readers.
One of the Few "Aha" Moments of My Life...

Derived From Web

, Apr 20, 2022

My wife and I had a rocky relationship for many years, Raymond said. In August, she died of colon cancer. The nurse who diagnosed Dr. Kennedy with breast cancer said she was diagnosed about a year before her death. It was the best year of our lives together, he said. I didn't really understand why until I recently read a book by Gary Chapman, Things I Wish I had Known Before I got married. The book includes an abridged discussion of his earlier book, The Five Love Languages. I had one of the few Aha moments of my life. It's great to hear that people recommend it.
Lifesend!

Derived From Web

, Apr 20, 2022

Thanks for the book. Husband and I bought this book before we were married, but it is a great read. I'm not even a fiction writer, but this is my first time reading one of Chapman's books. He has all but written a book on the subject. It was a great exercise, and my husband and I read it together. Even for those of us who don't seem to have problems, this book is great. With Gary, you don't have to learn how to communicate.
Great points to consider

Derived From Web

, Apr 20, 2022

One day, I may want to get married again. Good book, easy read, Tunick said. Will I be keeping in mind when I'm dating someone that may lead to a marriage?
very basic

Derived From Web

, Apr 20, 2022

There are two areas of honesty that are often extremely difficult to predict. One of them is sharing our financial history. sharing financial information is necessary in a healthy dating relationship especially if that relationship seems to be moving toward an engagement and marriage, he said. The amount of debt and the type of debt should be disclosed to each other. Only a single sentence of this paragraph is worth mentioning. In the book, he is telling you his life with Karolyn and then summarizing his subjective opinion on each chapter. Hi guys, I am looking for strategies on how to have good conversation with your other half. I am surprised people rate 5 stars to read commonsense guidance. If you want commonsense with your half, just read dale carnegie golden rules. It also applies to relationships between man and woman.
Read It

Derived From Web

, Sep 8, 2020

The book is short and to the point, but there is a lot to recommend it. Definitely brought a few things that I never even considered looking out for while dating that I am now extremely proud of. Worth the read, Mary.
Vaguely misogynistic, religious dribble

Derived From Web

, Sep 12, 2019

If I had this book, I never would have bought it. Other gems include Gary's admission that he and his wife had sex on the first date leading to sexual addiction.
Wish I had read this before getting married!

Derived From Web

, Aug 22, 2019

Even today, people still don't understand how the book was written. Sobig. Mustafa writes, if a couple cannot read this book together and answer the questions at the end of each chapter honestly, then they are not ready for marriage. Only then will we find out what happened there. What I appreciated most is that feeling that I made a mistake marrying the wrong person, said Ms. Dhaliwal. Even if the tingles disappear after a couple of years, many couples may still feel the pain. The human body can only absorb that much of the hormone over a few years. It's just that simple, I can put it that way. He said that my spouse was not deliberately deceiving me when we were dating _ hiding their true self. However, I was not seeing potential conflicts between us because my hormones were not allowing me to see them. However, having conflicts in marriage does not necessarily mean your marriage is doomed to failure. Now I have the tools I need to work on those conflicts, Mrs Clinton said in an interview.
Good

Derived From Web

, Oct 22, 2018

Some of the stuff is a little weird, but otherwise a good read. Gives a lot of good things to think about, Levine said.
Good read good points

Derived From Web

, Sep 4, 2018

It opens your eyes to topics you never really think about before you go down the aisle.
worth listening

Derived From Web

, Nov 14, 2017

It was a great read, said Janet Yeates, who teaches English at the University of Michigan. He added that it is good for someone looking for some direction in their relationship and gives them some things to think about before they get married.