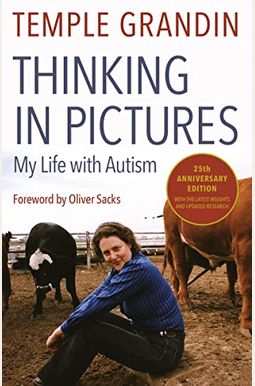  
Thinking In Pictures: My Life With Autism
Book Overview
The captivating subject of Oliver Sack's Anthropologist on Mars, here is Temple Grandin's personal account of living with autism extraordinary gift of animal empathy has transformed her world and ours.

Temple Grandin is renowned throughout the world as a designer of livestock holding equipment. Her unique empathy for animals has her to create systems which are humane and cruel free, setting the highest standards for the industry the treatment and handling of animals. She also happens to be autistic. Here, in Temple Grandin's own words, is the story what it is like to live with autism. Temple is among the few people who have broken through many the neurological impairments associated with autism. Throughout her life, she has developed unique coping strategies, including her famous squeeze machine, modeled after seeing the calming effect squeeze chutes on cattle. She describes her pain isolation growing up different and her discovery visual symbols to interpret the ways of the natives Thinking in Pictures also gives information from the frontlines of autism, including treatme medication, and diagnosis, as well as Temple's insight into genius, savants, sensory phenomena, etc. Ultimately, it is Temple's unique ability describe the way her visual mind works and how she first made the connection between her impairment and animal temperament that is the basis of extraordinary gift and phenomenal success.
From the Hardcover edition.
Frequently bought together
Frequently Asked Questions About Thinking In Pictures: My Life With Autism
Book Reviews
(15)
Did you read Thinking In Pictures: My Life With Autism? Please provide your feedback and rating to help other readers.
fascinating

Derived From Web

, May 2, 2022

This was a fascinating read, said Dr. Charles Bloom, who teaches at the University of Pennsylvania. It's very helpful to understand the different ways autistic people think. Her style of writing was intriguing and I think that she showed her logical way of seeing things, said Robert B. Lee, assistant professor of English at the University of Michigan. For the second half, I had to keep reminding myself that she is talking about her life and her own interests. She devotes two entire chapters to animals, their thoughts and emotions and connecting with them, and while it was very interesting, I don't have the passion for that particular topic that she does. Overall, I got out of this book what I thought I would—a better understanding of differences in thought pattern. I'm glad I read it.
I would recommend reading Temple Grandin's books and watching the movie about ...

Derived From Web

, May 2, 2022

If you want to know more about this amazing woman, you can read her book or watch the movie about her life. She is an extremely interesting individual, I would say. 0 2622010 2622070 This kid is just a total goof, I can't get over it. Even though she has high functioning autism herself, I can relate to her quite a bit. Despite these and other differences, McCartney says he has always found time to meet people he didn't know. She is, I believe, more scientifically oriented than I am. But, I like that she overcame all the obstacles that a lot of people with disabilities face, Garton said. Like people making fun of her, and saying that she can't live a normal life as a couple of examples of when people like that were growing up. 0 2622070 It went on: "And everybody kept saying that she couldn't live a normal life as a couple of examples of when people like that were growing up."
Great book

Derived From Web

, May 2, 2022

A great book. I learned a lot about myself and the difficulties I have had through life. I'm 53 and was just told by my MH person that what I have been trying to deal with all this time is Aspergers. It has been at for a long time but someone pointed me at this book and a few others by the same author and my life and hers are so alike it first shocked me, then made me glad to know I am not alone, because she had people who understood and encouraged me, she got beatings and called retard. I never knew why, until I watched the movie and started reading the book. At the end of the second, much is repeated but still 5 stars.
I loved it!

Derived From Web

, May 2, 2022

I've read every book except "The Fifth Estate." There are tons of facts and figures that are very relatable to autistic people. My brother is autistic and this book helps me to understand why he did some of the things he did. Grandin made this book to help other autistic people in the world and to also encourage them in a sense, Raymond said. She is not some egotistical scientist who wants to make a point on an issue. The Harrisons are actually very scientific and genuine in her explanations, Raymond said. Even in the most difficult situations, she leaves no stone unturned. It's great to see a lot of the book come to life. Even with all the talk of overstimulation, I wish she would have included taste reactions. She also covered everything I could possibly think of, wondering or asking about autism.
Excellent

Derived From Web

, May 2, 2022

My son is autistic and I have a neurological autonomic system disorder that helps me empathize with persons who have Autism. I, too, think in pictures and find some of myself, as well as gaining a better understanding of how my little boy likely views the world. Dr. Temple Grandin, who has autism, will give insight into the world from the perspective of one who has had Autism. She and her mother have inspired me to fight for my son, even when experts say he has reached his peak or he will never be able to do something, she said. Yes, sometimes no is the answer. Thanks for this and all of Dr. Grandin's books.
wonderful book

Derived From Web

, May 2, 2022

Anyone who is close to a person with autism spectrum disorder should read this biography, because it is a glimpse into the world of those whose minds are very unique. Even though it would be beneficial for most people to read this book, it would be great if the world was more aware of what it is like to be autistic.
FABULOUSLY WRITTEN

Derived From Web

, May 2, 2022

SIMPLE TO READ, GREAT STORY OF TRUE NON-AUTISM. GREAT PEOPLE TOO, JUST MISUNDERSTOOD. THE BOOK HELPS US UNDERSTAND AND MOVE ON.
Wonderful for parents, too

Derived From Web

, May 2, 2022

Not only has Grandin helped me to understand and communicate with my son with Aspergers, she has helped me to connect with other families with similar challenges.
Temple Grandin - Fascinating Person!

Derived From Web

, May 2, 2022

Thanks for the book. Then Temple Grandin came to speak at the Mississippi State University Vet School, and I was doubly hooked. If you are interested in reading more about autism or in animals, this book is for you.
If you want to know or have a child with autism, this is a MUST READ

Derived From Web

, May 2, 2022

Details from Temple's life, but with a dose of new science on autism, incredible information on the disorder and a lot of resources for the layman, Ryan said. This book is a must read if you have any questions or concerns about this disorder. Fascinating read, said Dr. Goin.