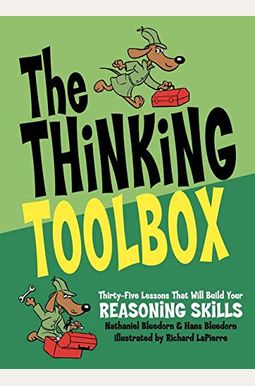 
 
Frequently Asked Questions About Thinking Toolbox
Books like Thinking Toolbox
Book Reviews
(14)
Did you read Thinking Toolbox? Please provide your feedback and rating to help other readers.
How to tune your mind for religion

Derived From Web

, May 23, 2022

If you want to learn reasoning, learn reasoning, but not religion. This book is for you if you want to tune your mind for religion. That is why I gave 5 stars because it will fulfill this purpose.
2nd book of Series for Introduction to Logic

Derived From Web

, May 23, 2022

We have had a lot of fun reading this book as a family! This will be the 2nd book in the series, The Fallacy Detective was the first to enhance our Homeschool Cooperative students with their logic. The book is laid in 35 lessons. The objective of coop is to learn how to convince and confront the ignorance of the mindsets of today. The book will help in science, reasoning, thinking and two different views.
Great Informal Logic Book

Derived From Web

, May 23, 2022

I learned a lot. My 6th grader has read this twice and still talks about it.
So MUCH Fun...

Derived From Web

, May 23, 2022

After completing the Fallacy Detectives, my children were anxious to find another book that was equally fun. When they realized we would be talking about arguing, they couldn t wait to dive into this book. Thankfully, we have enjoyed this series incredibly.
Religious propaganda masquerading as a book on logical fallacies.

Derived From Web

, May 23, 2022

This book shows a clear misunderstanding of evolution in many places. This book is an extremely illogical attempt at promoting religion in a completely subversive way. It should be removed from Amazon, as it is not at all what the title implies.
Inconsiderate way to prove a point

Derived From Web

, Dec 18, 2020

The Thinking Toolbox goes too far in telling children when to think in lesson 3, problem 4. This particular problem uses the word Witte to make a point about whether or not to argue with someone who won t check to see if what you are saying is correct. Although the Webster - Dictionary proves the definition incorrect, to use the world niggardly is disrespectful. Imagine a white American student and hearing this point made during a lecture. The author should consider how they proceed in their next edition about making this point.
Great, except for pretty fundamentalist religious views

Derived From Web

, Dec 4, 2020

Beware of arguments that place creationism next to the theory of evolution. I love logic and I think that we have several lacking awareness of logic based argumentation in our world, media, professional media, schools, social media, etc. So I have happily purchased this and the fallacy - Dectecitve and read and shared them, as there are few as easily accessible. But very sad that they have to hurl religion. I use this to engage with my eight-year-old in critical thinking. An example, you always have to be perfectly critical and alert.
easy format

Derived From Web

, Apr 26, 2020

This has been a great bool for my child so far, and i.e. Critical thinking skills and reasoning are not taught any longer in schools in the United States, and it shows. Providing the essentials to your children will give them a leg up on the other kids trained for non-autonomous work and living. By giving your children the skills to reason, they can become more autonomous sooner. With these skills, they can also feel free to challenge you as a parent, so this is a win-win in my book. When tested my reasoning, it makes me a better human and my child knows she is growing and is able to take more control over their life. So far so good in helping me teach critical thinking.
A great curriculum add for all learners

Derived From Web

, Jan 16, 2020

I'm a public schooling mama to one, homeschooling mama to another, looking for curriculum diversity. The schools in our area don 't teach logic as a subject, so I was not sure what to expect and my sixth grader and I love this book! We read the descriptions and work together through the questions. When we review the answers, the conversations they inspire are fantastic! This would be a great topic to add to any young learner's day.
Approachable way to learn critical thinking skills

Derived From Web

, Oct 8, 2019

This is a very critical way to learn fun thinking skills.