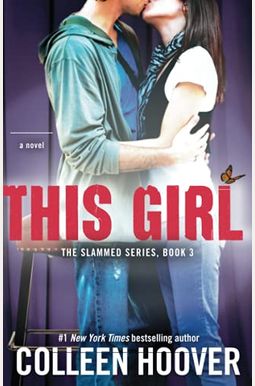 
 
This Girl: A Novelvolume 3
Book Overview
There are two sides to every love story. Now hear Will s.
Colleen Hoover s New York Times bestselling Slammed series has brought countless readers to their knees with a whirlwind of love, passion, and heartache. Layken and Will s love has managed to withstand the toughest of circumstances, and the young lovers, now married, are beginning to feel safe and secure in their union. As much as Layken relishes their new life together, she finds herself wanting to know everything there is to know about her husband, even though Will makes it clear he prefers to keep the painful memories of the past where they belong. Still, he can t resist his wife s pleas, and so he begins to untangle his side of the story, revealing for the first time his most intimate feelings and thoughts, retelling both the good and bad moments, and sharing a few shocking confessions of his own from the time when they first met.
In This Girl, Will tells the story of their complicated relationship from his point of view. Their future rests on how well they deal with the past in this final installment of the beloved Slammed series.
Frequently Asked Questions About This Girl: A Novelvolume 3

Book Reviews
(10)
Did you read This Girl: A Novelvolume 3? Please provide your feedback and rating to help other readers.
Very sweet ending.

Derived From Web

, Apr 20, 2022

Colleen Hoover and Robert Duvall deliver the perfect ending to Will and Kate's story. I've loved reading Will's side of events from Slammed, and just fell more in love with him, Tunick said. The book is a great read, too. It's great to be able to experience your honeymoon with them while also reminiscing about your past. Like skipping to the end of the book while you're in the middle, without the cheating or spoiling of the book. And the epilogue _ I needed a couple of tissues. 0 1462228 31612 It's just too good to be true. This is a perfect ending to the story, Melissa.
You have done it again, Mrs. Hoover! *Slow Clap*

Derived From Web

, Apr 20, 2022

I need to take a moment to process the feelings that this book has evoked from my soul. The entire series is amazing. I've had a lot of fun making movies, and I'm not complaining. Colleen Hoover is an extremely talented writer who has mastered the art of writing. It takes great skill to construct a story that effectively expresses so many emotions in one book where the reader is able to feel them too. I cried, I felt connected to the characters, and I also got the perfect closure to the end of the journey of a beautiful couple.
My sweet for today...THANK YOU GOD FOR COLLEEN HOOVER

Derived From Web

, Apr 20, 2022

There are just too few stars to rate this book.. There is not enough stars to rate this book. From the very first page till the end, I was hooked. This story reminds us of what Will and went through to be able to fall in love and be a family even through hard times,.. And wow, we got to see it all through Will's eyes. nan
Just Perfect!!

Derived From Web

, Apr 20, 2022

I've seen movies like "Slammed," "Point of Retreat" and "This Girl." I'll miss hearing Will's side of the story. They did what everyone else does on their honeymoons!!!!!!!!! I put off buying Slammed and Point of Retreat because of the price. And I read this book immediately after Point of Retreat. I wasn't sure if that was the best thing to do because I had just read Slammed, but I wasn't disappointed. I'm glad I read them all together, Frey said. What a great ending to a great story, Robert Duvall. This book will keep me reading it again and again. I'm thrilled to hear that Colleen Hoover has been selected as a finalist for fiction. Thanks for the support!
Just WONDERFUL!

Derived From Web

, Apr 20, 2022

If you enjoyed the previous two books, you're going to love this one! Even though you know most of the outcome of the story already, viewing it through Will's point of view does provide a lot more insight. Yes, I was moved by this story. Almost as much as the first time. If my reading setting had been different, I would have lost it again, Mr. Dhaliwal said. She breathed new life into a story that has been sitting there for quite a while, and I can't stop reading it. Simply put, Mr Hughes will be remembered forever. I couldn't wait to get my hands on this book, Gillian. Sir Richard was delighted to hear that Harrison was planning a holiday season of sorts.
This Girl is a book you won't forget

Derived From Web

, Apr 20, 2022

The story of this girl is the retelling of a developing relationship that was presented in the 1999 film. In "This Girl," Will tells his side of the story and what a story it is. Rather than giving him a monologue, Coleen has taken a unique approach to giving him voice. Through his memories, Will is able to share his own. When the writer is well-placed, the reader will find the story moving. The book is also available in hardback. By the end of the day, my tears were happy tears, my heart was full and my head just said, Wow. Elizabeth Hoover, who teaches English at the University of Alabama, Birmingham, said: "Excellent work. The team at DB2 did an excellent job of delivering.
Amazingly beautiful

Derived From Web

, Apr 20, 2022

It's great to be back home, said Dr. Shelby, "and we have the perfect set up for a sequel." I love how we get a glimpse into the honeymoon of Will and Lake and then we get a recap of all the major events of Slammed and Point of Retreat in Will's POV. I'd like to say I enjoyed getting inside his head and learning his take on how he acted and did what he did. I fell in love with these characters all over again, he said. I love the romance between Will and Lake, how relatable it is and how much it just tugged at my heart, she said. Thanks so much for sharing a piece of yourself with us in these books.
Wow what an amazing ending to a great series

Derived From Web

, Apr 20, 2022

First of all I have to say Colleen you have definitely done it this time the third installment of the series is just basically amazing to say the least, Will's POV is just breathtaking. To hear everything Laykin was feeling in the first two books was wonderful but at times you thought maybe he didn't love her as much as she loved him, so to hear his side of the story was thrilling. My favorite part was probably the driveway part and of course the ending of the book, what a great ending to an amazing series, said Gillian.
AMAZAING!!!

Derived From Web

, Apr 20, 2022

This book is the last book in the series. It was reminiscent of the days when Will was reading from his POV and it brought back a lot of fantastic memories from Slammed and from Point of Retreat. It was great to see Kristen and Robert together again, said Blair. There couldn't have been a better ending to the Coens' saga. It made me just cry reading Will's reaction to Julia. Colleen did an outstanding job of reflecting us back to those amazing memories from Slammed and Point of Retreat and just seeing the turmoil that Will was going through was just icing to the cake. If you have not read the first two books, then you are missing out on a lot of great writing. Freddie expects to be in the top five again next season. Just about everything about this book is perfect, except for the fact that it's written by a French novelist.
I want a Will Cooper!

Derived From Web

, Apr 20, 2022

I love that show, too, and I think Will and Layken Cooper are great together. I wanted to give it five stars, but settled for four because it is not at all a stand-alone story. The second half of the episode deals with Will's POV. I think that the epilogue is wonderful, too, because I needed a glance into their future, Morgenthau said. Thank you for reading this story.