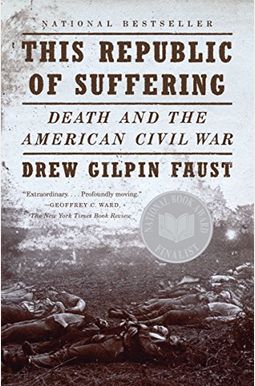  
This Republic Of Suffering: Death And The American Civil War
Book Overview
More than 600,000 soldiers lost their lives in the American Civil War. An equivalent proportion of today's population would be six million. In This Republic of Suffering, Drew Gilpin Faust reveals the ways that death on such a scale changed not only individual lives but the life of the nation, describing how the survivors managed on a practical level and how a deeply religious culture struggled to reconcile the unprecedented carnage with its belief in a benevolent God. Throughout, the voices of soldiers and their families, of statesmen, generals, preachers, poets, surgeons, nurses, northerners and southerners come together to give us a vivid understanding of the Civil War's most fundamental and widely shared reality.
Frequently bought together
Frequently Asked Questions About This Republic Of Suffering: Death And The American Civil War
Books like This Republic Of Suffering: Death And The American Civil War
Book Reviews
(13)
Did you read This Republic Of Suffering: Death And The American Civil War? Please provide your feedback and rating to help other readers.
Another way of seeing

Derived From Web

, Jun 2, 2022

This is a new take on the still contentious time in American history. Instead of descriptions of battles, generals and the principles of what was a kind of jihad of its day, the author uses letters, images and statistics to burn what was in your mind and heart the true cost of war. Faust shows you another way of viewing America's only homegrown conflict.
Great different perspective to war

Derived From Web

, Jun 2, 2022

Great different perspective on the war and its effects. Though it deals with the US Civil War, it applies to all wars.
Fascinating history of the Civil War and the development of ...

Derived From Web

, Jun 2, 2022

The National History of the Fascinating War and the development of civil cemeteries are described. Well written, while relying on the words of people from all levels of society to tell the story.
Repetitious

Derived From Web

, Jun 2, 2022

I love the history of the civil war, but find this book difficult to keep my continuing interest. A little bit of how it goes to die and how it feels a very long way. There was too much repetition felt.
Interesting facts about Civil War interments

Derived From Web

, Jun 2, 2022

Interesting how the Federal Government took care of the Union dead as far as interment and reinterment, but the Confederate dead were interred under the auspices of the Ladies'Associations. The government of the United States would not help there. After the Civil War, we were expecting from Weren 't a happy family of the United States.
A Real Eye-Opener

Derived From Web

, Jun 2, 2022

I read many good books about the Civil War, but none captured the extent of the misery caused by the terrible death tolls on the everyday as well as Drew Gilpin Faust. Personal letters from soldiers on their death beds gave heart-worship insights into those terrible, terrible days. Extremely well researched, but I found the unexpected cadence of some paragraphs caused me to read them again before finding the intended meaning. But well worth the effort! See '' You Can Tell Me!
Don't read late at night.

Derived From Web

, Jun 2, 2022

A very interesting view of how death affected America and its values during the Civil War. The author covered the topic with great thoroughness. The writing style of Ms. Faust is not very concise. She likes to use long convoluted sentences with many old archaic words that you do not see anymore in print. So you find yourself slipping or hitting the dictionary key on your Kindle a lot.
OK

Derived From Web

, Jun 2, 2022

It is OK at best, plodding, interesting at points, not so much at others, doesn't really hold my interest as I read it.
The Republic of Suffering.

Derived From Web

, Jun 2, 2022

Has been a struggle to read through this, not due to writing, but content. It will be completed sooner or later.
A Requiem for the Republic

Derived From Web

, Jan 22, 2021

This book, written beautifully and well researched, explains the impact of the civil war, in the north and south, of the mortal carnage. It contrasts with a statistical approach in capturing the extent of the war's catastrophe with exploration of individual casualties and how each was a catastrophe for a family or a community. The author, Drew Gilpin Faust, uses both approaches to explain the crisis in religious thought that the conflict created. Today, this book is particularly topical as it describes how a deeply divided nation reunited. Highly recommended for students of any age.