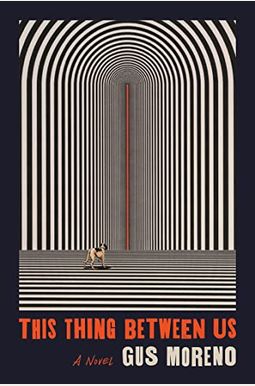  
Book Overview
As original as it is affecting . . . left me genuinely creeped out, unsettled, and shaken. An existentially frightening book.
--Paul Tremblay, author of Survivor Song
Hold on, this isn't a ride, it's a slide, and it doesn't care whether you're ready or not.
--Stephen Graham Jones, author of The Only Good Indians
A widower battles his grief, rage, and the mysterious evil inhabiting his home smart speaker, in this mesmerizing horror thriller from Gus Moreno.
It was Vera's idea to buy the Itza. The world's most advanced smart speaker didn't interest Thiago, but Vera thought it would be a bit of fun for them amidst all the strange occurrences happening in the condo. It made things worse. The cold spots and scratching in the walls were weird enough, but peculiar packages started showing up at the house--who ordered industrial lye? Then there was the eerie music at odd hours, Thiago waking up to Itza projecting light shows in an empty room. It was funny and strange right up until Vera was killed, and Thiago's world became unbearable. Pundits and politicians all looking to turn his wife's death into a symbol for their own agendas. A barrage of texts from her well-meaning friends about letting go and moving on. Waking to the sound of Itza talking softly to someone in the living room . . . The only thing left to do
Read More chevron_right
Frequently Asked Questions About This Thing Between Us
Book Reviews
(9)
Did you read This Thing Between Us? Please provide your feedback and rating to help other readers.
Excellent Powerful Story

Derived From Web

, Feb 20, 2022

Gus Moreno finished reading this thing between us and Gus Moreno. Took me a little longer than I liked to finish because, well, life was, but I enjoyed the shit out of it thoroughly. I loved the way the authors wrote with words. At times it was comical and at other times it was downright terrifying. It reminded me in some ways of Pet Semetary, but brings it to a whole different and much more terrifying level. Grief is a powerful thing that can really shatter the reality around you that you think is part of your everyday life. It opens walls up, brings them down, moves them and opens your eyes and imagination to things you might not have thought previously possible. I give this five stars out of five.
Loved it

Derived From Web

, Feb 3, 2022

I read the reviews for this book and it seemed to most like this : beginning was great, middle was awesome, and ending was TERRIBLE!!! EVER ENDING OF ANY STORY EVER? I am a personal endgame stickler and was very curious to see how bad this could possibly be. I thought it was great! '' No spoilers, but I love coming to the end of the book and realizing I need to think about everything that happened because I missed little clues that the author dropped on the way - that is an art in itself. Then a great book from beginning to end!
Meandering, occasionally unsettling, needs a better edit

Derived From Web

, Feb 1, 2022

Look, it is a story about intense grief in a Stephen-Kings-IT-by-way-of-Tremblay wrapper. It does seem intensely personal in a way that will turn off horror fans, so know that it is in. There are a few great moments that seem tailor-made for a Netflix miniseries, but at the end of the day the horror threads were far too loose and unfocused for me to fully enjoy, and his writing style isn 't quite for me. The main character Thiago's almost comical obscene misery makes the story's horror hijinks -- a monster dog, a spooky Amazon Alexa and other things that go bump -- seem a bit rote by comparison. This is probably unreasonably harsh ; one gets the sense that the author is trying to impress a creative writing class with wise metaphors. There are too many of them and none of them are good enough to leave an impression. I wish he could relax a little with the metaphors, because he is clearly a talented writer ''.
Literary AI Horror, Terrifying!

Derived From Web

, Dec 1, 2021

This is a domestic thriller, a murder mystery and an AI - horror story. Put it all together and it is terrifying! I have read stories where artificial intelligence plays games with humans, even some contemporary stories in which Alexa orders crazy stuff, but I never read a story with such sinister, powerful intelligence behind it. Thiago writes the story in Moreno's deep point of view. Moreno develops rich, satisfying metaphors and inserts allusions to science - fiction - stories and the result is a rich, expanded read. The ending is perfect, absolutely frightening and filled with dread. I can 't think of negatives, I have no complaints at all. Five stars well earned.
No Conclusuon

Derived From Web

, Nov 14, 2021

But the real stuff never leads to a creepyscary conclusion. The last few chapters are confusing and entangled. Our guy is dead, possessed or insane? We don 't know. While some of it is interesting and clever, I kind of wish that I had not wasted my time on this book. Gus, sorry.
Creepy, unsettling, but ultimately disappointing

Derived From Web

, Nov 1, 2021

I wish I waited to buy this until more reviews were written for it. I think the story had a lot of promise, but then fell just for me. In this book there are some truly creepy and unsettling moments, but there is no payoff. I feel like the author wanted to make the reader feel disoriented, which he does, but then the story itself feels almost disjointed, like he didn 't know where the story is going. I can not recommend.
Excellent beginning/middle, but…

Derived From Web

, Oct 31, 2021

Without giving anything away, I loved the book until the very last sectionchapter. The witty humor and the main monologue of Gus Moreno grants the clever character a spot on. It is interesting and remains well-paced until the near the end. The last section, however, was too "fantastic" and bizarre that it felt just hard to follow. It ended up being very drawn out that it felt kind of disappointing. Like a rollercoaster ride that sputters to a stop before the big drop. I couldn t finish the book.
Stunningly Unique… and Creepy!

Derived From Web

, Oct 23, 2021

As a horror snob, I am so picky about giving 5-star reviews, but I didn 't even have to think twice about this one. This book is absolutely recommended!
Life is Life.

Derived From Web

, Oct 19, 2021

So glad I bought this book ''. The funniest, creepy, and awesome is. I read it again. 20 words '' to leave a review seems like a lot. I am a reader, not a writer.