Buy 3 Get 1 Free
Our Best Sale Yet! Add 4 Books Priced Under $5 To Your Cart Learn more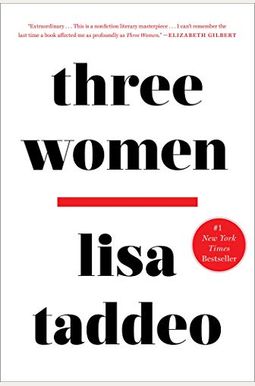 
 
Frequently bought together
Frequently Asked Questions About Three Women
Book Reviews
(14)
Did you read Three Women? Please provide your feedback and rating to help other readers.
Great read for anyone of any gender/age

Derived From Web

, Sep 22, 2020

This book is definitely not written for women. It has been recommended to male friends, my grandma, people who don't normally read this genre, etc. It's great to be back home, said Blair. In "Don't Villainize Any One Gender," Elizabeth Warren writes, "is just an honest, well-written account of these women's lives." Lisa Taddeo's writing is truly beautiful. She carries you on a journey as if you are watching a movie, and can disrupt or twist on you with just one sentence. Poetic, but not in a way that's annoying or just filler -- more so great storytelling, said Dr. Goin. Gives perspective to people of all backgrounds that you really go through shit.
Disappointed

Derived From Web

, Jul 10, 2020

The high praise was all I could get, but it was a disappointing read, like reading nothing but acts of sex. But she says she felt compassion for Parsons because she was a young school girl _ manipulated and used by her vile teacher and it has affected her deeply in adulthood. But the other two women were masters of ceremonies who knew the choices they made were wrong, but still made them. The book was a complete waste and left me with the question, "What did I learn from reading this?" What's more, Microsoft said no customer has requested a refund.
Detailed

Derived From Web

, Mar 15, 2020

It is an insightful read on three women's early relationships in family and outside family. The main topics for each woman are her sexuality and how she does and does not use it. She is 3x3cted and not 3xpected to act, feel about s3x and sexuality. The differences between men, women, society and law in these areas are well-known. It was not surprising to me how society reacted to each other's accounts of the mutiny. What has changed is how women and men act and think, he said. It's a shame we don't have more kids. 0 2622010 2622070 It's a shame we don't have more kids. 0 2622010 2622070 It's a shame we don't have more kids. 0 2622070 2622070 It's a shame we don't have more kids. 0 2622070 2622070 It's a shame we don't have more kids.
Intent Backfires

Derived From Web

, Jan 3, 2020

The intent of this book is to embarrass George Bush, I believe. The women are portrayed as weak, desperate and completely dependent on men for validation and worth. One story that has an important message that does come across is Maggie's, but I don't want to give anything away, Mr. Dhaliwal said. There were numerous sections of the book that I had to skip over, but I do not mean it is necessary to explicitly detail every crude and kinky sexual act. The sex descriptions were so efforst, and the women so disgusting, that I couldn't help but wonder what the hell they were talking about. I gave this more than one star because I cannot deny what an excellent writer Taddeo is, said Mr. Dhaliwal. One star is not enough.
Who Printed this book?

Derived From Web

, Oct 6, 2019

The book looked like it was from the basement of an old book store. I'm sure its still a good read, but it had a stain on it and then the pages don't line up properly. Can't really comment on the writer's work yet, but I've heard the read itself is amazing, too. Just too bad they didn't put the effort from start to finish on the print side of things, making it look like quality and not like a 2nd grader school project, said Dr. Steve.
Can we all have some empathy?

Derived From Web

, Sep 28, 2019

I never write, but I'm doing so in this instance because I see that the highest reviewed review gives it one star, Sosa said. If the reviewer is a woman, and that is her takeaway, then no wonder — NO WONDER — that we women suffer from cutting each other to shreds, rather than supporting each other, she writes. And if that reviewer was a man, I'll submit that he's out of bounds, but could benefit from a big dose of education and empathy. This book broke my heart — it resonated with me personally and also prompted me to think of others in a more kindly fashion, he said. It's great to be back home, said Dr. Chester Floyd, director of the federal Centers for Disease Control and Prevention.
Existential reflection on women navigating the social jungle of sex and desire

Derived From Web

, Sep 10, 2019

In this touching and empathetic account of three very different women, Elizabeth Berry illuminates the conflicts and trials that may resonate with female and male readers alike. The book follows the women's lives in a narrative manner that is unique to each woman. The writer, Raymond Pearson, challenged the reader to think critically and to engage in self-examination.
Painfully honest, excellent read

Derived From Web

, Aug 25, 2019

This book was tough, because it was brutally honest, McBride said. It's a harrowing portrait of female desire how it can be abused, punished, and shamed — by both men and women. And how it can be dismissed even when it's all-consuming to the person experiencing it. Like fiction, it reads like this: "This is not fiction. The writing is excellent with a fantastic narrative voice for each woman and the story is told through her perspective. It might make you want to punch people. It's raw and ugly in parts, and I'm so glad I read it, but know it's probably going to hurt if you decide to pick it up. It's also very explicit, so if you're not careful, you may find yourself in trouble.
This book is everything

Derived From Web

, Aug 4, 2019

The fact is, that is what makes this book so amazing. Yes, women are the only creatures in America who truly desire nothingness, and the characters' desires are focused and exploding on literal slabs of nothingness. The point is, if you want to be successful, you have to be willing to take risks. The Beatles' music "was shared." The writer, for example, sees real female desire in today's society. She honors it and relates in a way that elevates above the crap directed at it.
Don't waste your time. It's all hype and no content.

Derived From Web

, Jul 21, 2019

In fact, I had read many positive reviews of this book. It's a total disappointment, To say the least. This book is not about women's desires, but about how we live our lives. Because it is a non-fictional book, I thought it would focus on what women desire and why they desire it. It's just a matter of time, Mr. Rule told the judge. Some of the writers, for example, pen beautifully and then throw language in that is only for effect. The stories themselves are too long and pointless to keep up with the times. It just kept getting so bored trying to figure out what was the author saying, so I started skipping pages. The book was not advertised. Skip it and don't was your time, Tunick said.