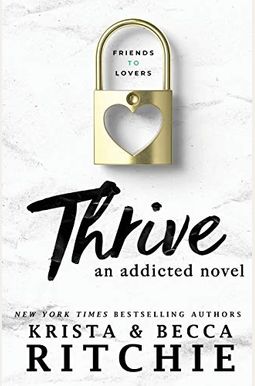 
 
Thrive: An Addicted Novel
Frequently bought together
Frequently Asked Questions About Thrive: An Addicted Novel
Book Reviews
(11)
Did you read Thrive: An Addicted Novel? Please provide your feedback and rating to help other readers.
Research much?

Derived From Web

, Apr 20, 2022

I really like this series and the characters, but the mistakes drive me crazy! Ryke will be climbing the Appalachians, Ohio, Kentucky, the Smoky Mountains and then Utah. I have a map of the city. It's just not realistic. Then SPOILER ALERT: When Lily and Rose get pregnant, it's said that their cycles were synced from living together. She said she never had a period because of the way she took the pill, but how could their cycles be synced? Even if their cycles were synced, they would have had to get pregnant at the same time or 4 weeks apart. It's just that rarest of breeds - never two. This is the kind of crap that drives me nuts.
Lauren Hale ♥

Derived From Web

, Apr 20, 2022

Lots of repeated stuff if you read the other two books, but it was in Lo and Lilly's POV. And since I love him, I'll probably never read another book. I can't wait for the next book.
Still addicted!

Derived From Web

, Apr 20, 2022

It was so nice to be back with Lilo!, Taylor said. I love them so much, Taylor said. Like the other books, Thrive was written by a master of the craft. I've had a blast making movies, and I'm going to miss the guys. Thanks so much to Becca and Krista for writing one of my all time favorite series. Even if I'm sad that it's going to end, I can't wait for the final three books.
Brilliant!

Derived From Web

, Apr 20, 2022

The book was a great read, too. It was refreshing being back in Lily and Lo's you could really feel their pain and love in every page. If possible reading this book made me fall even more in love with the series. It's really quite amazing how the timelines between the end of AFN,KTS,and HHF all fit in to Thrive, said Blair. This series gets better and better with each installment.
The books keep on getting better!

Derived From Web

, Apr 20, 2022

I recently read all of the books in the series and was eagerly awaiting the fifth and final book, Thrive. I was not disappointed. In "Lo and Lily's Journey," the two best friends embark on a journey that has been beautiful to witness and almost come full circle.
Thrive

Derived From Web

, Apr 20, 2022

Oh my!!!!!!!!! This is a great series. And I look forward to hope for LILO in turning their universe 616 into a healthy and loving reality that they all deserve. LILO, COUBBALO and RAYSEY are needed ASAP! It's great to be back home, said Blair.
new favorite series!

Derived From Web

, Apr 20, 2022

The entire series has completely mesmerized me. I started the first book last week and since then I have read nearly the entire series, plus the books that fall in between. I can't wait to see what else these authors come out with! Thank you for making such an ADDICTING series, Simon.
I love ryke

Derived From Web

, Apr 20, 2022

I'm a huge fan. It's just so different not the same old boy meets girl, she falls in love, life's beautiful. It is fiction, so it is far fetched but it is still very deep and very relatable, maybe not on all levels but on addiction topics it is on point. It's just that I just wish it wasn't so whiny that I'm only giving it four stars. I love you, too, Taylor. I think I'm reading it for him, too.
Loved!!!!

Derived From Web

, Apr 20, 2022

I've read every book except this one. It answered a lot of the in between when reading the first two books, "Sky" and "Hothouse Flower." She also said: "I missed Lily and Lo's point of view." It's great to be back home, Taylor said.
Didn't want it to end

Derived From Web

, Apr 20, 2022

We're thrilled to be able to work with Krista and Becca again," FTC chairwoman Christine Schaer said. Indeed, the book itself was just as amazing as everyone of their other books. There are so many gut-wrenching moments in this story that you can't put into words. And there are so many more hilarious ones of them all. It was a great story, but I didn't want to end it. The DVD will be released on September 5, just in time for the holidays.