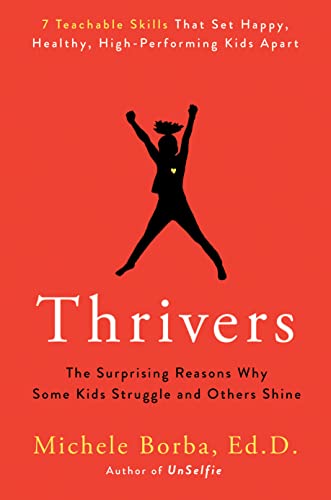  
Thrivers: The Surprising Reasons Why Some Kids Struggle and Others Shine
Book Overview
The bestselling author of UnSelfie explains why the old markers of accomplishment (grades, test scores) are no longer reliable predictors of success in the 21st century -- and offers 7 teachable traits that will safeguard our kids for the future.
Michele Borba has been a teacher, educational consultant, and parent for 40 years -- and she's never been more worried than she is about this current generation of kids. The high-achieving students she talks with every day are more accomplished, better educated, and more privileged than ever before. They're also more stressed, unhappier, and struggling with anxiety, depression, and burnout at younger and younger ages -- we're like pretty packages with nothing inside, said one young teen. Thrivers are different: they flourish in our fast-paced, digital-driven, often uncertain world. Why? Dr. Borba combed scientific studies on resilience, spoke to dozens of researchers/experts in the field and interviewed more than 100 young people from all walks of life, and she found something surprising: the difference between those who struggle and those who succeed comes down not to grades or test scores, but to seven character traits that set Thrivers apart (and set them up for happiness and greater accomplishment later in life). These traits--confidence, empathy, self-control, integrity, curiosity, perseverance, and
Read More chevron_right
Frequently Asked Questions About Thrivers: The Surprising Reasons Why Some Kids Struggle and Others Shine
Book Reviews
(9)
Did you read Thrivers: The Surprising Reasons Why Some Kids Struggle and Others Shine? Please provide your feedback and rating to help other readers.
ESSENTIAL for all parents and educators to read

Derived From Web

, Sep 24, 2021

As an elementary teacher for the last fifteen years, I came to realize why kids come to school so desperate, even though they have no interest. We are creating strive, not thinkers, produced to be test-takers, while missing the opportunity to be people, he said. In her book, "The Rundown," she laments that we are all running on empty. She outlines the seven core strengths that kids need to succeed in math and science. In this book, Thrivers brings together leading experts in the field of child development and offers practical and easy tips that both parents and educators can do to help foster a new generation of hopefuls. The book will help you understand your children's mental health, depression, and stress levels. It comes at a time when we all must work together to move the pendulum of what achievement looks like in 2021 and reimagine education for our youth, tweens, teens, and young adults. I cannot begin to describe how this book has changed the lives of so many people.
Not worth buying

Derived From Web

, Aug 19, 2021

I work with children and adolescents and this book is very helpful, but it doesn't provide any useful information.
Helpful pinpointing which traits to focus on

Derived From Web

, Jun 24, 2021

What I loved about the book format was how you take a diagnostic test and then read the sections that pertain to the character traits that you want to strengthen in your child. But when I read the book, I was disappointed. I was hoping for new information, Mr. Dhaliwal said. If I had never read a book on how to support my child's development and education, I would have been delighted.
A fantastic resource for anyone raising children

Derived From Web

, May 27, 2021

I have read many parenting books, but this is by far the best. Even if your child is not reading, you should read. The focus on grades and scores instead of character and social-emotional health and the impact in this college-driven, affluent bubble, it was really helpful to see data backing why that doesn't work long-term." This is really helpful with concrete ideas to practice at home and school. This mother and school counselor give it an A+!
More Secrets to Healthy Child Rearing in These Times by Dr. Borba!

Derived From Web

, Apr 21, 2021

In her book, Dr. Michelle Borba shows how to achieve optimal health through diet and exercise. Licensed psychotherapists need this book to help them work with families and children to integrate into therapy sessions. Dr. Borba has perfected the art of simplifying the complicated world of child rearing into steps and formulas that work for the best outcomes and challenging behaviors. If you are a parent, grandparent, work with childrenadolescentsfamilies or have kids you love in your life, order Thrivers to increase your skill and education. You won't be sorry. 0 1462228 2201 If you did, you won't be sorry.
Insightful, wise and practical!

Derived From Web

, Mar 23, 2021

In a highly readable mix of practical strategies, engaging anecdotes and research-based insights, Thrivers underscores the importance of our kids' innate character strengths for their success and happiness. In "The Whole Nine Yards," Borba shows how to recognize and nurture what really matters most in life.
Informative and Enlightening

Derived From Web

, Mar 7, 2021

She is very happy with what she has learned so far, Blair said. This book seems to provide basic guidance in child raising, Morgenthau said.
Incredibly insightful!

Derived From Web

, Mar 4, 2021

This book is very well researched and provides such insight into what kids are facing these days and how to better understand and help them, said Dr. Sandra Barrera, of the University of Texas Health Science Center at Galveston. As a parent of a teenager, this book has given me a sense of peace and a greater understanding of the struggles my son has dealt with, said Barbara Fields, a teacher at the school. I highly recommend this book to all parents.
GREAT book

Derived From Web

, Mar 4, 2021

This book is an easy read, even for the most overwhelmed parents. Really practical and important work, he said. This book is a must-read for parents of all ages.