Buy 3 Get 1 Free
Our Best Sale Yet! Add 4 Books Priced Under $5 To Your Cart Learn more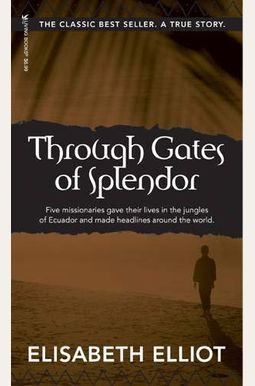 
 
Through Gates Of Splendor
Book Overview
Five men entered the jungle in search of a savage tribe . . . and never returned.
In January 1956, a tragic story flooded headlines around the world. Five men, spurred by a passion to share the good news of Jesus Christ, ventured deep into the jungles of Ecuador. Their goal: to make contact with an isolated tribe whose previous response to the outside world had been to attack all strangers.
At an agreed-upon time, their five young wives sat by their radios, waiting for a message that never came. . . .
Through Gates of Splendor, the story of Nate Saint, Roger Youderian, Ed McCully, Pete Fleming, and Jim Elliot, was first recorded in 1956 by Jim's widow, Elisabeth. Decades later, its story of unconditional love and complete obedience to God still inspires new readers. This edition contains subsequent developments in the lives of the families and the Waodani tribe.
Through Gates of Splendor, Elisabeth Elliot's first book, has become the best-selling and most powerful missionary story of the twentieth century. Elliot has gone on to become a popular speaker and the author of several books and a host of magazine articles.
Read about the continuing story of the Waodani and the missionaries' families: This edition includes two preview chapters from End of the Spear, the new book by Steve Saint (Nate Saint's son), about his return to the jungle and the people who took his father's life. This story is now a major motion picture.
Frequently bought together
Frequently Asked Questions About Through Gates Of Splendor
Books like Through Gates Of Splendor
Book Reviews
(7)
Did you read Through Gates Of Splendor? Please provide your feedback and rating to help other readers.
Through the Gates of Splendor

Derived From Web

, May 31, 2022

I was a young girl when this happened and I vagley remember, but as I read the book, some things came back to me, but not remembering the details, it was like most recent. I enjoyed the experience of the Indians and the jungle, how God gave the insentive to do or not to do, also gave them ideas. The women seemed to adjust very well. I don 't think I would have done so well looking at myself in this. In all actions, I am a Christian, I love my God and trust him for everyday strength, but I wonder if I trust him as much as I should? Very good prepared, times I didn 't even swallow, as I was so into the book.
Amazing!

Derived From Web

, May 31, 2022

Over the years, I heard snippets of the story of 5 missionaries who were killed trying to reach a tribe of people whose civilization had not touched. Eventually, I bought the book and could hardly put it down. I was amazed at the dedication that the men had to reach these people, knowing that they might lose their lives. I was also amazed at the peace that the wives had once they learned of their husband's deaths. The trust they all had in God's ultimate plan was a challenge I hope to achieve.
Inspiring

Derived From Web

, Feb 8, 2022

Writing and inspiring incredibly well. I read it in preparation for an upcoming trip to the same area. Makes you dive deep into your soul and make sure that you are doing what you need for the right reasons and how deep in faith you need to be in for this type of lifestyle.
Seller OK

Derived From Web

, Jan 22, 2022

The shipping was fast and secure, arriving at the suggested date of receipt right away. The book was described as described. This seller would use it again. The book is not for me, but for a friend. I ap[prove the seller, but I do not approve of Amazon's posts implying my approval of the book. My approval is not relevant-I have given the important information on the sale above in my comments.
Thought Provoking

Derived From Web

, Jun 9, 2021

I read another book that briefly talked about the "Ecuador 5 ". The lives of these men and women definitely inspire me to give up my al for Christ!
Great book!

Derived From Web

, Jan 23, 2021

I've bought this book for a friend, but I read it as required reading in Bible College 30 years ago. The story really affected me as I was preparing to become a missionary. It is very inspiring to know that some are prepared to give it all for Christ and to continue His kingdom only. If you are wondering if you should read this book... Read it! ''
Just fair warning - I recall the story is wonderful, but if you are bothered by minute text

Derived From Web

, Aug 12, 2017

My mother was reading this book back in the 1960s and were on her bookshelf for years. I wish I had them now! I received this hardcover edition of TGS today and find that in their efforts to print a compact paperback issue, the editors have presented a volume with EXCRUCIATINGLY small print! I'm wondering if I will even be able to read it. I give a fair warning : I remember that the story is delightful, but if you are offended by minutely written text, you will be very unhappy with this particular edition of the book. The shadow of the Almighty isn 't much better.