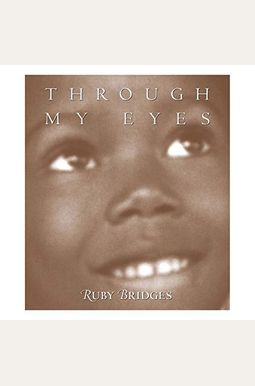  
Book Overview
In November 1960, all of America watched as a tiny six-year-old black girl, surrounded by federal marshals, walked through a mob of screaming segregationists and into her school. An icon of the civil rights movement, Ruby Bridges chronicles each dramatic step of this pivotal event in history through her own words.
Frequently bought together
Frequently Asked Questions About Through My Eyes
Books like Through My Eyes
Book Reviews
(9)
Did you read Through My Eyes? Please provide your feedback and rating to help other readers.
like her teacher and other students who suffered ridicule for ...

Derived From Web

, May 19, 2022

Does not use a narrator, but includes stories about and from other people whose lives were influenced by Ruby and integration, like her teacher and other students who suffered ridicule for attending school with Ruby. I haven 't yet finished the book because every page is so moving, my heart feels like it is going to explode and I have to put the book away for awhile.
Nice reflection

Derived From Web

, May 19, 2022

A little difficult to capture the attention of small children, but still an important experience to share. It was a delight to have it signed, as a recent opportunity presented to her to speak live.
Beauty of a wonderful girl and her mother against the Beast.

Derived From Web

, Jun 2, 2021

This beautiful story is from a wonderful little girl and her heroine of a mother against the beastly white racial ignorance, fear, hatred and stupidity. As a white man, I am grateful that there are white as well as black heroes and heroines in this book, but the beauty of a little girl's simplicity and her father's reluctant but also brave supporter needs to be a story that every little girl and every little boy needs to hear as they become who they will be. I want my children and grandchildren to know Ruby and her mother and know that they will never treat anyone mean and cruel again.
Why sepia?

Derived From Web

, Apr 6, 2021

I am glad Ruby Bridges wrote it. But I feel that the publisher did a huge disservice by coloring each photo sepia. For a fact, I know that some of these images were colorized and by making them vintage, it reveals to young readers that this was long ago, when in reality it is very recent history. Colorized photos would have made the images more relevant and current for young readers, however, I would like to thank Ruby Bridges for sharing her story with the world.
Telling your side of a historic event

Derived From Web

, Mar 6, 2021

Ruby's telling of the events that led up to the Norman Rockwell painting adds more meaning to his capturing history. So glad you added your story, that is what led up to that faithful day and what happened after. This book is an important part of American history and should be included on every book list of the elementary schools. And that too should read every adult!
beautiful book

Derived From Web

, Aug 10, 2018

This book is loved by many. Beautiful book, with Ruby Bridges'story told from a child's perspective. Includes portions with far more detail than a picture book, but also has shorter passages perfect for reading by younger readers. The combination is great for delivering the right information and leading to asking more questions and finding more answers. Includes many, many photographs that help define so well what school was like for Ruby in those early years.
She said it made her understand things much better!

Derived From Web

, Jan 29, 2018

I purchased this for my granddaughter to let her see the true events that took place when I was young. I have read it and so did my granddaughter-in-law, who is Asian and a college graduate. She said that it has made her understand things much better!
I always wondered how this tiny, beautiful girl felt that day.

Derived From Web

, Jan 24, 2018

We've all seen the picture, the teeny, little girl flanked by giant white men. This white girl's photograph haunted me in the early 1960s as a little child. I always wondered how she must have felt and hoped that the adults surrounding her were kind and good with children! I enjoyed reading behind the scenes, the little story-through-true Ruby's eyes!
A powerful story. It is a little longer than ...

Derived From Web

, Mar 1, 2017

It is a little longer than some other books and a little more difficult to read on her own for my 6 yr old granddaughter. But we read it in a few days. We also did not read it at bedtime, because some of the things that happen to Ruby are upsetting. We processed it in the afternoon, so that we could have time to talk about it and read the information. The final chapter, the story of the grown-up Ruby, was uplifting.