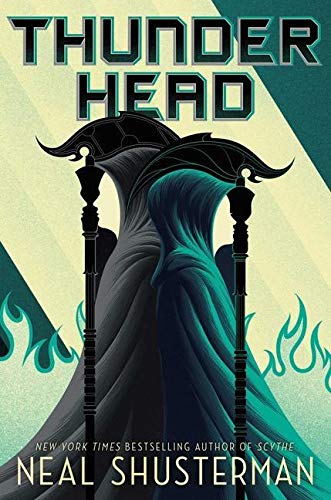  
Book Overview
Intelligent and entertaining. --Kirkus Reviews (starred review)
Even better than the first book. --School Library Journal (starred review)
Rowan and Citra take opposite stances on the morality of the Scythedom, putting them at odds, in the chilling sequel to the Printz Honor Book Scythe from New York Times bestseller Neal Shusterman, author of the Unwind dystology.
Humans learn from their mistakes. I cannot. I make no mistakes.
The Thunderhead is the perfect ruler of a perfect world, but it has no control over the scythedom. A year has passed since Rowan had gone off grid. Since then, he has become an urban legend, a vigilante snuffing out corrupt scythes in a trial by fire. His story is told in whispers across the continent. As Scythe Anastasia, Citra gleans with compassion and openly challenges the ideals of the new order. But when her life is threatened and her methods questioned, it becomes clear that not everyone is open to the change. Old foes and new enemies converge, and as corruption within the Scythedom spreads, Rowan and Citra begin to lose hope. Will the Thunderhead intervene? Or will it simply watch as this perfect world begins to unravel?
Frequently bought together
Frequently Asked Questions About Thunderhead, 2
Books like Thunderhead, 2
What should you read after Thunderhead, 2 Book? Here is a list of books to read if you read and loved Thunderhead, 2
Book Reviews
(13)
Did you read Thunderhead, 2? Please provide your feedback and rating to help other readers.
Loved it

Derived From Web

, Nov 26, 2021

This series is just incredible. There is nothing quite like it. This was a great sequel and I can't wait to read the next one!
Thunderhead

Derived From Web

, May 17, 2020

As I said before, I loved the sequel to Scythe way more than I did the original. The world is developed fully and the characters are well established... Let the mayhem begin! This book is a short twist a minute and I could put it down just about. The Galanings are more creative, politics are more defensive than ever and the villains are completely dastardly! It is hard to talk about all the details I love without spoiling the first book by telling you which characters are still alive and which are not or are alive again... I say it just so : the thunderhead is magnificent as a character! I loved the POV cut to the Thunderhead every time and I loved all the ways in which humanity was influenced by or crafty in hiding things from the Thunderhead and vice versa. I can not wait to dive into the third book, I am so glad I waited until they were all out until I binged. I am not sure that I could have waited the year in between.
Best book I've touched

Derived From Web

, Dec 1, 2019

I thought the first book was also something ''. I am not going to say any details except that if you liked the book first, please pick up this book.
Just like the first book, good but so so unintentionally silly

Derived From Web

, Oct 21, 2019

This book takes it seriously to itself. It is a great read and I am happy with the way the plot is going, but sometimes it was so predictable that it made me angry. But also there were times when I thought the scene was supposed to be funny, but it was downright thrilling, especially at the end of the book. I do recommend reading this book if you read the first one, just keep your expectations low.
Freakin Amazing!

Derived From Web

, Oct 12, 2019

This series is a mind-twister, but this second book is possibly the most masterful piece of art I've ever read. Tonists and Scythes and Unsavories and Unsavories, oh my!!! !
I'm crying at how this book was marvelously written.

Derived From Web

, Jan 27, 2019

I'm crying at how this book was written marvelously. Through the book '', I thought there is not much difference between Scythe and Thunderhead, especially since this is the former sequel. I was, however, not prepared with the scenes presented by the last 14 of the book. At that point, everything was heart pounding and unpredictable. I loved the characters more than ever and I kind of pitied the Thunderhead as well. In simple words, I say that this book has me SHOOK. It shook me so much that I can 't wait for the toll to be released. One last note : Oh, one final note. The audiobook is fantastic! Both the book and the audiobook is so worth it.
AWESOME

Derived From Web

, Jan 6, 2019

I now completed the first two books. The story is written well. The characters are well defined : I recommend this book and hope that one day it will be a film. Immediately I will buy the next book.
Excellent sequel

Derived From Web

, Oct 24, 2018

Thunderhead was an excellent follow-up to Scythe's, and I thoroughly enjoyed it. Honestly, the 45 stars are simply because it dragged a few times. But overall, I love this series and this book was very well written. I can not wait for the third book to be released.
Get a good look inside perfection

Derived From Web

, Oct 15, 2018

It is not a dystopia, but a utopia. But it is the future and is recognizable. Enjoy this second installment of the Arc of the Scythe story, where you follow the story arc of your favorite young people. Who is good for who? Who is not? When does the Thunderhead intervene? Inside perfection, get a good look inside the perfect look.
Whyyyhyhyhyhyyyyyy

Derived From Web

, Aug 17, 2018

It was a dashing emotional roller coaster and I died at several points inside and ENDINGGGGG IT WAS ALL AWESOME GREAT BOOK WOULD RECOMMEND THIS EMOTIONAL TURMOIL OF A NOVEL.