Buy 3 Get 1 Free
Our Best Sale Yet! Add 4 Books Priced Under $5 To Your Cart     Learn more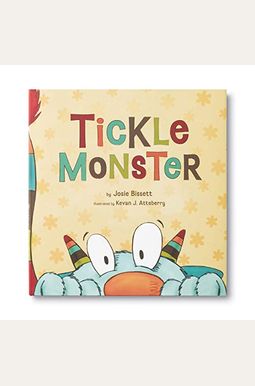 
 
Frequently Asked Questions About Tickle Monster
Books like Tickle Monster
Book Reviews
(17)
Did you read Tickle Monster? Please provide your feedback and rating to help other readers.
This is both my 5 & 2 year olds favorite book!

Derived From Web

, Apr 20, 2022

Such a cute book! Such a cute book! It is one that allows you to read with your kids at the same time and be playful and interactive with them. This is now on our list of must have gifts for everyone we know with small children! This is both my favorite book for 5 and 2 year olds, both of my favorite book!
not as good as boogie monster

Derived From Web

, Apr 20, 2022

I wanted to like this because my son loves the boogie monster and I thought it would read the same way in flow, rhymes be silly. It does not do any of these things. My son dislikes this book, it just sits on the shelf collecting dust, don 't waste your money.
ADORABLE book!

Derived From Web

, Apr 20, 2022

This book is so cute, fun and read with a face. My daughter is too young for it now, but I still enjoy reading it to her and tickling her. The mitts look fun to buy maybe someday we 'll use them. The book has great words and fun rhymes. This would love any child!
Best book ever!

Derived From Web

, Apr 20, 2022

This was our first purchase of this book - the second had pages falling out of so much love! This is one of my absolute favorite books of my 5 year old daughter! We have also bought this for several of our friends and recommend it to anyone with little ones!
My kids love this book

Derived From Web

, Apr 20, 2022

My children love this book. I have bought this book several times for different friends when they have a newborn, but also have toddlers at home. My 6 and 8 year old still loves to read it to them and my neice asks me to read it every time she comes over. Great book!!! ! !
Super sweet book

Derived From Web

, Apr 20, 2022

I love this book so much that I bought three after receiving my daughters as presents. The book is of high quality with a great jacket cover, bright characters and beutiful colors. My daughter giggles with anticipation when we read it to pull out. The Tickle Monster takes you on a laugh-filled reading adventure as he tickles every thing from your knees to your arm pities. Each page brings a different tickle and a cute story makes it all flow nicely. One of our favorites is one of our favorites.
My kids FAVORITE Book!

Derived From Web

, Apr 20, 2022

I bought this book a few years ago, when my eldest was 3 or 4. He LOVED it. I bought a copy of the book and Mitts for my nieces, I loved it so much, I bought a copy of the book and Mitts for my nieces. He is now 7, and my youngest is 3.5, and still LOVES it. Every night they ask us to read it-and many nights we do, even if it gets them a little excited before bed. ) If we want them more settled down, we skip it, lol, I can 't say enough good things about the book, I love the color and the rhyming! I love that it has you interacting with your kids, I know that this will be a book I save forever. And I am NOT someone who saves my kids stuff, but this is a keeper for sure, because of all the memories! I HIGHLY recommend it! So much fun, I HIGHLY recommend it! If I could give it more stars, I would give it more. We also bought Boogie Monster, which is a lot of fun on a related note.
A family favorite

Derived From Web

, Apr 20, 2022

This book is a cherished family favorite! The Tickle Monster is a perfect gift for young children who love to read and long to be tickled! Anticipation builds as you read the story of a friendly monster who arrives with a love for tickling from outer space. The book is interactive and my hearty girls squeel in anticipation of a giggly tickle. Not only does it fuses reading time with great activity, but it is also a fun learning tool for young toddlers, giving opportunities to name body parts like feet, knees and neck. If you have children of pre-school age and are looking for a book to bond or for a fun and educational gift, this is the book for you! As with everything from Amazon Prime, shipping was fast and professional, as was everything else.
Monsters don't have to be scary

Derived From Web

, Apr 20, 2022

My daughter is 3 and has been having monster fears lately so that this was a great book to read. One with a nice, friendly, TICKLE monster. And, boy, does she loves that book. She asks for it over and over again. She laughs and laughs and laughs. She knows when the tickles come and thinks it's the best. Not only is it fun to see together and fun with books, but it helps her see monsters in a better light. Wonderful book all around ''.
Colorful, fun book (Buy the gloves!!!)

Derived From Web

, Apr 20, 2022

My 2 12 year old daughter loves to be tickled, so this was a must have book. It is written in rhyme and is very colorful and well illustrated. It didn't quite hold her attention the first time, but I think she was more focused on the companion's Tickle Monster gloves and I bet that she will be more attentive to the book after a few more readings. Really cute phrases like, underarm pitties that make the rhyme work and are now part of our vocabulary. '' Can 't wait to try Josie Bissetts other book, Boogie Monster!!